OUR NEXT DATE IS FRIDAY 2 NOVEMBER
Our main guest on November 2 is Kelly Oliver making a first visit to Hadleigh.
This is how her website describes her:
Kelly Oliver is a singer-songwriter, guitarist and harmonicist, hailing from Hertfordshire and described by The Times as an artist who 'blends traditional with bold, indie-pop'. She came to performing music a little later in life than many other of the rising stars of the UK music scene. After graduating from Royal Holloway, University of London and then travelling around Europe, Brazil and Argentina, her passion for folk music was ignited with a visit to Ireland. It was there that she was exposed to traditional Irish folk music, and with her Grandmother having been born in Tralee in Ireland, Kelly was heavily drawn to the culture and especially the traditional music, played live with intricacy and passion.

Returning home to England, she began her musical career by playing support slots at folk clubs on the scene, including many at the prestigious Hitchin Folk Club, which happened to be her local. After supporting various high-profile acts such as Phil Beer (Show of Hands), Cara Dillon and Barbara Dickson, Kelly began playing her own headline shows and slots at festivals around the country.
There is more information about Kelly on her website:http://kellyoliver.co.uk

Our Featured guests are Bards of the Heath a band put together by John Goodluck, known maybe to some of you as a folk singer, the leader of the folk rock ceilidh band Trunkles and presenter of the local radio folk music show Folk-al-pint.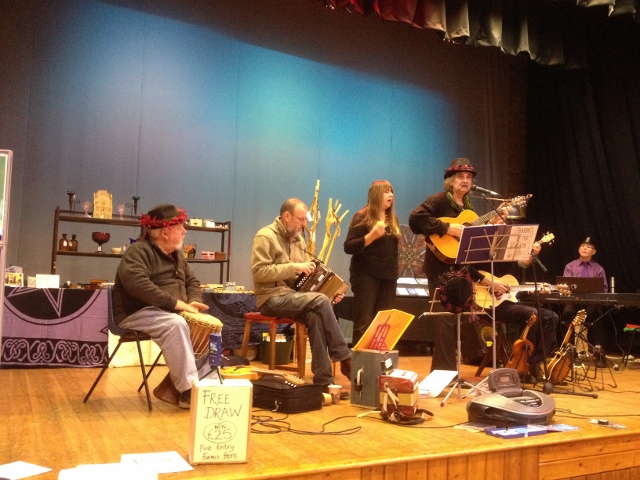 Bards of the Heath  were formed in 2004 as a musical unit in  order to take on  gigs at unusual venues, such as events in the  Ipswich Museum and found that many of John's earlier Ballads from the 70's fitted in with the Bardic theme of poetry & stories. There is plenty more about John Goodluck and Bards of the Heath here.

Hadleigh Folk and Acoustic Music Nights are normally held on the first Friday of the month – from September to July at the Ansell Centre, Market Place, Hadleigh IP7 5DU.
We feature folk music in the broadest sense of the word. In addition to "traditional" and "contemporary" folk music, you can expect to hear hints of pop, country, jazz or even classical music.
Our doors open at 7.45 and the music starts at 8 o'clock.
Our 2017-2018 programme is now complete. Check here.

Each evening starts with a number of "Floor spots" – where anyone can come
along and perform: singing songs or playing an instrumental. In practice, it's
advisable for would-be performers to contact us in advance to book a spot.
Next, after a short break, is our Featured Guest: a 30-minute performance from an
individual or group.
Finally, after another short break, our Main guest finishes the evening with a
60-minute performance. Our evenings finish around 10.30.
Entry price is £5.00. (£2.00 for under 16s)
There is no bar at the Ansell Centre, but you are welcome to bring your own drinks.
There is plenty of free parking within easy walking distance of the venue.
For further information, contact club organisers Simon or Val Haines on 07818 417780 or 07818 417781 or email aqwc71@dsl.pipex.com