French music & dance weekend 3-5 April 2020 – News
Main guests are the Breton band

Skolvan




More details here




OUR NEXT DATE IS FRIDAY 6 DECEMBER

Our main guests for December are Helen & the Neighbourhood Dogs, a seven-piece band from round these parts.
A recent review of one of their gigs went like this:
When you see a band like Helen & the Neighbourhood Dogs and listen to their "East Angliacana", your first thought is "Why aren't this lot huge? "  With four singers, all of whom can take lead or deliver great harmonies, casually excellent playing, particularly from Shane Kirk on guitar and "Fiddly" on, of course, fiddle, and a truck load of great songs they really are a class act.  "Not The Kind Of Girl", resurrected from their previous incarnation as Songs From The Blue House, Tony Winn's "What's A Rainbow" and the loping "Harrogate" were perhaps highlights but throughout the set the band laid down a serious groove, rocked out when they needed to, sang their hearts out – Helen Mulley has a fabulously aching voice – and generally had a ball. (Jeremy Searle, Americana UK

Our featured guest is Holly D Johnston, a Suffolk singer-songwriter and storyteller who morphs between live music, storytelling and poetry.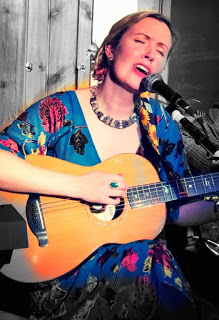 Holly's heartfelt lyrics woven together in memorable tunes are sung with a voice that is warm, ethereal and passionate.  More information HERE.

There will be floorspots from Three Men in a Shed, Sarah Thompson and Friends and Davos Williams

Hadleigh Folk and Acoustic Music Nights are normally held on the first Friday of the month – from September to July at the Ansell Centre, Market Place, Hadleigh IP7 5DU.
We feature folk music in the broadest sense of the word. In addition to "traditional" and "contemporary" folk music, you can expect to hear hints of pop, country, jazz or even classical music.
Our doors open at 7.45 and the music starts at 8 o'clock.
Our 2019-2020 programme is now complete. Check here.

Each evening starts with a number of "Floor spots" – where anyone can come along and perform: singing songs or playing an instrumental. In practice, it's advisable for would-be performers to contact us in advance to book a spot.
Next, after a short break, is our Featured Guest: a 30-minute performance from an individual or group.
Finally, after another short break, our Main guest finishes the evening with a 60-minute performance. Our evenings finish around 10.30.
Entry price is £5.00. (£2.00 for under 16s)
There is no bar at the Ansell Centre, but you are welcome to bring your own drinks.
There is plenty of free parking within easy walking distance of the venue.
For further information, contact club organisers Simon or Val Haines on 07818 417780 or 07818 417781 or email simonhaines1@icloud.com