OUR NEXT FOLK EVENING IS FRIDAY FEBRUARY 4
when our joint main guests will be 
MAGGIE & STAN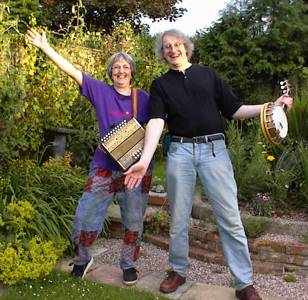 Maggie & Stan are a Suffolk based folk duo, who sing songs with strong melodies and choruses. They also play traditional tunes with loads of bounce and lift. All this plus a healthy dose of humour. The last time they came to Hadleigh, they went down a storm.
Below is a  song some of you may remember. There is more on their WEBSITE.

and
THE MEDLARS


This trio hail from East Anglia and perform songs and tunes which originated from and are firmly rooted in the folk tradition. Alie Barnes – vocals, Tom Hardy – guitar and vocals, Emma Hardy – fiddle and vocals. Watch a video below and find out more about them on  their Facebook
***********************
 

As you can imagine , w

e were disappointed to have to cancel our January evening, but we had no option as one of our guests had tested positive. We will be booking Sound Tradition and Jeremy Harmer in  the future. 
Our French Music and Dance Weekend has provisionally  been 

rescheduled for the weekend of 8 – 10 April 2022 . The programme will be as planned for 2020 with the Breton band Skolvan being our main guests
Hadleigh Folk and Acoustic Music Nights are normally held on the first Friday of the month – from September to July at the Ansell Centre, Market Place, Hadleigh IP7 5DU.
We feature folk music in the broadest sense of the word. In addition to "traditional" and "contemporary" folk music, you can expect to hear hints of pop, country, jazz or even classical music.
Our doors open at 7.45 and the music starts at 8 o'clock.
Each evening starts with an informal 10-15 minute  "floor spot". Please contact us in advance to book a floor spot.
Next, after a short break, is our Featured Guest: a 30-minute performance from an individual or group.
Finally, after another short break, our Main guest finishes the evening with a 60-minute performance. Our evenings finish around 10.00.
Entry price is £5.00. (£2.00 for floor-spot performers)
There is no bar at the Ansell Centre, but you are welcome to bring your own drinks.
There is plenty of free parking within easy walking distance of the venue.
For further information, contact club organisers Simon or Val Haines on 07818 417780 or 07818 417781 or email simonhaines1@icloud.com