EXTRA DIARY DATE – SATURDAY MAY 20TH 3.00 – 10.45
We are putting on a poetry and music day in the Ansell Centre with the following line-up
AFTERNOON

Andy Jennings  – reads John Ward's poem, The Iron Bridge
Kath Tait  – Singer-guitarist and favourite with Hadleigh audiences
Martin Newell and The Hosepipe Band – Green Children and Black Shuck

EVENING
Park and Ride – Cara Park and Don Qui Ride plus Megan Wisdom
Martin Newell  – Songs and who knows what else
John Ward Trio  – another Hadleigh favourite
ATTILA THE STOCKBROKER – angry poet / musician
PROGRAMME AND FULL DETAILS
TICKET PRICES
Afternoon £8.00 / Evening £9.00
Afternoon + Evening £15.00
Group rates available – Contact 07818 417780
Hadleigh Folk and Acoustic Music Nights are normally held on the first Friday of the month – from September to July at the Ansell Centre, Market Place, Hadleigh IP7 5DU.
We feature folk music in the broadest sense of the word. In addition to "traditional" and "contemporary" folk music, you can expect to hear hints of pop, country, jazz or even classical music.
Our doors open at 7.45 and the music starts at 8 o'clock.
WE HAVE FLOOR SPOTS AVAILABLE FOR SOME OF OUR  CLUB EVENINGS IF YOU ARE INTERESTED IN PLAYING FOR 10 MINUTES OR SO ON ONE OF THESE DATES, PLEASE GET IN TOUCH.
Each evening starts with a number of "Floor spots" – where anyone can come
along and perform: singing songs or playing an instrumental. In practice, it's
advisable for would-be performers to contact us in advance to book a spot.
Next, after a short break, is our Featured Guest: a 30-minute performance from an
individual or group.
Finally, after another short break, our Main guest finishes the evening with a
60-minute performance. Our evenings finish around 10.30.
NEXT DATE 5 MAY 2017
Our main guests are London-based duo, Terry Mann and Fiona Larcombe. Fiona is an accomplished singer of traditional songs and also a fine fiddle player. She is expertly accompanied on melodeon and banjo by Terry Mann, who can, so they say, play anything  he turns his hand to. Terry is also a classical composer and a musical instrument maker. Hear some of their music at https://terryandfiona.bandcamp.com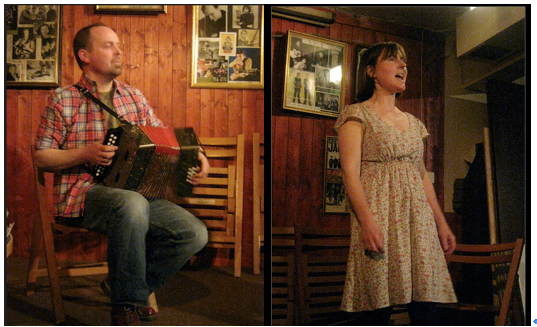 Our Featured guest is local singer-guitarist Tom King, who came and did a floor spot a couple of years ago. Tom grew up on the folk scene frequenting festivals nationwide throughout his childhood. He is influenced by everyone from Bob Dylan to Bellowhead.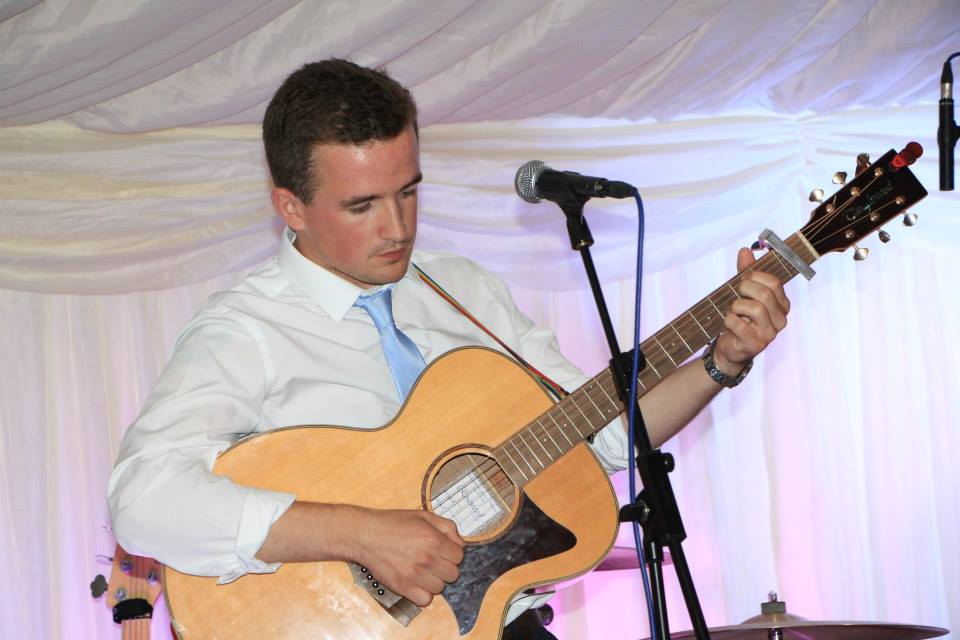 Entry price is £5.00. (£2.00 for under 16s)
There is no bar at the Ansell Centre, but you are welcome to bring your own drinks.
There is plenty of free parking within easy walking distance of the venue.
For further information, contact club organisers Simon or Val Haines on 07818 417780 or 07818 417781 or email aqwc71@dsl.pipex.com