SEPTEMBER 2015 – JULY 2016
10 September 2015
Our spot on the Saturday evening at Folk East was a great success. The audience for the first act, Rosewood, was somewhat thinner than we might have liked due to competition for the main stage, but thereafter things picked up. Terence Blacker, with his sometimes humorous and sometimes wistful songs put in the kind of polished performance we have come to expect from him, and East Creek Union finished off the evening in great style with their old-time American  music.
14 September 2015
The first night of our fifth – Yes, fifth! – season was another wonderful evening of varied music. Our first floor spot, the duo Wildwood Jack, had phoned us the evening before the club night to ask if they could book a floor spot. We said Yes and they entertained us with three great songs. We shall be asking them back as guests at some point in the future. Next was Alice Martin who sang three new songs in her inimitable, traditional style, this time unencumbered with guitar or madolin. And finally, Alan Day, played us lively tunes on his concertina (once he managed to get their case open!). Val and Simon, on melodoen and bagpipes, joined Alan for a final set of French Waltzes.
Our support act was The Ross Birkitt Trio, who played a varied set of songs and tunes with Ross, on guitar, Alison on flute, and Eliza on violin. Ross is their main vocalist, but Alsion and Eliza contributed tasteful harmonies on some of the songs. All three are excellent high-quality, professional musicians who clearly enjoy performing.
Our main act, The Askew Sisters, who last visited the club in January 2013, again put in a classy performance, alternating songs and tunes on fiddle and meloldeon.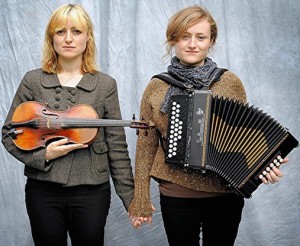 Both are excellent musicians and Hazel Askew's voice gets more assured every time we see them perform. It is hard to believe it's now ten years since they started playing as a duo. Although they play in other combinations (Emily in Alma Fiddles and Hazel in Lady Maisery), there is something special about their act as sisters. They finished the evening off with their lovely arrangement of "If I were a Blackbird" and got the whole audience joining in with the chorus. You can see them performing this on YouTube here.
5 October 2015
This was another very varied night. We kicked off with  floor spots from  John Hughes, Bill n'Sheila (Johnston) and Revival (Rachel, Pete and Roy). Support was from the wonderful Quay Street Whalers from Orford and other parts of deepest Suffolk. They treated us to five or six lively chorus songs. Our main guests were Bryan Causton and Penni McLaren Walker.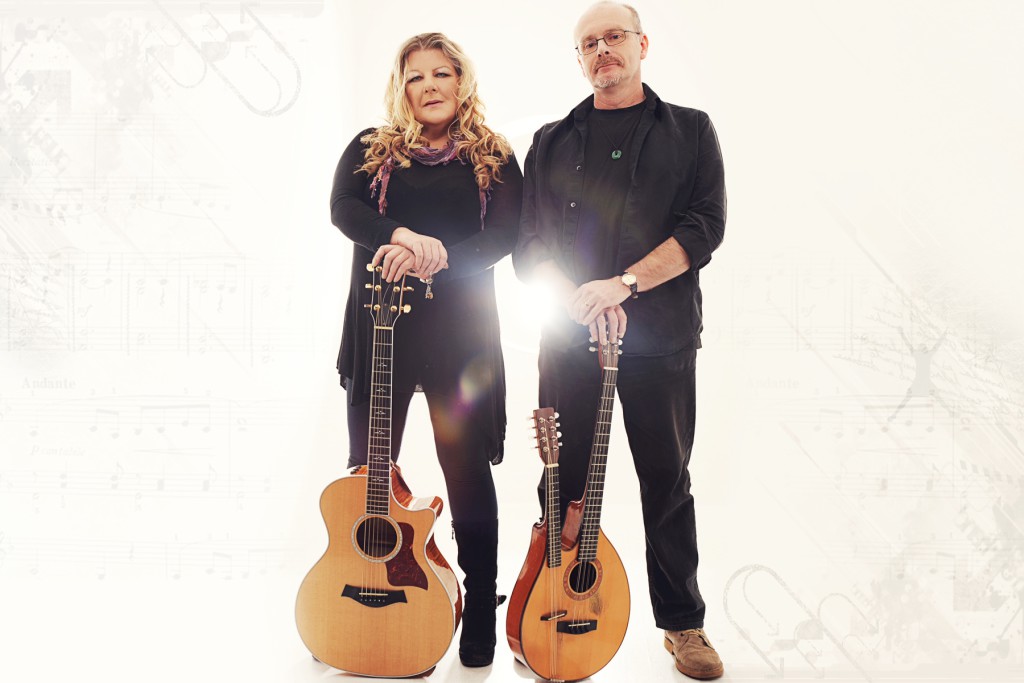 Penni is an award-winning singer songwriter in the folk tradition. Bryan is a multi-instrumentalist who brought his band Strangeworld to the club in 2012 and went down a storm with our audience. You can find out more about this talented duo on their website.
6  November 2015
This was an unusual evening from two points of view: firstly, we adapted the standard pattern of the evening to accommodate the contribution from the main guests, Martin Newell and The Hosepipe Band,  and, secondly,  the main focus of attention was modern poetry rather than folk music.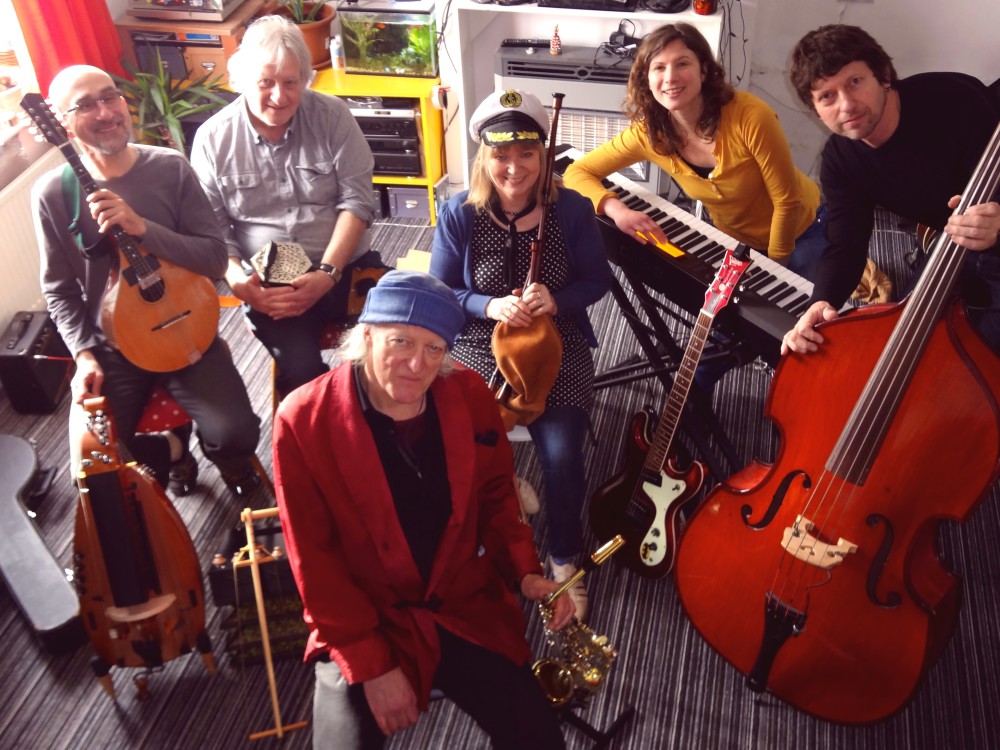 Martin Newell is probably  known to many people as a rock musician (Cleaners from Venus / The Brotherhood of Lizards), as a journalist – he writes a regular column for the East Anglian Daily Times, as a poet – or all three. The Hosepipe Band is mainly a ceilidh band, but does on occasion perform original music to listen to.
Martin and the band performed two of Martin's long poems: Song of the Waterlily and Black Shuck. Martin read his poems, accompanied by original music composed by the band. Some of this was  folky, but because members of the band come from very different musical backgrounds, there were elements of classical, rock and jazz. You can find out much more about this project and hear samples of the poetry and the music here. CDs of this poetry-with-music show are available from the band's website.
The two poems were separated by the evening's support act Phil Lyons who treated us to a selection of his sea songs. Phil gave us  a number of remarkable "factoids", including the story of what happened to Nelson's body after he died at Trafalgar, and the practice of cannibalism by sailors who were shipwrecked and needed food to survive.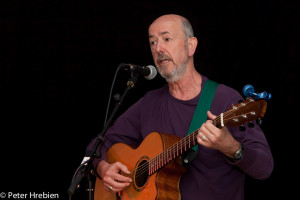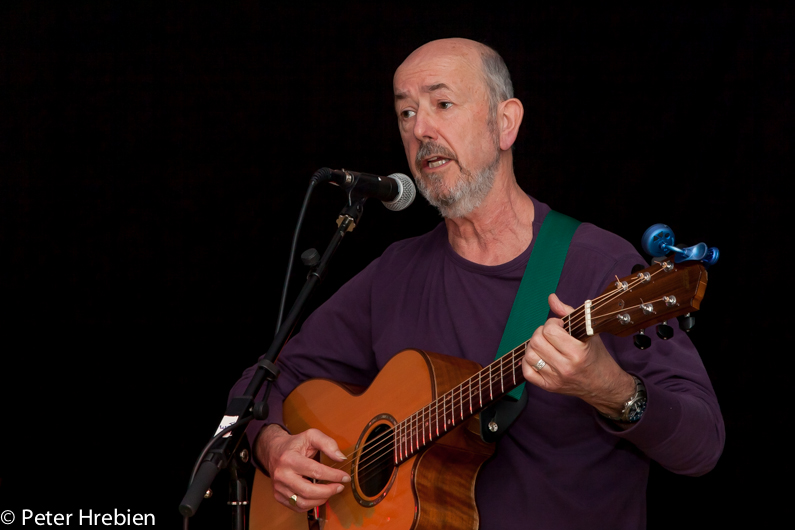 You can hear a couple of Phil's songs here.
12 December 2015
Our last club evening of 2015 was held on December 4 when main guests Maggie & Stan were supported by popular local singer-song-writer Jackie Ord.
It was a great, fun-filled night which started with carols. The audience joined in enthusiastically, singing from sheets they had printed from the website or which we provided, Maggie & Stan together with club organisers sang or accompanied the singing on an array of instruments. Jackie Ord followed and also managed to get people joining in on some of her songs, especially her ever-popular autobiographical Number Two Riverview and the slightly cheeky Doing it Myself.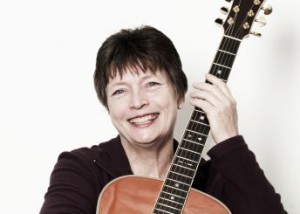 You can find out more about Jackie, hear some of her songs and download her album from her website.

Main guests Maggie & Stan (aka Pluck and Squeeze) were up to their usual standard, with their highly entertaining selection of songs an instrumentals. They made excellent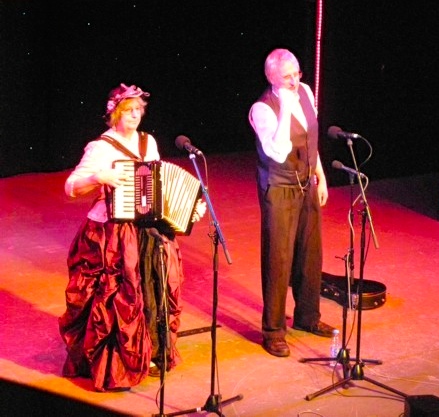 contact with our audience and encouraged them to participate wherever possible. Their mix of comic music-hall songs, such as Did your first wife ever do that?*, Stan's speciality  dialect songs like the Geordie  The Lass Doon On The Quay and their bouncy dance tunes, make them a unique act. One of the highlights of the evening was Maggie's version of a lovely Graham Miles song,  Exercise 77, which she had learnt from the singing of Martyn Wyndham-Read a couple of weeks earlier. They performed in costume at Whitby Folk Week in the summer – see photo above.
*You can hear a 1930s version of  Did your first wife ever do that? sung by Marie Kendall here.

18 January 2016
We kicked off the new year in great style with, as ever, a varied programme of floor singers and guests. Terry Hiscock started the evening, followed by The Inside Out Trio and finally Martin Walker. Our support act, A Light Left On, comprised  Gabriela Eva, vocals and guitar and David Brown on keyboards. The majority of their set comprised songs skilfully sung by Gabriela in a style which she herself on her website describes as "Hip-hop/Folk/Soul/Jazz". Her sparse, rhythmic guitar playing, together with David's jazzy piano playing suited these songs perfectly. David ended off the set with a solo song of his own called Cake, a clever and funny song which you can hear on YouTube.
Our main guest was the incomparable Kath Tait with her wonderfully funny, provocative, sometimes rude songs about everyday life. Her own family life is one of the subjects when she tells her first husband was a Fascist and her third was in prison. Performing in a woolly hat and accompanying herself on guitar, mouth-organ and English concertina, Kath sings her own songs with a deadpan, slightly mournful expression which reminds me slightly on Buster Keaton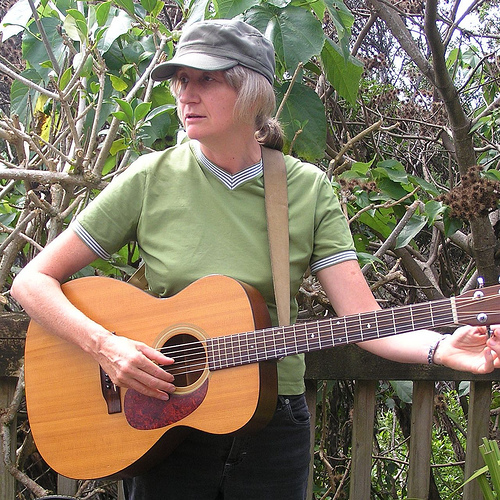 The last time Kath came to Hadleigh, the evening was held in the URC next door and she remembers feeling a bit embarrassed singing the word of some of her ruder songs. If you didn't make it, have a listen to Bastard on YouTube or Lentils on her website – the same page has the words to many of her best songs.
17 February 2016
On February 5th  when our main guests were East Creek Union, purveyors of high-quality old-time  American music.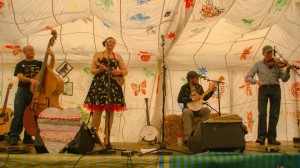 When they first played in Hadleigh, they were a banjo-fiddle duo, but have now expanded to a five-piece which includes ukele, double bass, harmonica and more vocals. They sounded very professional at the club. Support was from Tony Winn, an excellent singer-songwriter.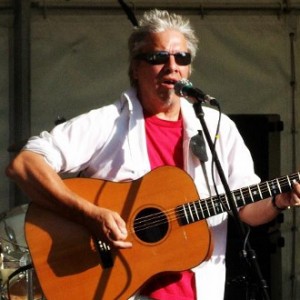 We started off our evening with four very different floor singers: Alice Martin, Stephen Foster-Pilkington, Megan Wisdom and Rory Gilbert – very varied but all excellent musicians.
21 March 2016
On March 11th  main guests were Pete Cooper and Richard Bolton made a welcome return to Hadleigh. The last time they came – three years ago – the club was held in the United Reform Church as The Ansell Centre was being refurbished.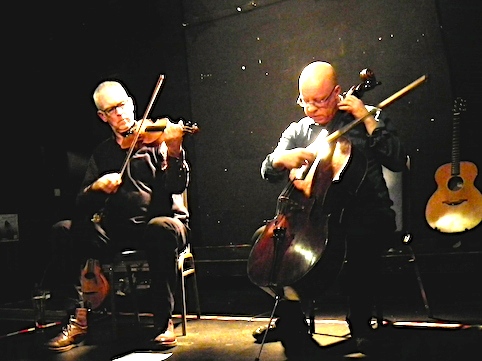 Pete – fiddle, mandolin, vocals – and Richard – cello, guitar, vocals – played dance tunes from English and other folk traditions, sang British and American folk songs and presented exciting new pieces of their own.  There's plenty more information about them on their web site.
Support came from Robert Castellani, first-class guitarist who did percussive things with his instrument that left our audience gobsmacked.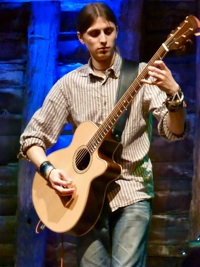 Find out more about Robert from his website.
22 April 2016
Our second Hadleigh French Music and Dance Weekend took place in the Ansell Centre from 15-17 April and was very another great success.
The Friday evening concert featured  Richard Overton and Maria O'Brien, Gwendal Moële & Paul Riley, Dave Shepherd & Anna Pack and the Paris-based Duo Synkro: Francois Tillerot & Isabelle Blô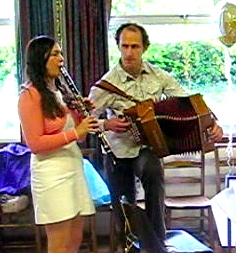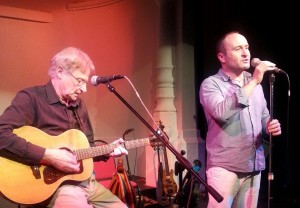 Richard & Maria                                     Gwendal & Paul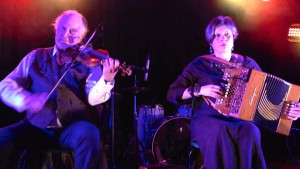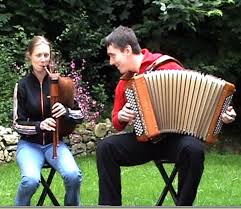 Dave & Anna                                              Isabelle & François
These were the Saturday dance and music workshops:
Morning
Dave Shepherd – French fiddle music from the Auvergne
Anna Pack – Diatonic accordeon (aka melodeon)
Duo Synkro – Dances from Morvan and Bresse
Bof! with Phil and Linda Lyons – French and Breton dance basics
Afternoon
Dave & Anna – Dances from Brittany and Western France
Duo Synkro  – Tunes from Jura and Bressse
Gwendal Moële & Catherine Legg – Singing for dancing
Saturday Evening
Dance with  Bof!, Duo Synkro, Dave Shepherd and Anna Pack, with an interval spot from Gwendal Moële, Catherine Legg and the singing for dancing workshoppers.
There was some casual French music and dancing in the Ansell Centre on Sunday afternoon.
8 May 2016
We had another very varied night on May 6th with main guests Na Mara (Rob Garcia and Paul MacNamara) and support from club stalwart  Paddy Butcher (standing in for Swallow and the Wolf who were unable to make it.)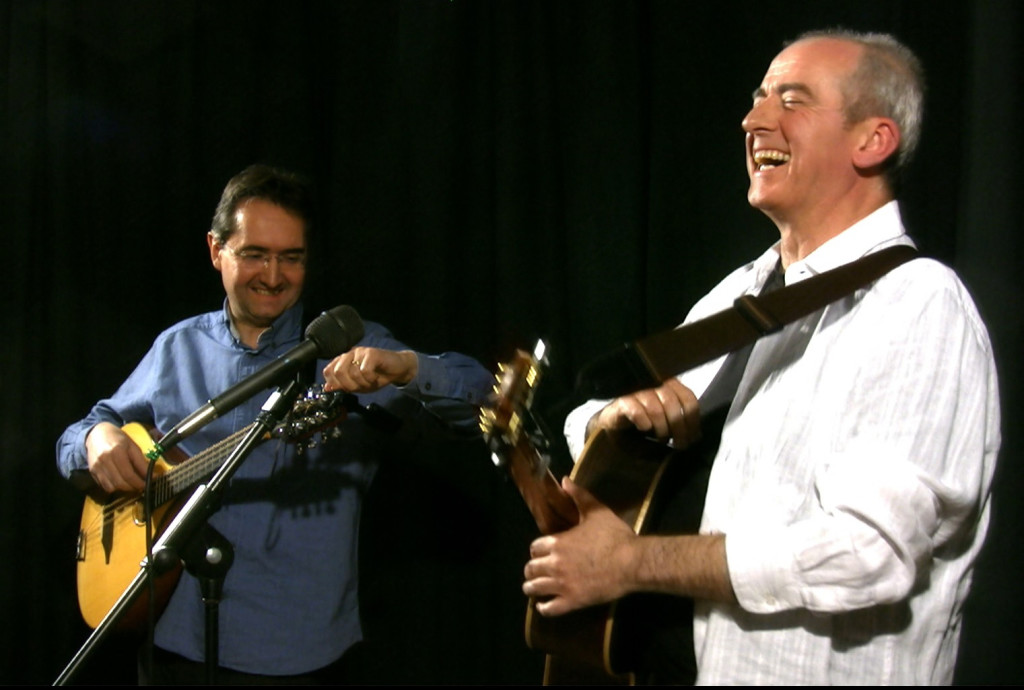 Na Mara
The evening began with floor spots from newcomer James Eastwood, Simon and Val Haines, and Angela Dennis.
9 June 2016
Our June evening was an experiment which seemed to work very well. Instead of Floor spots followed by a support act followed by a main guest, we had three main guests in what we called our Acoustic East Evening. Acoustic East is a collective currently made up of 25 singers or groups from East Anglia – see all the acts here.
Our  acts were, in order of appearance: Dragonfruit, No Strings Attached and Rosewood, offering three very different aspects of folk music.
Dragonfruit, comprising Ian Heywood on guitar and vocals and Clare Woodock on violin and vocals, kicked off with a set of pop songs from the 1920s to the 1990s as well as some written by the duo themselves.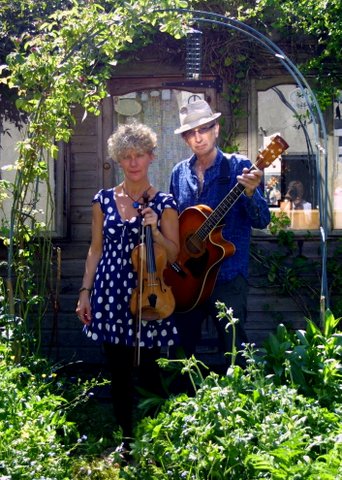 No Strings Attached, which features Gwendal Moële and Catherine Legg, sing unaccompanied traditional songs in English, French, Breton and Spanish. Glorious harmonies.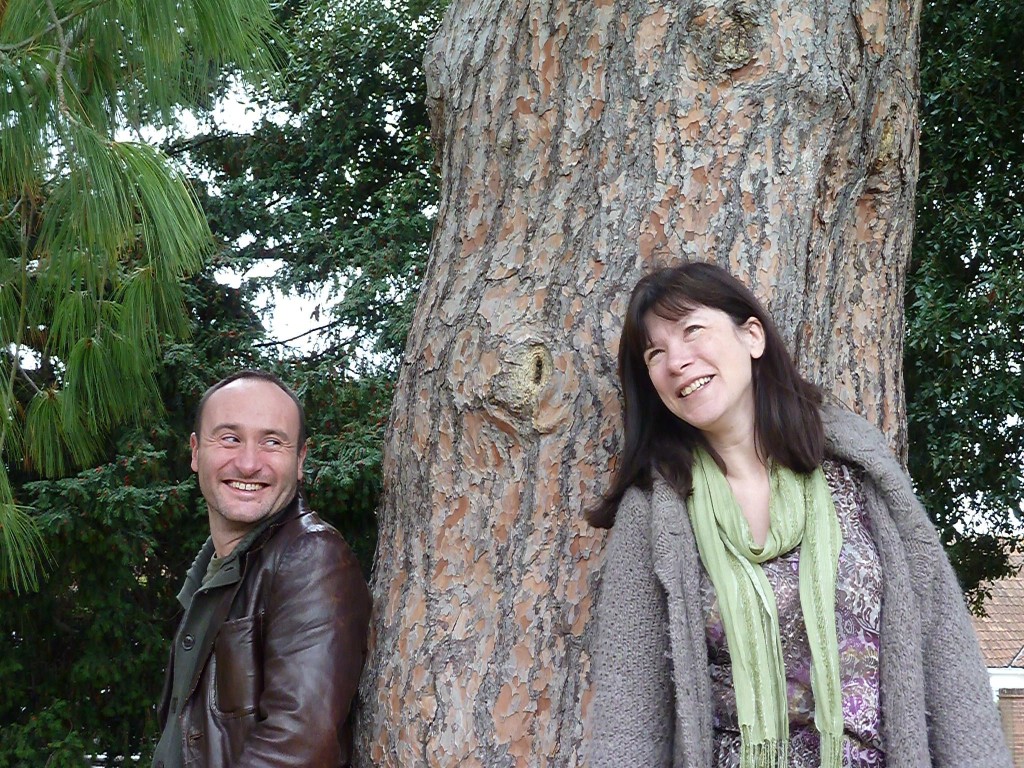 Rosewood, Simon and Val Haines and Phil Lyons, brought the evening to and end with their somewhat eclectic repertoire of songs and tunes, some traditional, some contemporary – with a touch of anarchic chaos and humour.
12 July 2016
Our last club night of the season was on July 1 when our main guest was singer-songwriter from the North-East, Richard Grainger, who was born into a musical family and served his time in Teesside Folk Clubs joining the Fettlers in 1986  before launching a solo career which has taken him round the world and produced 11 albums of original and traditional songs.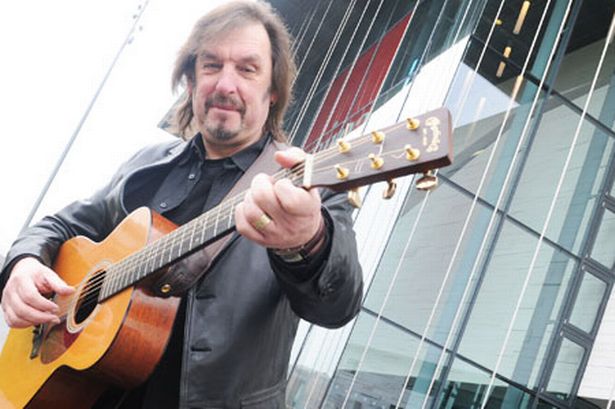 Richard is a fine guitarist and now regarded by many, as Teesside and North Yorkshire's best living folk -songwriter.  He managed to get our audience singing along to many of his songs with a chorus.
Richard was ably supported by the fabulous Tango Innominado, a group of tango musicians and their dancers who played and danced to great Arentine tango music.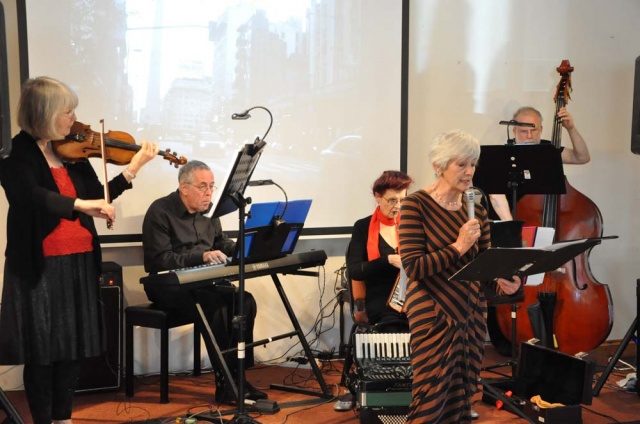 The evening started with floor spots from local singers Alice Martin and Hazel Bradshaw.
23 July 2016
This year we managed to squeeze in an extra folk evening in Hadleigh when we booked the super-trio, The Firestarters of Leiden. Nobody would have heard that name before because it was their first and possibly their penultimate public gig. But the people who came to dance to them knew the three virtuoso musicians very well: Blowzabella's long-time fiddle player Dave Shepherd, the demon accordeonist from Belgium Simon Gielen, and world famous hurdy gurdy player Nigel Eaton.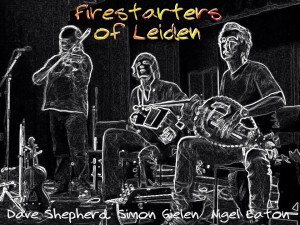 This was a one-off gig in preparation for a performance in France the following weekend. Whether they'll play again is a not known. We were very lucky to have them.
22 August 2016
This year, Hadleigh Folk Club session at Folk East Festival at Glemham, north of Woodbridge, was on the Sunday morning 10.30 – 12.00 in the Broad Roots Club tent.  Not, one would have thought, a particularly popular time to sit in a tent listening to folk music.  BUT it worked. We managed to fill all the seats and have some people standing for an excellent three-guest programme.
Megan Wisdom kicked off proceedings with her authentic folk songs sung in a beautifully clear voice. She varied her set by inviting two "special guests": Will Pod, with whom she sang The White Cockade, and then Ella Beal, who did a slow step dance while Megan sang the wonderful Betsy Bell. Megan performed with great poise and made a real impression on the audience.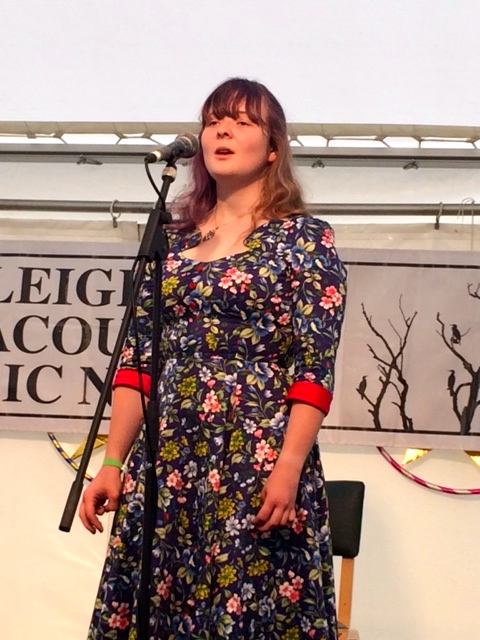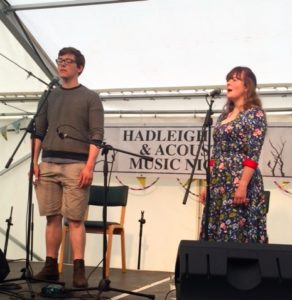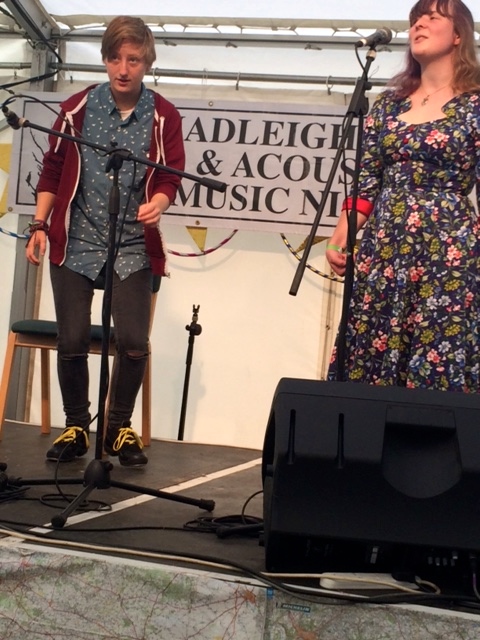 Megan and Will                                                              Megan and Ella
Next were Gwendal Moële and Paul Riley performing their French chansons. They sang songs by Jacques Brel, including the powerful Port of Amsterdam, Charles Trenet's greatest hit La Mer, La Vie en Rose from the repertoire of the legendary Edith Piaf and a franglais version of Boum, with Gwendal singing in French and Paul Riley singing the Petula Clarke version in English. Great stuff.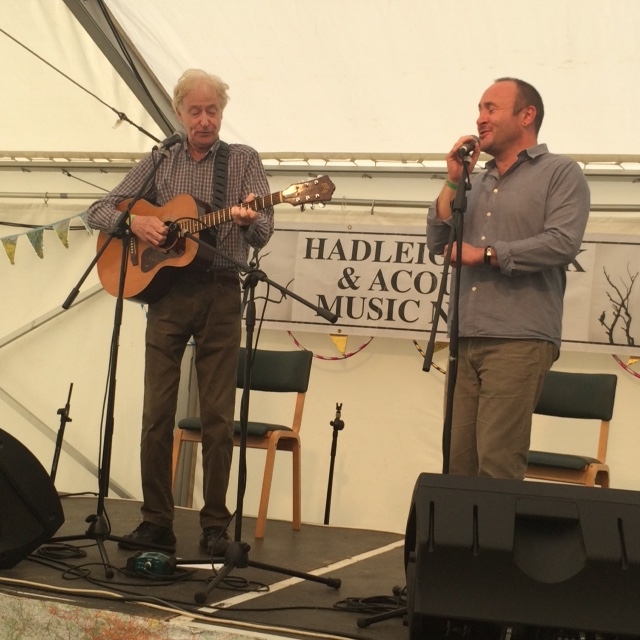 Our final guest was Kath Tait, a singer-songwriter, originally from New Zealand but now a long-term resident of London. Her set started with her song Lentils, which you can watch on YouTube here. Kath has an amazing capacity to write songs which make you laugh and cry at the same time. Many of her songs are based on her own life experiences and as a listener one can't help identifying with some of the situations she describes. Her demure stage appearance belies a great sense of humour which she reveals gradually as her set progresses. My favourite introductory line is: "My first husband was a fascist and died of spontaneous combustion." It introduces a song about intolerance and bigotry.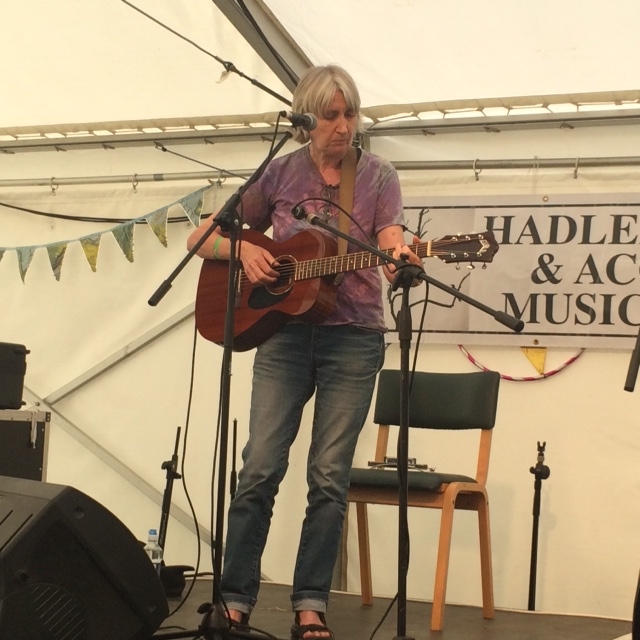 Kath's set went down a storm at Folk East.  You can find out more about her, listen to recordings etc on her website here.
SEPTEMBER 2014 – JULY 2015
7 September 2014
We kicked off our fourth season with an excellent line-up. We started, as usual, with three floor spots from Rosewood, who played three tracks from their recently released EP, Paddy Butcher, who sang three songs associated with the late great Peter Bellamy and Gwendal Moele and Paul Riley, who sang three French chansons – including Edith's Non, je ne regrette rien.
Support was from the St Albans duo Na Mara with their hard-hitting political songs. They were followed by the ever-popular couple Vicki Swan and Jonny Dyer with a wonderful variety of songs and instrumentals.
4 October 2014
"Its amazing! Your evenings are so varied." This is what one of our main guests, Issy Emeney, said after our October folk night. And there's no denying that. We started with two floor spots, the first from local singer-guitarist Paul Riley with his bluesy songs. The second was from Astrakan, a couple from Brittany who sang and played three traditional Breton songs, accompanied on the guitar and unusually the oud, a middle-eastern stringed instrument similar to a lute.
Our support act was the Crayford family from Sudbury. Their line-up was clarinet, guitar, fiddle and ukulele. Their act consisted of a wide variety of pieces, ranging from classical to Western Swing. Their final rendition of the Tom Jones hit Delilah had our audience joining in and laughing whenever Emma added a phrase on the Swanee whistle.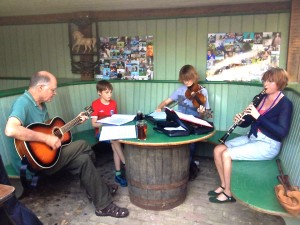 Main guests, Issy and David Emeney, originally from Sudbury but now living in Cheddar, put on their usual polished performance singing a mixture of traditional songs and Issy's own compositions. Issy's melodeon playing is first rate and David's guitar work is superb.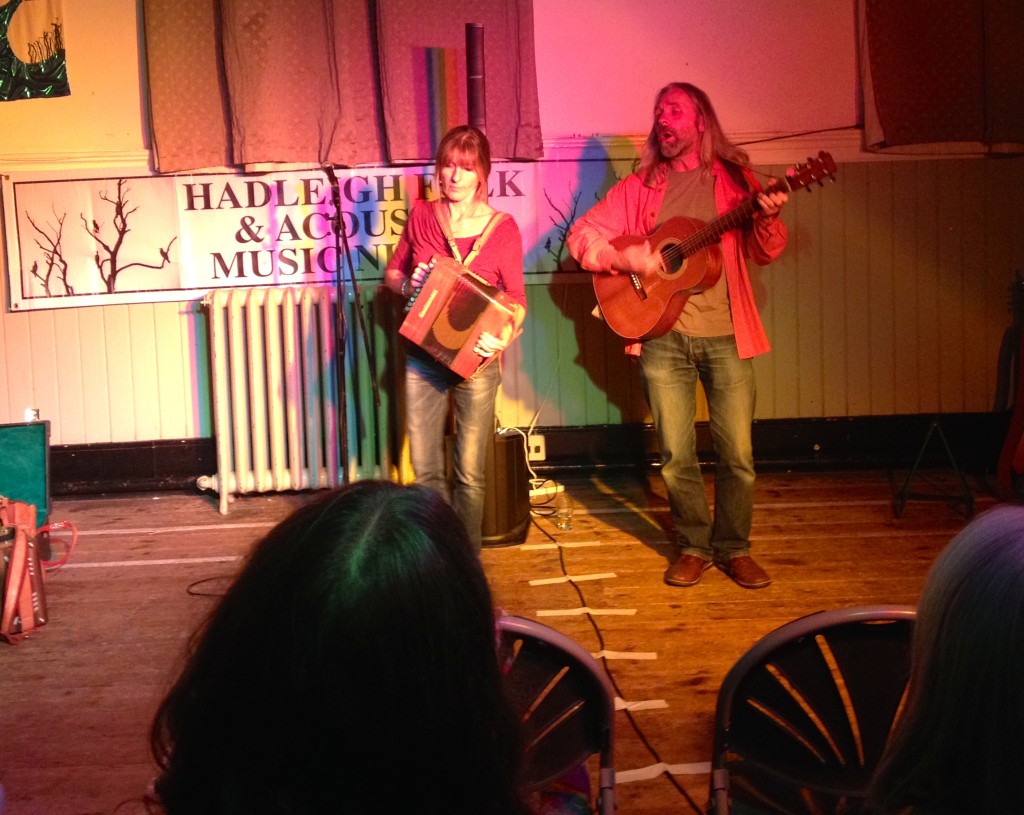 11  October 2014
Our Song-writing competition has now ended. We received nine entries which are now being considered by the  judges. The result will be announced in early November and the winning song will be published on this news page. Thanks to everyone who entered.
8  November 2014
Our November club night was probably the most varied in all the time we've been running.
We started, as usual, with our floor spots: songs from Jackie Ord, Keith Sadler and Alice Martin. Jackie and Alice sang songs with choruses and invited our audience to join – as ever, they needed no invitation! Keith sang two very different songs which invited us to share important emotional experiences.
Our support act was a first for us. We had two couples dancing  to the music of the wonderful Tango Innominado. One of the dancers gave us some basic information about the different kinds of dances they did: tango, milonga and vals. The expert dancers demonstrated these to music from the Golden Age of Argentine Tango – the 1930s-1950s, music composed by giants of tango music, including Carlos Gardel and Anibal Troilo. The band line-up consisted of Violin, Piano, Accordeon / Vibrandoneon and Double Bass.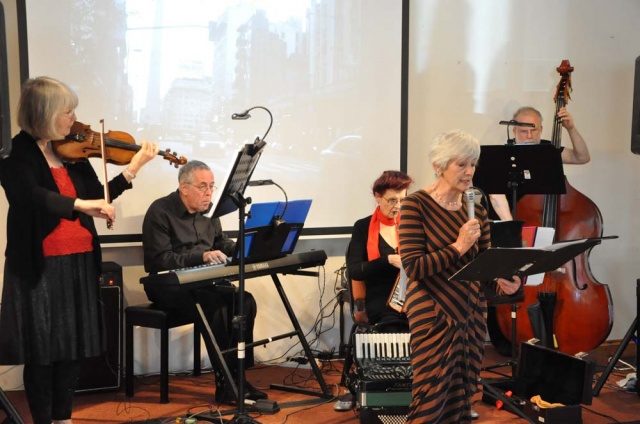 Tango Innominado
We hope that some of our audience might be attracted to try tango lessons at one of the classes put on for beginners by Suffolk Tango at Kesgrave, Henley or East Bergholt. Details and times can be found on their website at www.SuffolkTango.org.uk
Our main guests were to have been Andy Clarke and Steve Tyler, but sadly Andy was not well and so could not sing. Fortunately for us, Steve brought an excellent replacement: Katy Marchant. They play together regularly, both as a duo and  in a variety of early music and folk groups. (Have a look at Steve's website – you'll be amazed). The range of their music and the variety of instruments they played during their set were breath-taking. Steve is best known as a hurdy gurdy player, but also played harp, drum, tamborine and cittern. Katy played recorder, shawm, bagpipes and sang some wonderful ancient songs. Their set comprised medieval and traditional, and some of their compositions. The audience were spell bound and gave them a great reception. All in all a wonderful night.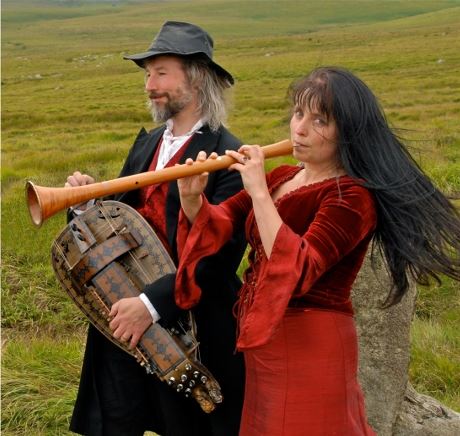 Steve Tyler and Katy Marchant

10 December 2014
We had another excellent night on Friday December 5. Instead of the normal floor spots we had carol-singing. Led by Steve and Juliet Wiles with Val and Simon Haines we stumbled good-humouredly through seven carols, one round and a poetry reading. Our audience likes nothing better than a good sing – and everyone joined in brilliantly.
Support was from East Creek Union, a recently expanded local four-piece band, whose line-up includes fiddle, banjo, double bass, ukulele and vocals. Great authentic-sounding old-time American music.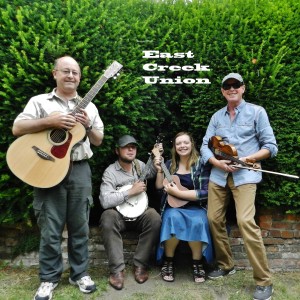 Our main guests were a girl trio from Hertfordshire Said the Maiden, who sang a mixture of a capella songs and songs accompanied by fiddle, guitar and whistle. The sound of their three voices singing in perfect harmony filled the Ansell Centre and delighted our audience. They did a brilliant version of the Dolly Parton classic, Jolene and also sang one of my favourite folk songs Spencer the Rover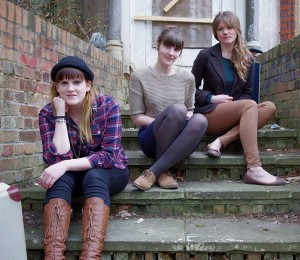 20 January 2015
We kicked off the new year with what amounted to a main act with two support acts. The evening started with two instrumental pieces from Woodbridge guitarist Robert Castellani. This was followed by our first support act: Amuseon from Picardy in northern France.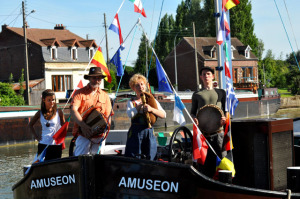 They sang a played a variety of French tunes and songs from their regio on bagpipes, accordeon and percussion. You can find out more about the group on their website.
They were followed by Essex duo Colin and Karen Cater with their songs and tunes traditional and contemporary.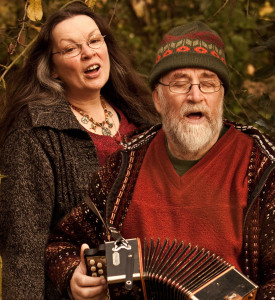 The couple who run, folk publishing company Hedingham Fair and Duton Hill Folk Club are stalwarts of the East Anglian music scene.
Our main guests were a young couple who did support at the club about a year ago, Danny Pedler and Rosie Butler-Hall. These two dynamic musicians who formed as a duo in late 2011. Danny, from Essex, plays hurdy gurdy and accordion and Rosie, from Wiltshire, plays five-string fiddle and sings. They play mostly English and French songs and tunes and enjoy a close relationship with the audience at their live gigs. (This was certainly true of their visit to Hadleigh) Their music is characterised by flowing melodies, intricate harmonies and strong rhythms while keeping the flavour of the traditional style.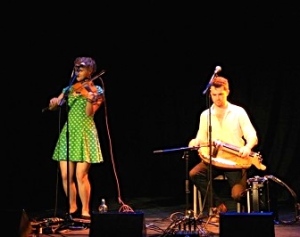 I'm sure we'll be seeing more of this duo in the future. You can find out more about them and listen to samples of their music on their website.
7  February 2015
Another excellent night with floor spots from Phil Lyons – who admirably stood in for two singers who didn't show – followed by Mike Green and High Ward.
Support was from Holly Johnston, who had travelled all the way from Scotland where she now lives. Holly sang mainly her own beautifully crafted songs and then sang two accompanied by her father Bill on guitar. Watch Holly and Bill sing The Sun and the Moon and Richard Thompson's  I wanna see the bright lights tonight on YouTube here: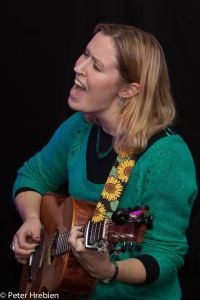 Our main guests were the talented Sam Kelly Trio with their eclectic repertoire of traditional folk songs, blues and contemporary compositions. Sam himself has wonderfully flexible voice which can sound raw and Seth-Lakeman-like but then changes to sound gentle or bluesy.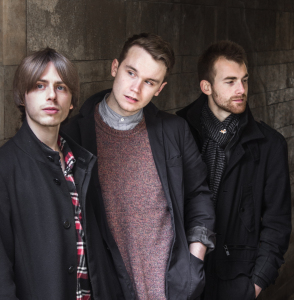 Sam played guitar with Jamie Francis on tasteful banjo and Evan Carson on percussion. Their arrangements were imaginative and their playing was tight. If the folk world has any sense – I do wonder sometimes – it will snap this trio up. If you didn't see them in Hadleigh, you can catch them at this year's Folk East on the weekend of 21 – 23 August at Glemham Park. You can find out more about the trio here.
9  March 2015
Our folk club evening on Friday March 6 was devoted to music from France, Brittany and Belgium. In addition to being a normal club evening, it was also  a taster for a full day of music and dance held on Saturday March 7.
Bof! opened the Friday evening, followed by Katskoo from Belgium, local band Trio Saozon and finally Duo Shepherd-Gielen.
During the day on Saturday there were music and dance workshops with a dance (Bal) in the evening. The evening dance featured Bof!, Katskoo, Duo Mistral (Chris and Caroline Shaw) and Duo Shepherd-Gielen, which from time to time became Trio Shepherd-Gielen-Eaton when they were joined by ex-Blowzabella hurdy gurdy player Nigel Eaton. This provided the perfect opportunity for a mass performance of Nigel's Halsway Scottische – 13 musicians present knew the tune and joined in. This can be seen and heard on Facebook at https://www.facebook.com/simon.haines.37
These are photos of all the bands who played over the two days.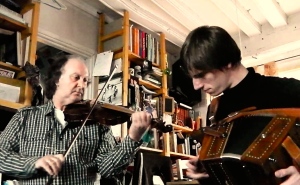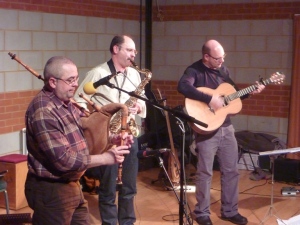 Duo Shepherd-Gielen (England/Belgium)         Katskoo (Belgium)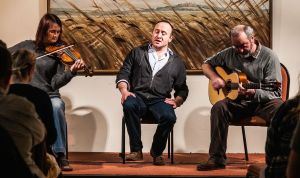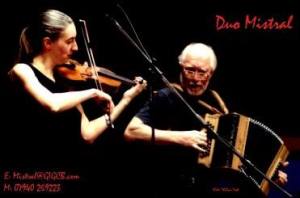 Trio Saozon (UK/Brittany)                                          Duo Mistral (UK)
This was the complete programme for the two days in pdf format
March 6-7 Programme-1  /  March 6-7 Programme-2
15 April 2015
Our folk club on April 10 featured Cambridge quartet The Jumping Beans with support from  other-daughter duo Alice and Megs Martin. Floor spots from Simon and Val Haines, Stan and Maggie Moore and the Columbines. It was another well-attended night.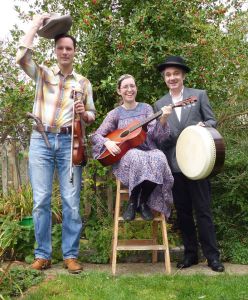 The Jumping Beans
26 May 2015
Our club night on May 1st featured main guest Terence Blacker with his intelligent and witty songs.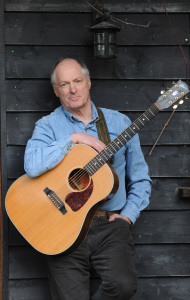 Support was from Elaine Barker and there were floor spots from Anna Baldwin, John Cunningham, Henry Lawrence and Terry Hiscock.
6  June 2015
Another great night at the club last night with main guest Louise Jordan with her songs and poems – some traditional but many of her own compositions – all tastefully accompanied on guitar and keyboard.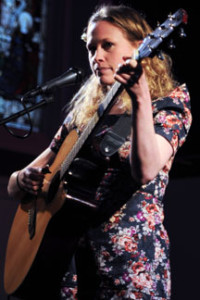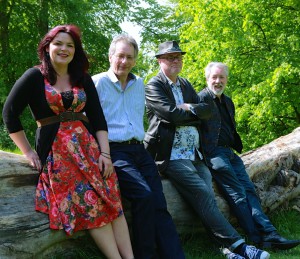 Louise Jordan                                       Where's Spot
Support was from Essex band Where's Spot who treated us to a wide range of songs including an intriguing medley of four Beatles numbers, skilfully woven together. Great harmonies.
The evenings three floor spots were special, too. We started off with Tom King from Felixstowe who sang three songs, then we heard three songs each from the joint winners of our last year's Song-writing competition; Megan Wisdom (The Taunting Cuckoo) and Ellie Masterman (Patchwork). Here are the words of the two excellent winning songs.
 July 2015
There is no club night in August, but there will a Hadleigh Folk Club session at Folk East on Saturday 22 August featuring Rosewood, Terence Blacker and East Creek Union. We'll be on the Garden Stage from 7.20 – 9.20 pm.
Our fifth season kicks off on September 4th with main guests The Askew Sisters and support from the Ross Birkitt Trio.
3  July 2015
Our fourth season finished on a high note with our guests Sally Ironmonger and Brian Carter. Several of their songs had our audience in stitches, but these were balanced by more serious songs, some of them documenting the decline of the shipyards in their home town of Chatham.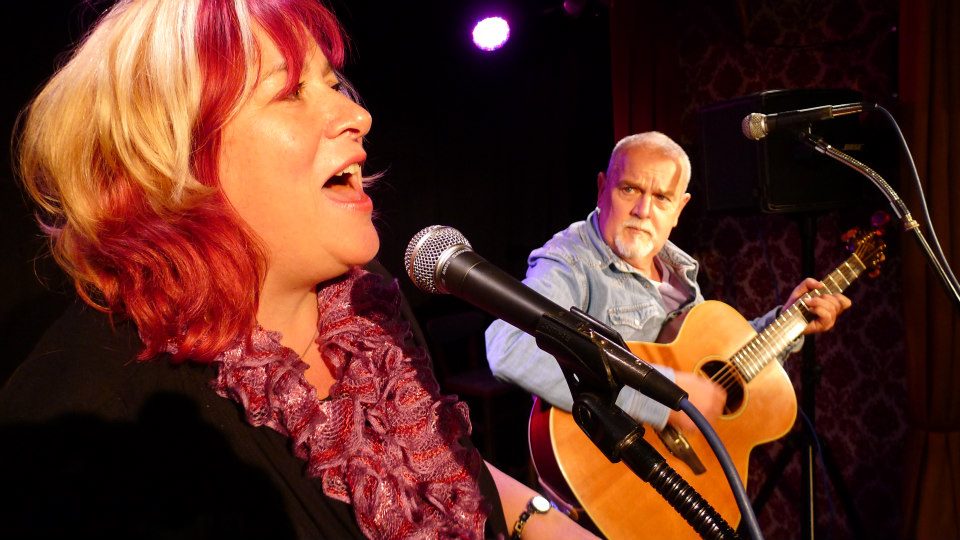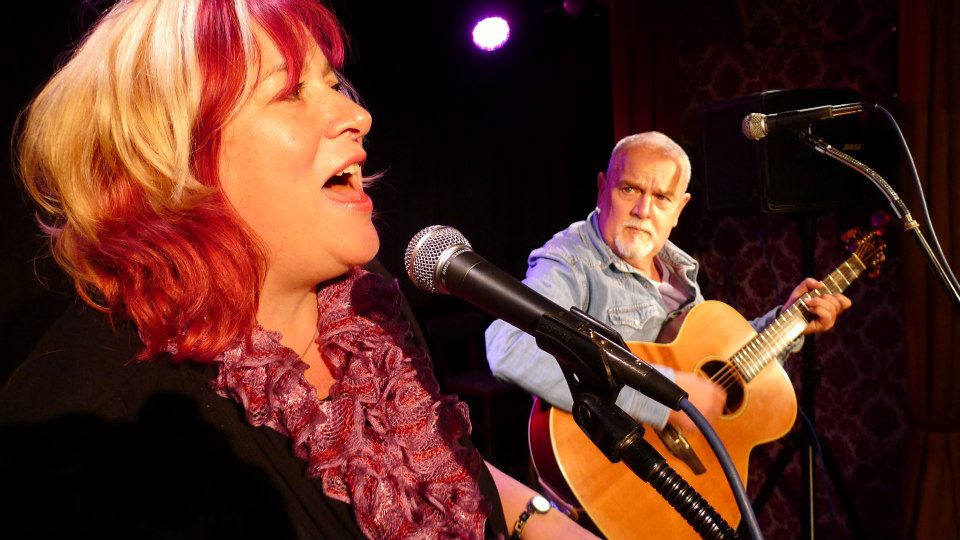 Sally Ironmonger and Brian
Support was from Park and Ride, Cara Park and Don Qui Ride (aka Nelson Surfquake). Their quirky set included the stylophone version of the 1960s hit Telstar and Jane Birkin and Serge Gainsbourg's Je t'aime.  (Both parts were played by Don/Nel)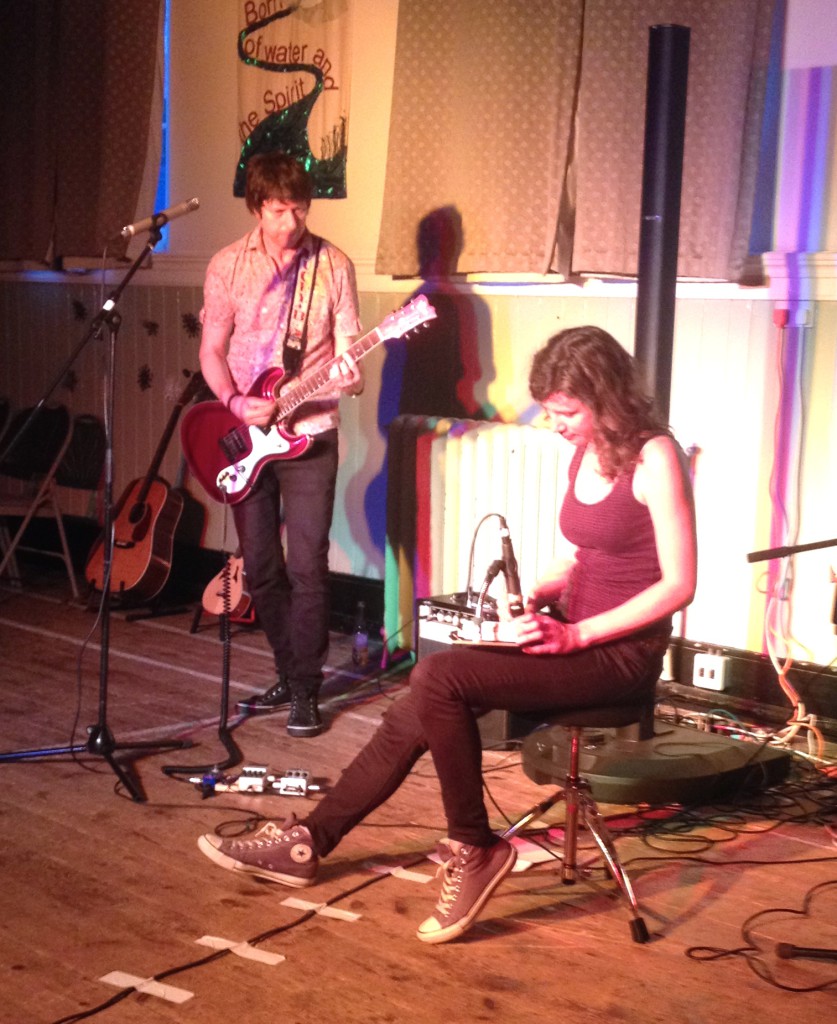 Park and Ride – Nel on guitar and Cara on stylophone
Great floorspots too, from Tricker, Green and Ward; Rachel Hack and guitarist Peter; and The Columbines. Rachel's slow version of She Moved through the Fair is wonderful.
JANUARY – JULY 2014
28 July 2014
FOLK EAST – 15-17 August, Glemham Hall
•   Hadleigh Folk Club at Folk East
We will be organising a 90-minute programme in the Club Tent at Folk East Festival from
4.00 – 6.30 pm on Friday August 15. Appearing, not necessarily in this order will be
•   Phil Lyons
•   Trio Saozon
•   Park and Ride (below)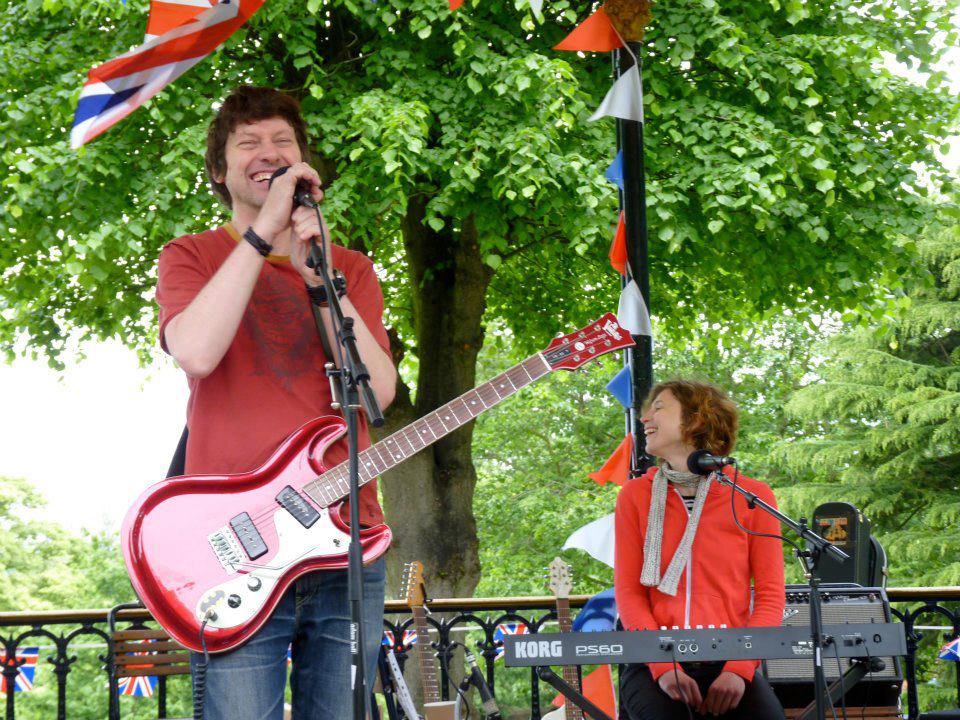 •   Bof! will be playing on the Broad Roots Stage at 23.00-00.30. This spot is programmed as
a concert spot, but last year, at the same event, some of the audience were moved to
dance

TWO MORE DATES FOR YOUR DIARY
•   October 11 – a Mini-Bal with Bof! and Trio Saozon, starting at 8pm in the Ansell Centre.
In the afternoon there will be a dance workshop, so you can brush up your French
dance; this will be followed by a shared supper.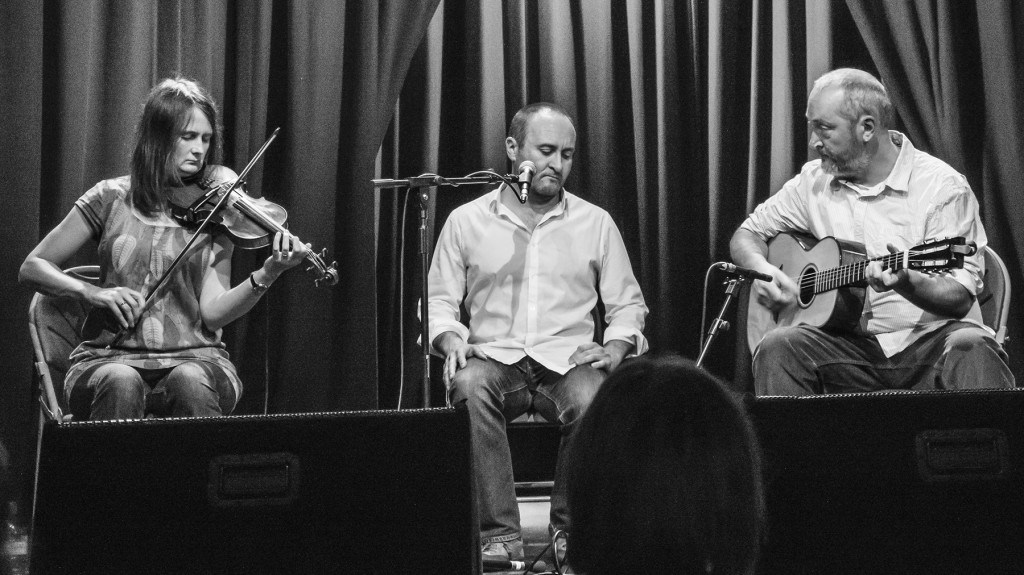 Trio Saozon
•   March 6 2015 – The folk club evening will consist of a concert of French music with Bof!,
Trio Saozon,  Katskoo from Belgium, and Duo Shepherd-Gielen.
•    March 7 2015 – Music and dance workshops, followed by an evening Bal with Bof!, Duo
Mistral,  Katskoo, and Duo Shepherd-Gielen.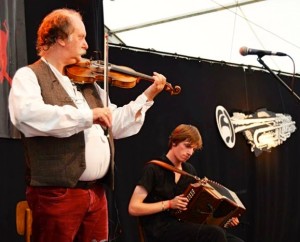 Duo Shepherd-Gielen
•    All events at the Ansell Community Centre, Market Place, Hadleigh, IP7 5DL. Further details to be announced
4 July 2014
Last Friday evening was the last of our evenings before the start of our next – fourth – season on September 5th. Despite the hot humid atmosphere, and Wimbledon on the TV, a good sized audience turned out.
We started with three floor spots, the first was from Dave Tricker who originally planned to perform with Mike Green, but Mike was unable to be with us, so Dave did two songs on his own: The Good Ship Kangaroo and Icarus (Anne Lister). Next Marz Harley, a recent arrival on the local music scene treated us to two songs accompanying himself on funky, jazzy guitar. Finally we had two self-penned songs from the Ipswich duo Trick: Nick on guitar and Trudy on whistle, melodica and percussion.
Our support act comprised two musicians well-known to our audience, but not performing  together: Paddy Butcher (melodeon and hurdy gurdy) and Phil Lyons (vocals and guitar). As Echoes of Bal Musette they introduced us to Bal Musette, a particular  style of French music and dance that  became popular Paris in the 1880s with the influx of migrants from rural parts of France who poured into the capital to find work bringing their regional music with them. Paddy and Phil played examples of the kinds of music and dance that would have been played at a bal musette: the bourrée, the schottische, and the mazurka.
Our main guests were Mick and Sarah Graves from Maldon in Essex. Sarah on English concertina, banjo and vocals, and Mick on fiddle and mandolin provided us with a great end-of-season performance. Mick and Sarah do most of their playing  in The Metric Foot Band and, sadly, don't get to play as a duo very often these days, though one would never have realised this from their polished performance.   They played a varied set of songs and instrumentals. Highlights of their set for me were their unusual version of The Bonny Light Horseman Sarah's clog dance – Sam Sherry's Waltz, and their final song You can't teach an Englishman to tango.
11 June 2014
Our June 6th evening was special in several ways. Our main guest Tony Hall, from Norfolk, has been one of the country's most well-respected melodeon players for several decades now.  An appearance at Colchester Folk Club in the 1970s was what inspired Simon to take up the instrument nearly forty years ago – yes, he's been going that long. In addition to his solo appearances at clubs and festivals all over the country and recording a number of  albums – vinyl and CD – Tony has played on many important recordings by other folk luminaries, including No Roses, one of the first Albion Band recordings, featuring singer Shirley Collins, Silly Sisters, the influential album from Maddy Prior and June Tabor, No Relation, by Young Tradition members  Royston and Heather Wood, and Penguin Eggs, the seminal album by Nic Jones. In addition to being a marvellous singer and instrumentalist, Tony is a humorous, self-effacing performer in the old style, slightly wary of the direction the modern folk scene is going. By trade Tony is  a  cartoonist, so instead of selling CDs, he offered the Hadleigh audience a chance to buy his collection of melodeon cartoons called Squeezeboxing, an Uneasy Guide. Here's one I love: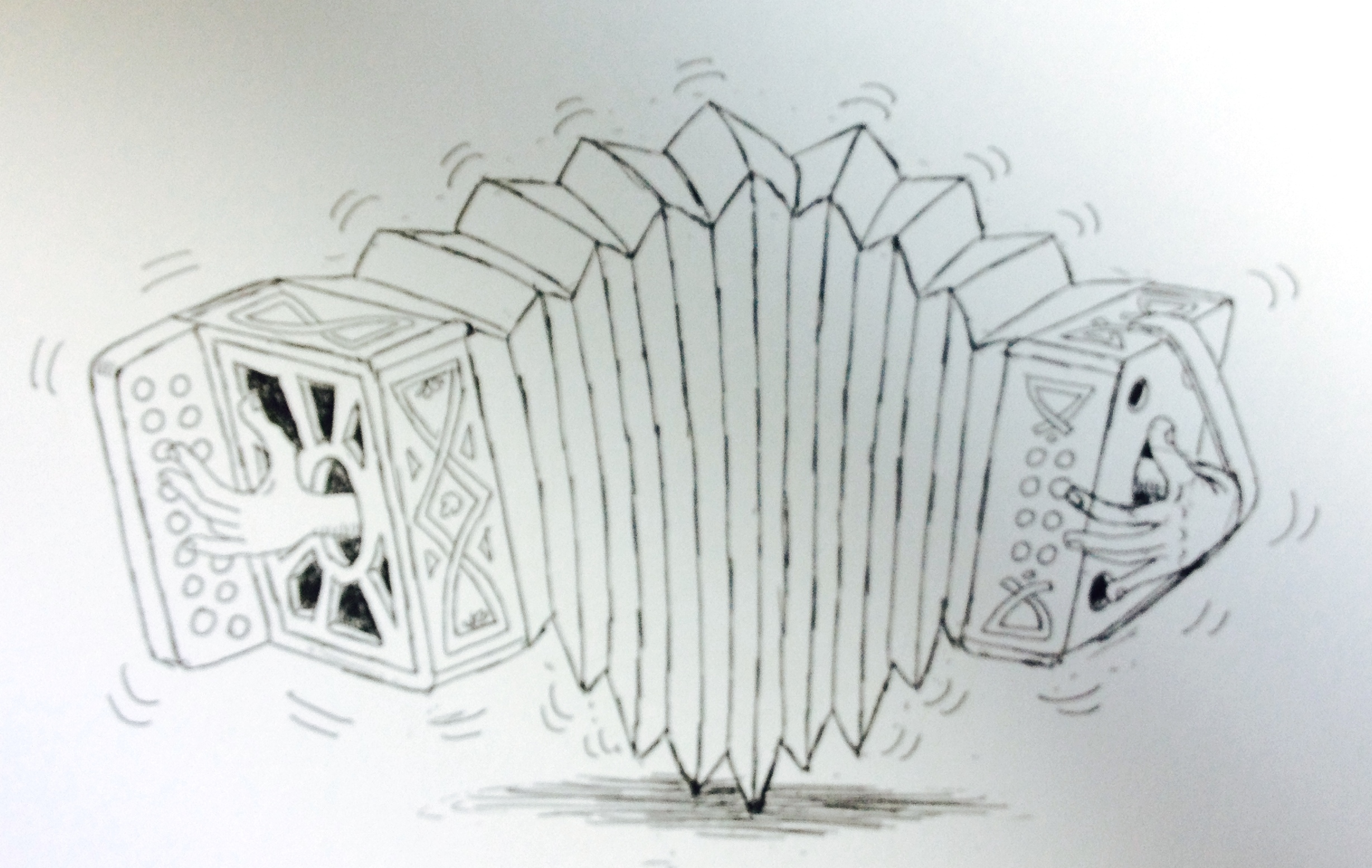 Supporting Tony was virtuoso cellist / composer Kathryn Coombs accompanied by The Hosepipe Band's Geoff Coombs on mandolin and Sarah Allen, from Flook on flute. What a wonderful sound the trio made on their first public outing.  They go by the name of Chodompa Music, but it'd be hard to categorise their music using the normal genres, but I guess  "jazz" would come closest. All the pieces were composed by Kathryn herself and each created its own distinct mood.
There were also floor spots from Henry Lawrence and Peter Rushmer who both sang and accompanied themselves on guitar. And a last minute contribution, a dramatic rendition of The Galway Shawl  from Graham Schofield.
This was also the first folk event attended by three of Simon's grandchildren. Ivy and Stanley were too young to know what on earth was going on, but three-and-a-half-year-old Rufus couldn't contain his enthusiasm. He'd brought along his own toy plastic melodeon, but was too tired to stay long enough to hear Tony play it. Here he is in full flight.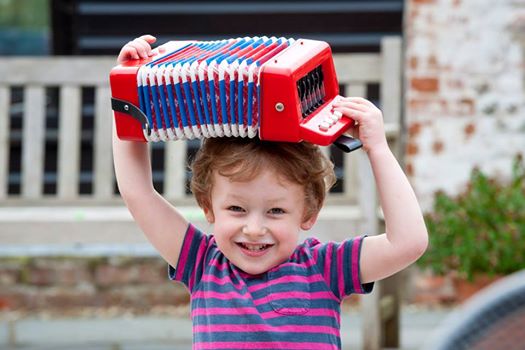 3 May 2014
Another brilliant, packed out evening on May 2nd
Floor spots from
•  The Institukes – a six-piece band featuring clarinet, guitar, ukuleles, flute and vocals
•  Dave Baalham and Poppy – guitar and vocals
•  Ross Birkett with daughter Eliza – songs with guitar and mesmerising violin playing
Support was from Stan Bloor and Maggie Moore, otherwise known as Pluck and Squeeze. They treated us a variety of excellent songs and tunes on melodeon, accordeon, guitar and ukulele. Songs ranged from tales of industrial revolution hardship to music-hall ditties. One of these, Did your first wife ever do that? had everyone in fits as they joined in with the chorus. This song was in marked contrast to the melodramatic story of Grace Darling whose superhuman efforts saved the crew of a ship off the Northumberland coast.
The evening's main guests were John Ward and Mario Price with  added vocals from Lynne Ward. Some of our audience remember John and Mario from their previous appearance at the club and, as before, they went down a storm. Their material is also very varied, ranging from John's inventive songs, many of which revolve around fishing and his native Norfolk town of Lowestoft, to chorus-driven traditional English songs, like Yarmouth Town and Byker Hill, to tune sets featuring Mario's fast and furious violin playing – particularly notable on an Eastern European tune.  The last song in their set featured a blistering bodhran solo from John. This thoroughly professional, entertaining duo brought the evening to successful close. I am sure we will be seeing more of them in the future.
Interestingly, when audience members were choosing which CD to buy, they asked, "Which one has the song about the daughter leaving home on?" and "Has he recorded Leaving without leaving, a song about the slow decline of relationship?"
7 April 2014
We had an excellent night on April 4th with a near-capacity audience who enjoyed a varied programme
Floor spots from
•  Anna Baldwin – a fiddle tune and two songs
•  Barry Askew  – tunes two on melodeon and one on concertina  – Barry's first time in front of a large audience
•  Vere and Wyn – two songs
The support act for the evening was by The Larks, a local duo who sang mostly their own songs. Liz Miller is the lead vocalist accompanying herself on mandolin. Her partner, Chris Wilbraham plays guitar and adds some vocal harmonies. The Larks sang have just brought out a 5-track CD Field. Their set included most of the songs on this recording, including Mermaid, Field and Whistle and Ride. There is more information on the Larks' website.
The evening's main guest was Andy Mathewson, a singer-guitarist from Berkshire. He amazed our audience with his guitar playing and varied material learned from 1920s American blue and ragtime guitarist Blind Blake, Billy Holiday, The Boswell Sisters as well as some of his own songs. Andy also played a delightful instrumental version of the Paul McCartney song I will. His knowledge of twentieth century  music was impressive. We will certainly be booking Andy again some time in the future. Find out more about the musician and his music at www.andymathewson.com .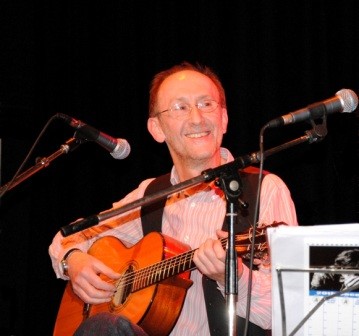 15 March 2014
You may have seen in the East Anglian Daily Times (Friday 14th March), BBC Suffolk's Stephen Foster wrote a short feature about our song-writing competition in which he said "The winning songs will both be aired on my radio show on BBC Radio Suffolk." That's a great offer and should be a real incentive to all those budding song writers out there.
9 March 2014
We had another evening of very varied music last Friday with three new Floor spot acts:
•  Neil Hadden playing tunes expertly on the piano accordeon
•  The Complicated Folk, a three-piece local band who played original songs on guitar,
mandolin and  percussion (on empty guitar case).
•  Holly Johnson  who sang her own songs accompanied by her guitar and a flute.
Support was from Halfcrownstreet – Simon Haines, Val Haines and Phil Lyons
Our main guest was singer Steve Turner who put in a great performance singing mainly traditional songs accompanying himself mainly on English concertina and guitar. He also played instrumentals on mandolin.
Our next evening on April 4 has main guest Andy Mathewson from Berkshire. Originally Andy was one half of a duo with Lisa Winship, but some months ago their musical partnership broke up – one of the risks associated with booking bands a year in advance. Luckily, Andy is an excellent solo performer of what he calls vintage acoustic music. This includes 1920s blues as well as music from other  parts of the twentieth century. Andy is an excellent guitarist, and also write some of his own songs for which he has won awards.
6 March 2014
PRET A DANSER is a new group meeting on the second Wednesday of each month at the Minories in Colchester. The aim is to learn and enjoy French and Breton traditional music and dance.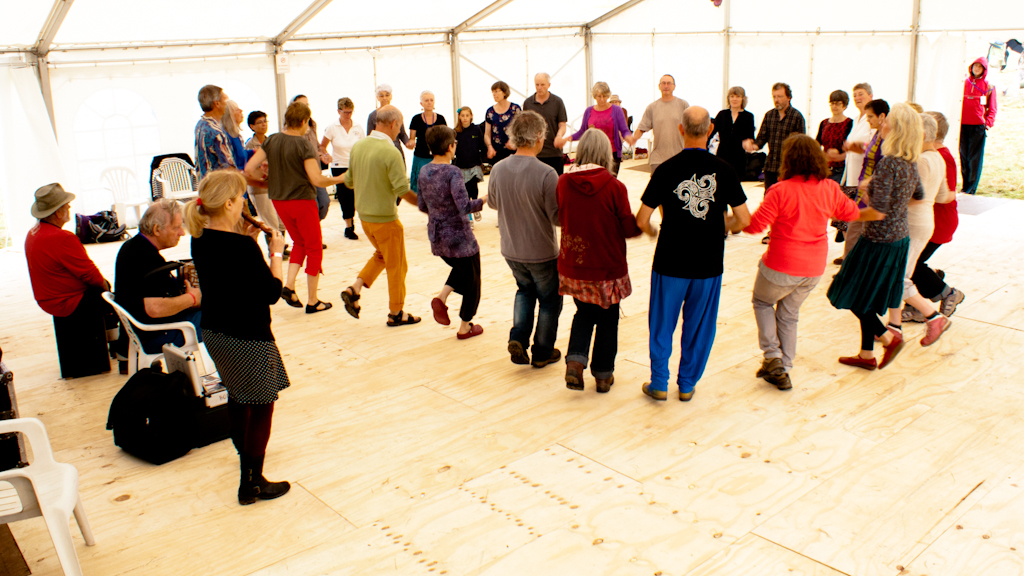 At 7.00 pm musicians are welcome to come to learn and share tunes for the dance. From 8.00 -10.00 pm there will be dance tuition for newcomers and an opportunity for all to dance. Come and experience the fun of dancing to live music and/or playing it! Admission £5.
More information on Facebook page at https://www.facebook.com/groups/367539256717896/
20 February 2014
Our next club night is on March 7th when we welcome main guest Steve Turner. You'll find lots off interesting information about Steve and be able to hear samples of his music at http://steve-turner.co.uk/index.htm. Support if from Halfcrownstreet – a close relative of the four -piece group Crownstreet who played the first of our music nights in September 2011. Singer-guitarist, Phil Lyons, who doesn't regular floor spots and supports at the club has replaced Stuart and Bobby Moffat.
We had an excellent evening on February 7th despite the fact that Alvar Smith could not make it due to a bad throat. We had  floor spots from Steve and Kate Dines, Alice Martin, Colin and Karen Cater and Sally Ironmonger. And, in Alvar's absence, we had great support from Roger Middleditch, Eammon Andrews, Lindsay Want-Beal and her 14-year-old step-dancing daughter Ella – stalwarts of the Suffolk music scene. All of these performers can be seen regularly at the session at The Harbour Inn Southwold  – on the second Thursday of the month. Main guests Tin River, from Bungay, gave us a great selection of songs and tunes on melodeon, whistle and guitar. This was very much a local, East Anglian evening that was appreciated by our  loyal Hadleigh audience.
Eammon sang a song that is becoming a firm favourite in our household: Man All Tattered and Torn – this version by Suffolk singer Geoff Ling.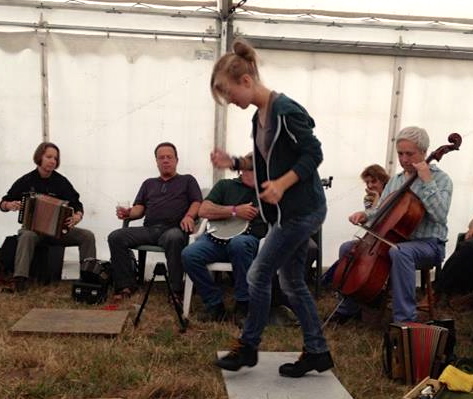 Lindsay Beal left on melodeon, playing for Ella Beal dancing
14 Jan 2014
Our next night is on February 7th, when our guests are the trio Tin River Band from Norfolk. We first saw them playing at the Harbour Inn in Southwold, when they accompanied melodeon wizard Tony Hall as well as singing songs and playing tunes of their own.
Our support act will be Alvar Smith, one of our favourite singers at sessions in Suffolk pubs, like the Snape Crown and the Harbour Inn. Here's a recently recorded YouTube clip of Alvar singing the classic chorus song, Pleasant and Delightful, at The Bell, Walberswick: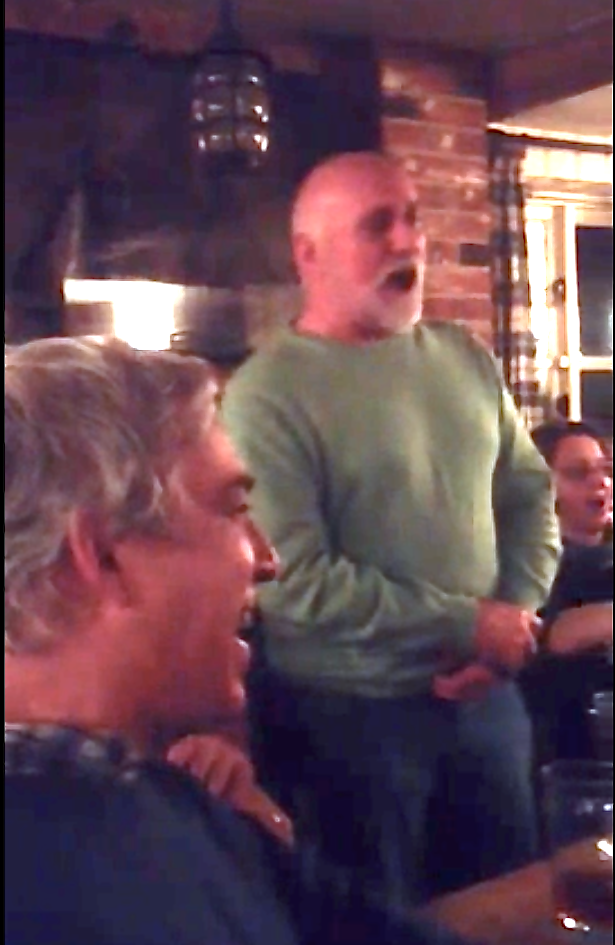 3 Jan 2014
Happy New Year! We had another great night on January 3rd when our main guests were Colchester Waits with their ancient instruments and jolly tunes and songs. Support was from Paul Riley and Gwendal Moele singing mainly French chansons, including songs by Edith Piaf (Hyme a l'Amour), Charles Trenet (La Mer), Jacques Brel (the English version of Ne me quitte pas). Unexpectedly, they finished their set with a rousing rendition of La Marselleiaise, with its inspiring chorus:
      Aux armes, citoyens,  Formez vos bataillons,  Marchons, marchons!  etc.
Amazingly many of our audience joined in – with feeling!