JULY 2022
This was one of our double main guest nights, featuring Tony Winn from Laxfield in deepest Suffolk and Na Mara, a duo from St Albans. Sadly Rob from Na Mara was struck by the dreaded Covid and couldn't make it
Accompanying himself on acoustic guitar, Tony mixes the touching with the hard-hitting, the poignant with a laugh. He sings about humankind and it's world, reflecting his own oblique views on life as a member of the human race (which he is determined to win!)

Tony cites as his influences Tom Waits, Bob Dylan, Kurt Weill, The Beatles. Randy Newman and Jake Thackeray.  There is more information and music to listen to on Tony's WEBSITE.
In recent years, Na-Mara have built an enviable reputation for fine story-telling and musicianship, performing in venues and festivals across the UK, at events in France, Spain, Germany and China, and on BBC Radio 4 and a plethora of internet and local radio stations.

They consistently deliver new and exciting material to folk audiences with their own provocative material in traditional style on contemporary and historical topics; their English translations of songs from Breton, French and Quebecois traditions; and their take on traditional tunes from Brittany, France and the Spanish Celtic regions of Asturias and Galicia.  There is more information and plenty of videos on their WEBSITE.
JUNE 2022
We had another lively and varied evening with a large jolly audience. Two floor spots kicked off our evening with three songs each: Joka and David Rumble.
They were followed by 45 minutes from local duo False Colours whose tuneful, melodic  jangle folk consists mainly of self-penned songs based to their own life stories.  Polly and David both sing, accompanying themselves tastefully on electric upright bass and electric guitar.
The duo began performing together in 2018 and in their first few months were booked to perform at FolkEast Festival. Determined not to miss an opportunity to make a good impression, they recorded their first EP Here's Something live in one day and released it that summer. Find out more and hear their music HERE.
Following the raffle, the evening was rounded off by a cappella foursome Sound Tradition, fresh from their appearance at The Chippenham Folk Festival,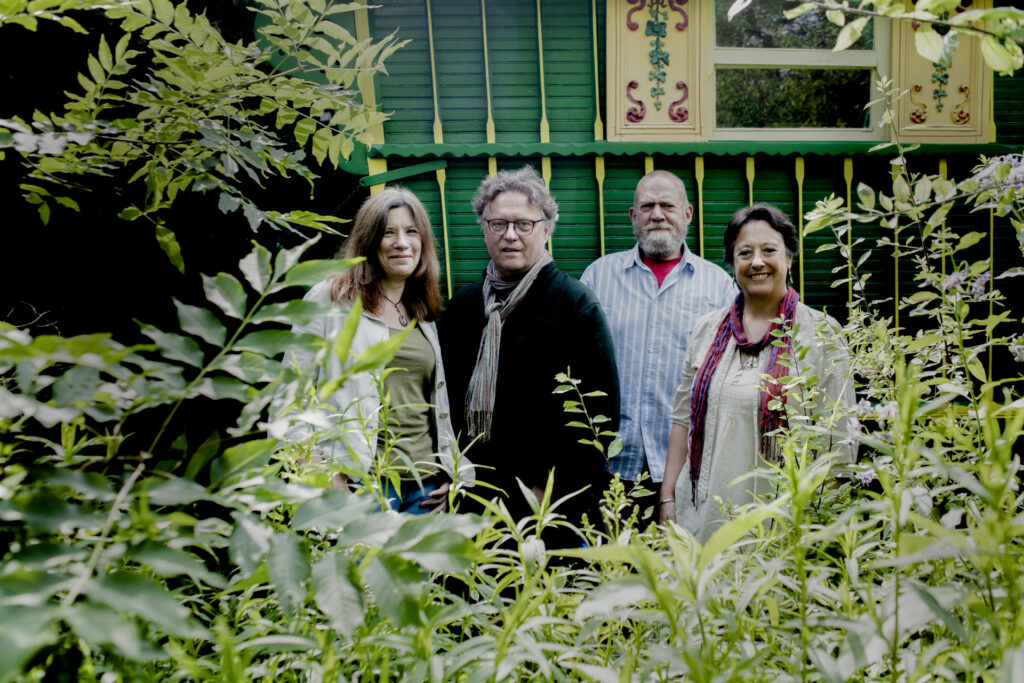 This was a belated appearance by the group  we had cancelled on three previous occasions due to Covid. Catherine, David, Moose and Linda,  treated  us to their glorious harmony singing. Their varied repertoire ranged from lively chorus songs to lilting ballads, and from medieval times to the modern day, but always with an ear for the English folk tradition.  The audience were invited to join in with their rousing choruses, on songs such as Byker Hill and Daddy Fox. Further information and samples HERE
MAY 2022
Our main guests for May were the inspiring duo Oka Vanga with a wide selection of songs and tunes. Brilliant guitar playing from William Cox and Angela Meyer accompanied original songs composed mainly by Angela whose voice is strong, melodic ethereal. They promote themselves as a "Folk / American duo", but this seems to limit their appeal unnecessarily. The Hadleigh audience were very impressed. Find out more about them on their website: https://okavanga.com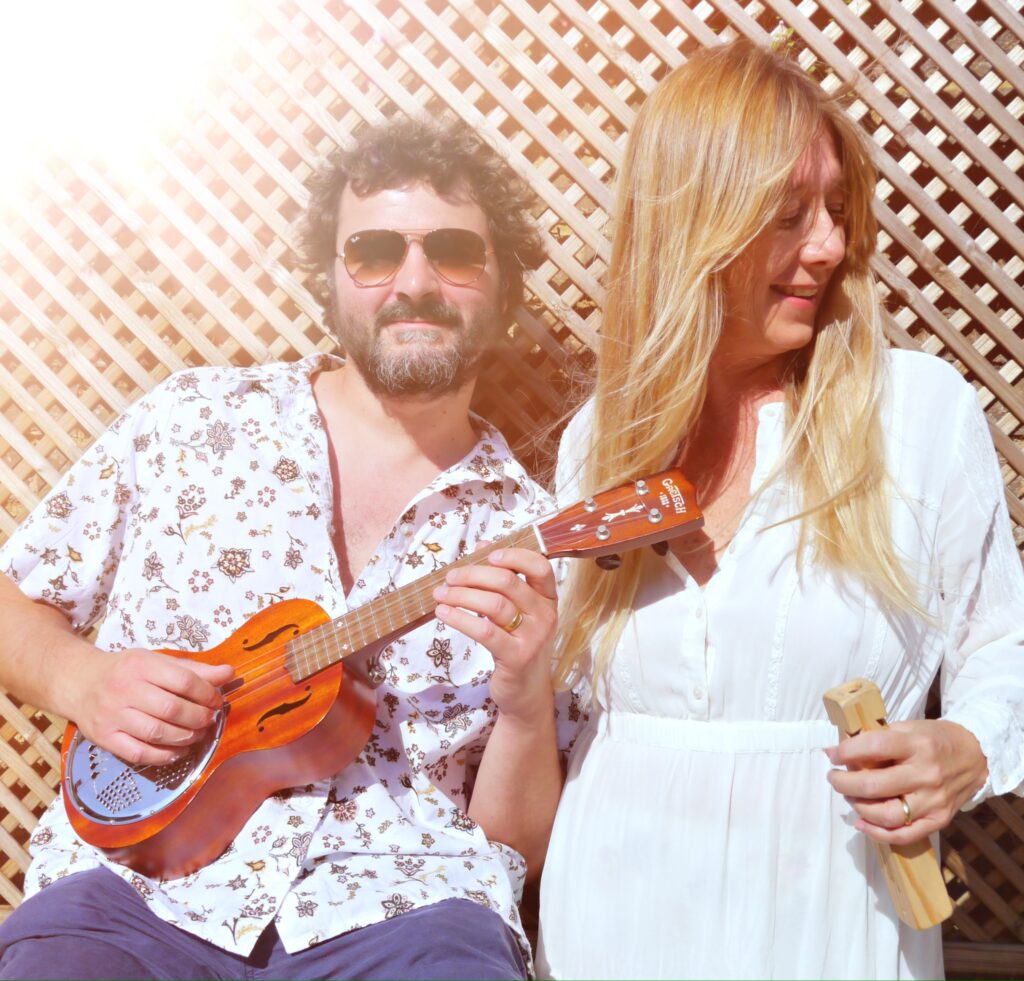 Our featured guest for the evening was  Elly Tree (AKA Helen Woodbridge) who accompanied her own songs on guitar, bajo and ukulele. Her songs and style of singing are powerful and demand attention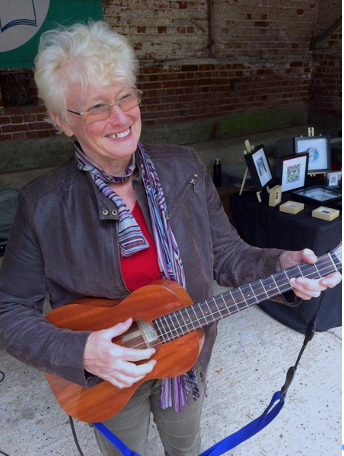 APRIL 2022
Our April evening was cancelled due to Covid.
MARCH 2022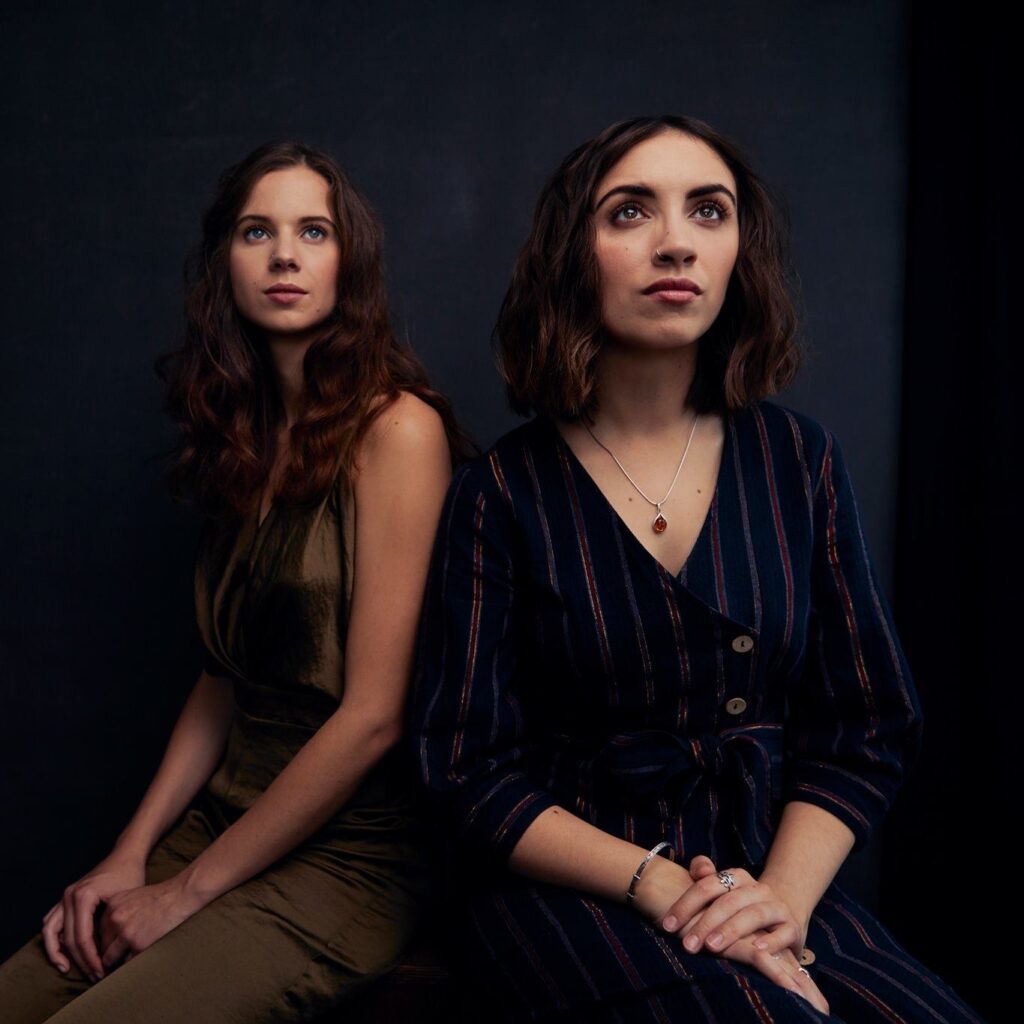 Our main guests were the duo Roswell: Zoё Wren and Jasmine Watkiss, harmony-obsessed multi-instrumentalists who got together after an impromptu Cambridgeshire gig in 2018. There's more about Zoe and Jasmine on their website HERE.
On our evening they sang mainly their own compositions, but added a few covers, including The Cranberries' Dreams (video below)

Our Featured guest for the evening was Phil Lyons, Colchester singer-guitarist.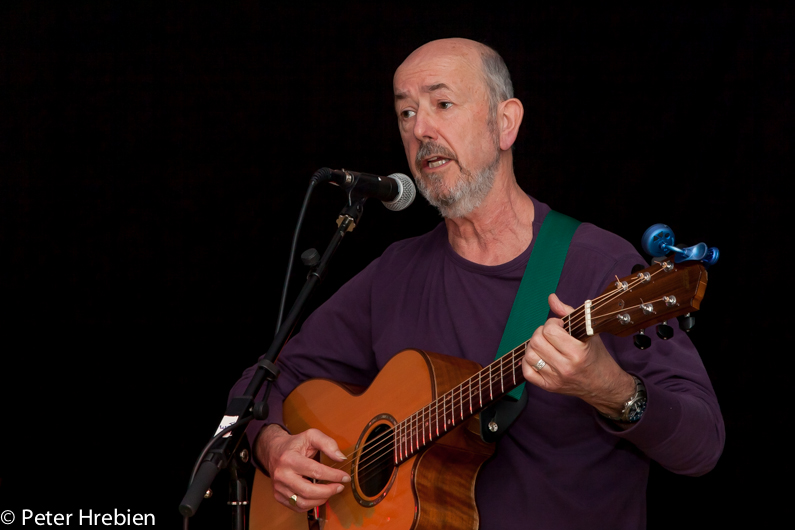 Phil sang songs in his inimitable style and played an instrumental – here's short clip from it.


Find about more about Phil on  FACEBOOK.
FEBRUARY 2022
Back in business in February, Simon and Val kicked off the evening with a couple of tunes and were followed by Two pages (Angela and Mark). Our joint main guests for the evening were Maggie and Stan and The Medlars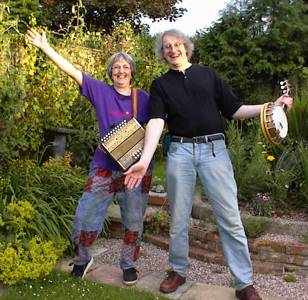 Maggie & Stan are a Suffolk based folk duo, who sing songs with strong melodies and choruses. They also play traditional tunes with loads of bounce and lift. All this plus a healthy dose of humour. The last time they came to Hadleigh, they went down a storm.
Below is a  song some of you may remember. There is more on their WEBSITE.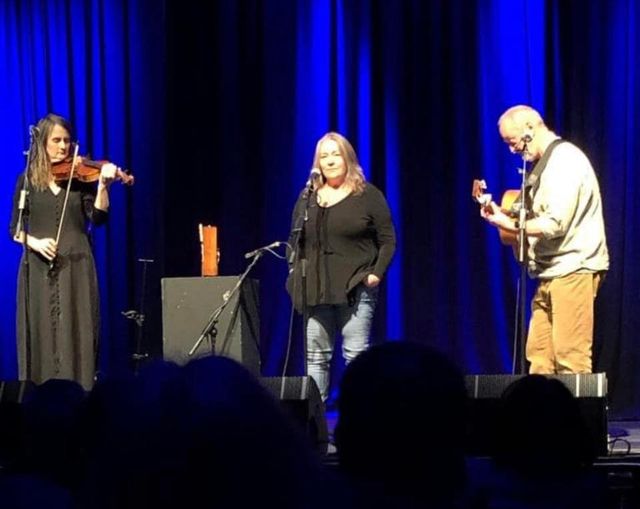 The Medlars, from Colchester, perform songs and tunes which originated from and are firmly rooted in the folk tradition. Alie Barnes – vocals, Tom Hardy – guitar and vocals, Emma Hardy – fiddle and vocals.
Watch a video below and find out more about them on  their Facebook
JANUARY 2022
Sadly we had to cancel our January evening due to Covid. We would have had  main act, Sound Tradition with featured guest Jeremy Harmer. Both will be rebooked next season.
DECEMBER 2021
Our last evening of 2021 featured Rosewood as our main guests with Stan Harvey as our featured guest. The evening started with three songs form the Hadleigh Community Choir. The audience joined in the chorus of their rousing version of Shane McGowan's Fairytale of New York.
Stan Harvey's set featured a wide range of American songs from the 1940s to the present day. Stan has real stage presence and his set was appreciated by the Hadleigh audience.
Rosewood, a trio comprising Phil Lyons and club organisers Val and Simon Haines, performed a varied range of songs and instrumentals, kicking with two rousing tunes from the repertoire of 19th Geordie fiddle player James Hill. Songs in their set included The Apprentice Boy, Kirsty McColl's In These Shoes, Maloney Puts His Name Above the Door, My Son in Americay, and John Tams' All Right Jack. After being persuaded to give the performance a standing ovation, Rosewood finished the evening with two of Simon's waltz  tunes: March 10th and Laura's Waltz.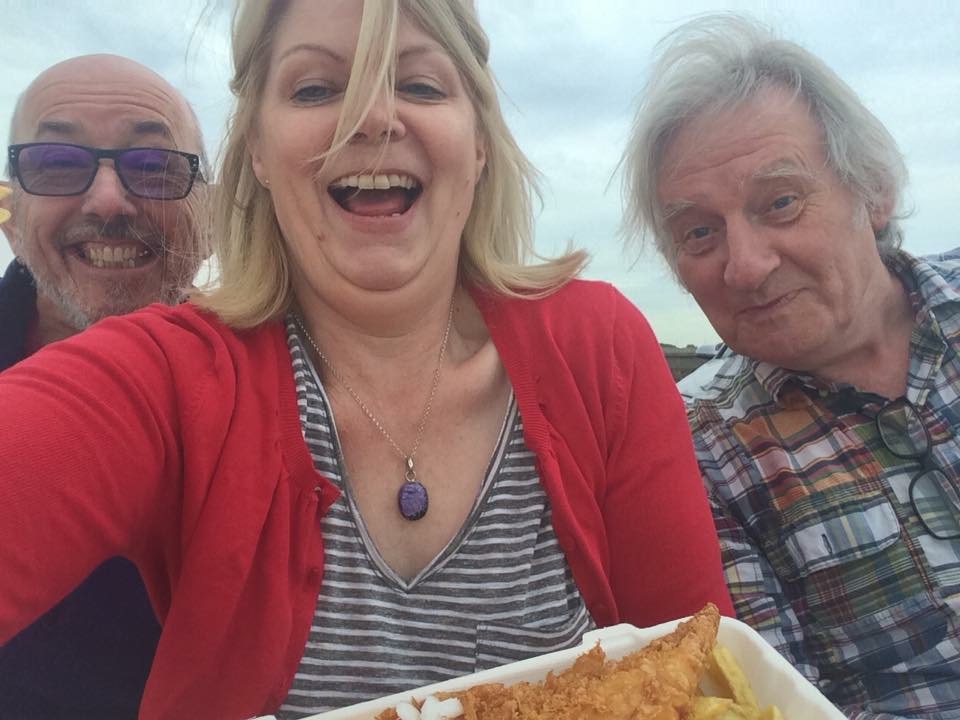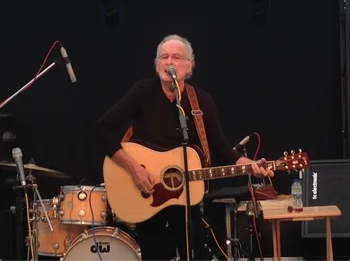 Rosewood                                                                        Stan Harvey
NOVEMBER 2021
Our November main guest was the ever-brilliant singer-songwriter, Kath Tait, originally from New Zealand but now resident in London. This was Kath's first live gig for nearly two years and she admitted to feeling a little nervous. This didn't show in her performance as she treated us to a mixture off old favourites and newer songs. Some of her songs had the audience in fits; Shrunken Sisters and Bastard (video below) were good examples of this, but Kath has a knack of changing the mood in an instant and on this evening she sang Childless Mother (Video below) and Right Time of Year.

Our Featured guests for the evening were Gwendal Moele & Paul Riley who treated us to a selection of of their French chansons including two Charles Trenet songs: La Mer and Boum. They also sang two French songs in English: Charles Aznavour's She and Jacques Brel's The Port of Amsterdam.  On Pour one amourette, they were joined by Simon Haines on accordion.
Val and Simon Haines opened the evening with a few jolly tunes on accordion, recorder and bagpipes.
OCTOBER 2021
We had a great second night after the enforced break. Our main guest was singer-songwriter-guitartist Terence Blacker with his mixture of humorous, satirical and more serious songs. Highlights of his set included Fake News, inspired by an advert Terence saw in a local paper, which included an advert claiming that beautiful oriental women who were looking for older men in Beccles, the oh-so-savage Sad Old Bastards with Guitars and the wistful I'd rather be French.The Hadleigh audience loved all his songs. One of his more recent songs that he didn't do, Europa Mein Amour is worth another listen, especially in view of the current shortage of lorry drivers, hospitality staff, vegetable pickers and careworkers.
There is lots more information and songs to listen to on Terence's website

Terence was supported by Anni Meeham and Tom Crosthwaite; the duo were augmented on this occasion by Richard on guitar, percussion and vocals and by Brenda on tin whistle.
They performed a most enjoyable variety of country-folk music which the audience lapped up.
The evening was kicked off by Dave Tricker who played a wonderful set of tunes on a mandolin he made himself and sang three songs, including the moving Icarus, a wonderful, imaginative  song written by Anna Lister. You can find out more about Dave's wonderful mandolins on his website, Tricker Mandolins
SEPTEMBER 2021
We had a successful first night after the 18-month enforced Covid break. Our main guests were Norwich duo Alden and Patterson: Christina Alden – guitar (banjo and vocal) and Alex Patterson (fiddle)  played music from their recently released CD, Hunter.

They were supported by local singer-songwriter Jackie Ord, who sang some of the Hadleigh audiences' favourites, including 2, Riverview Wrabness.
Simon and Val Haines opened the evening with a few tunes on accordion, recorder and bagpipes and a couple of poems from Simon's new collection: Sea Planes and Seed Trays
AUGUST 2021
So we've made the decision is made to re-open, at least for September. We have booked guests until December and will continue to run our evenings as long as circumstances allow. Our provisional list of main guests from September until December is as  follows:
•  September 3  – Christina Aden and Alex Patterson
•  October 1        – Terence Blacker
•  November 12 –  Kath Tait
•  December  3   –  Rosewood
In view of the current uncertainty, our evenings will not be exactly as they were before the pandemic struck.
•  We still intend to start at 8.00 but will probably finish around 10.00
•  The evening will be run acoustically, ie without amplification.
•  The Ansell Centre has the NHS QR code and automatic hand gel at the entrance.
So that we can run the evening successfully, and as restrictions are now the decision of  event holders we would like to canvass your opinions about the following:
1  Mask-wearing –  either all the time or when moving about
2  Booking in advance – this would help us put out the chairs
3  Ventilation – this would mean opening doors and windows which may be difficult for us all in colder months.
We'd welcome any thoughts you might have on any of this and, of course, we hope to see you as many of you as possible on the 3rd September.
NOVEMBER 2020
If you remember Zoe Wren who was one of guests back in January, you may be interested to know that she has released a new album, Reckless River which has been reviewed on the Mardles.org website. It's a fine recording with some impressive songs.
https://mardles.org/reviews/cds/452-reckless-river-album-by-zoe-wren