NOVEMBER 2017
Our main guests on November 3 were the four-piece TWO COATS COLDER. Since playing for us a few years ago, they have performed at clubs and festivals all over the country.
Watch and listen to them playing at Moira Folk Festival in 2016. They did another great set for us and were much appreciated by our audience.


As expected the band got our audience you singing along to their melodic and laid-back mix of original and traditional songs featuring guitars, bass, mandolin and harmonium.
Our Featured Guests were father/daughter duo The O'Driscolls. Stephen plays guitar and Hannah percussion. Their unique vocals are characteristed by unusual harmonies.Watch and listen here.

If you would like to hear more, go to Resonance fm radio and listen to half an hour of Stephen and Hannah talking singing. Click here.
There were floor spots from Will, PJ, Tony Winn and Rachel Hack's trio Revival.
OCTOBER 2017
In October  we had two main guests Paul Scourfield and Phil Lyons.
Paul is a stylish melodeon player and singer from Hertfordshire who performs material mainly from the English tradition.  He has appeared at major festivals including Sidmouth, and Towersey, as well as folk clubs around the country.  Paul is also a member of the English dance band Chalktown.
In his 45-minute set, Paul alternated between songs and tunes.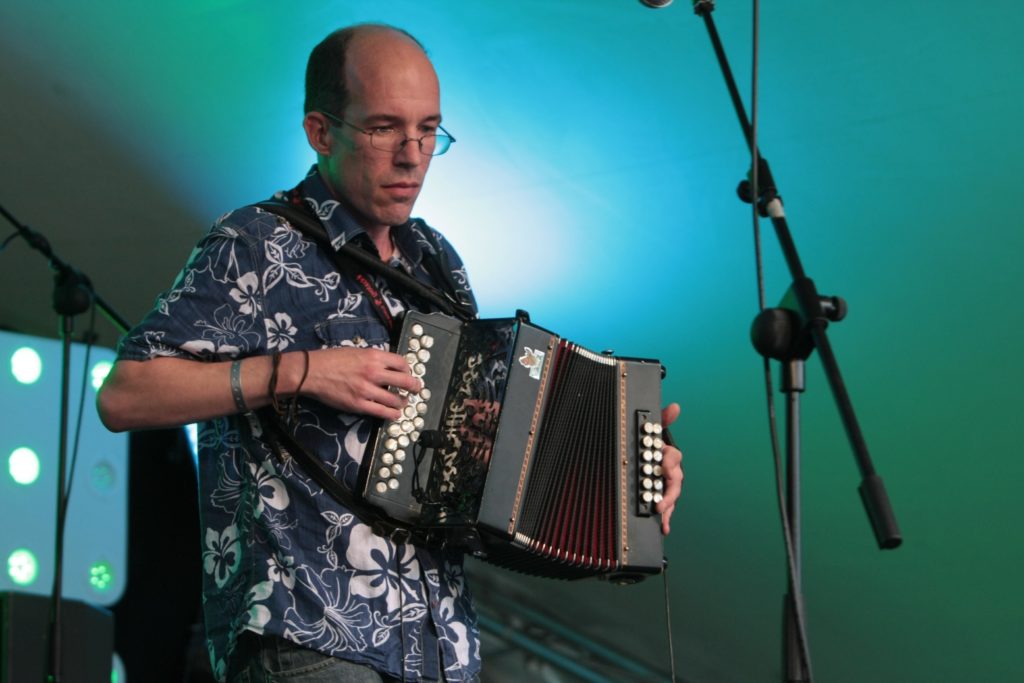 Find out more about Paul on his website at: http://www.paulscourfield.co.uk
Phil Lyons is an accomplished guitarist and singer of traditional and contemporary songs. He has appeared solo at the club in the past as well as with Bof! and Rosewood.
At the club on October 6th he'll be treating us to "A Sailor's Life" his compilation of songs and talk about life in the British navy. Phil is interested in naval life at the time of Nelson.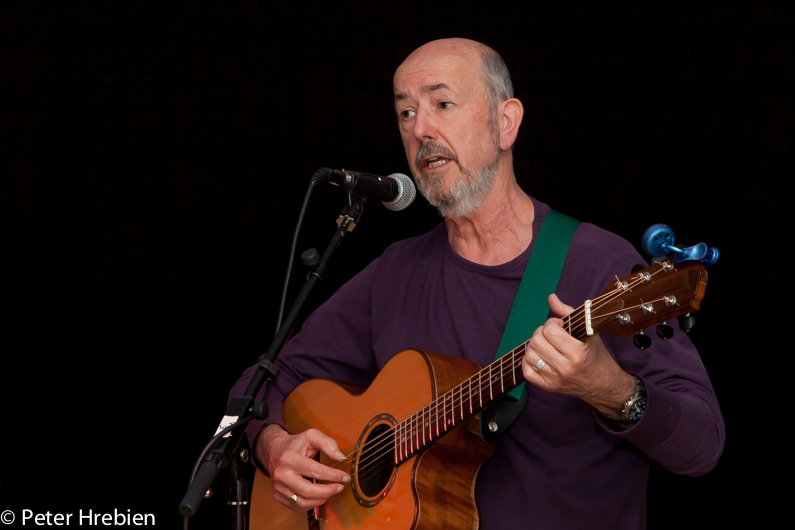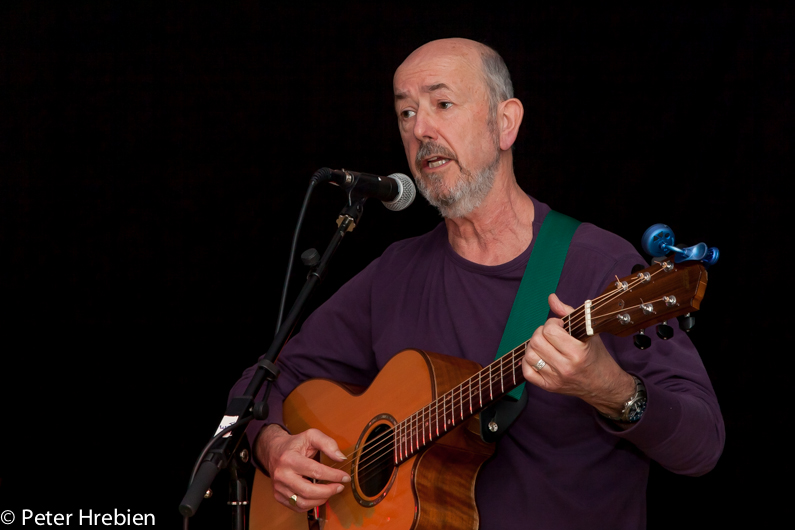 Find out more about Phil and listen to samples of his songs here.
SEPTEMBER 2017
Our main guest on the first evening of our seventh season was Terence Blacker, now a firm favourite at our club. In addition to singing what are probably his three best–known song: Sad Old Bastards with Guitars, I'd Rather be French, and The Young Girl with the Ukulele, Terence sang Still Searching for that Heart of Gold, another of his bitter-sweet songs referring back, with multiple musical references to hippy days of the early 1970s.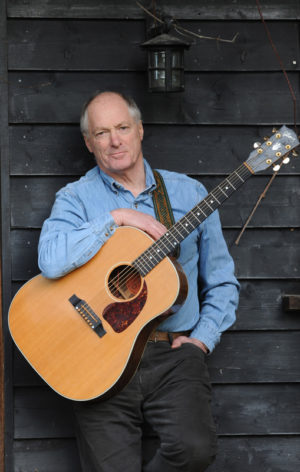 As usual, Terence had our audience in stitches. Find out more about this English Georges Brassens on his website at: http://terenceblacker.com/music
Our Featured guests were The Columbines, a local Folk / Americana group playing original songs and their own unique arrangements of folk songs. They sang a couple of songs with Terence Blacker during his set.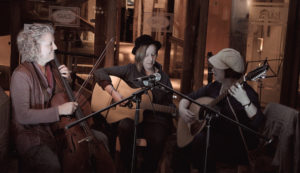 We started the evening with three excellent floor spots from John Hughes and friends, newcomer Anni Meehan and Megs Martin.
JULY 2017
Our main guest on the last evening of our sixth season was the John Ward Trio from Lowestoft. The band consisted of John Ward – guitar, bodhran and vocals, Lynne Ward – vocals with Les Woodley – double bass, mandolin and vocals.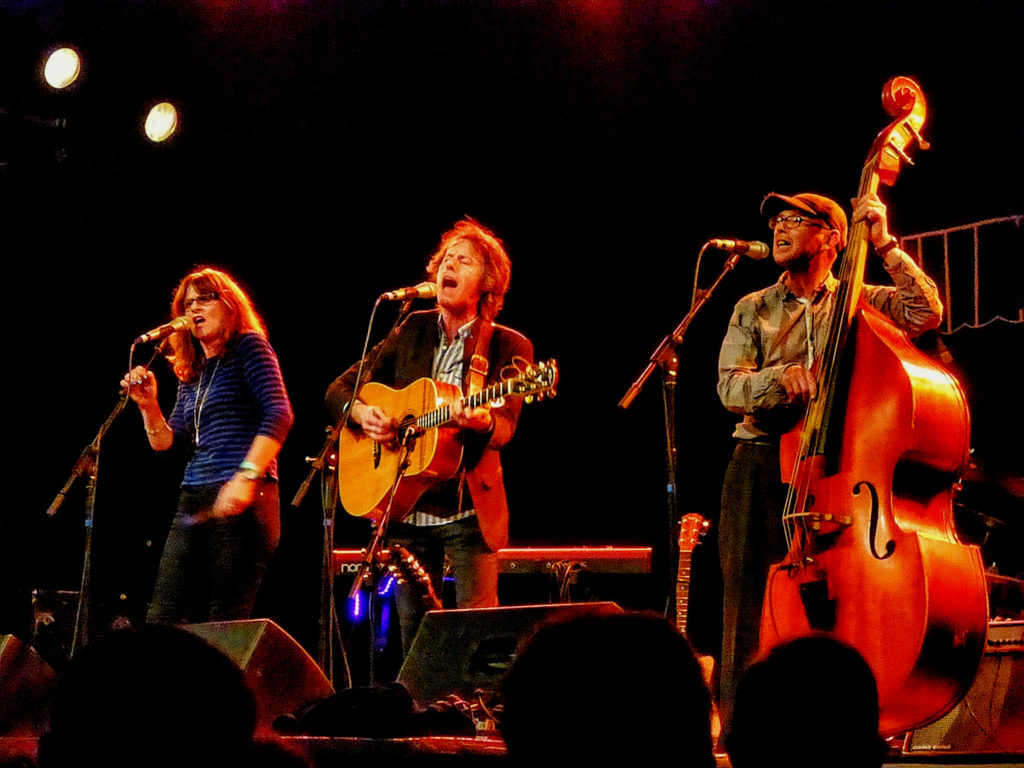 They performed songs from their latest album Sargasso. More information on John Ward's website at: http://www.johnward.org.uk
Our Featured guest was local singer Richard Byers, who breathed new life into some traditional songs and introduced us to other more  contemporary songs, accompanying himself  tastefully on  guitar. Richard is a founding member of Bury Folk Collective and is involved with the organisation of Bury Folk Festival.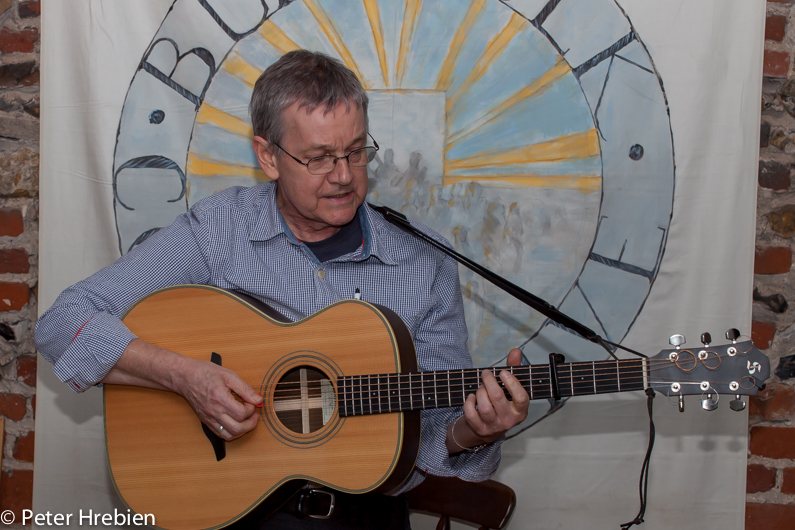 There were floorspots from Hazel Bradshaw, A Light Left On and Rachel Hack's band, Revival.
JUNE 2017
Our June evening featured two main guests: Red Velvet and Face Furniture
Red Velvet, a five-piece band based in Cambridge, perform songs of the outsiders,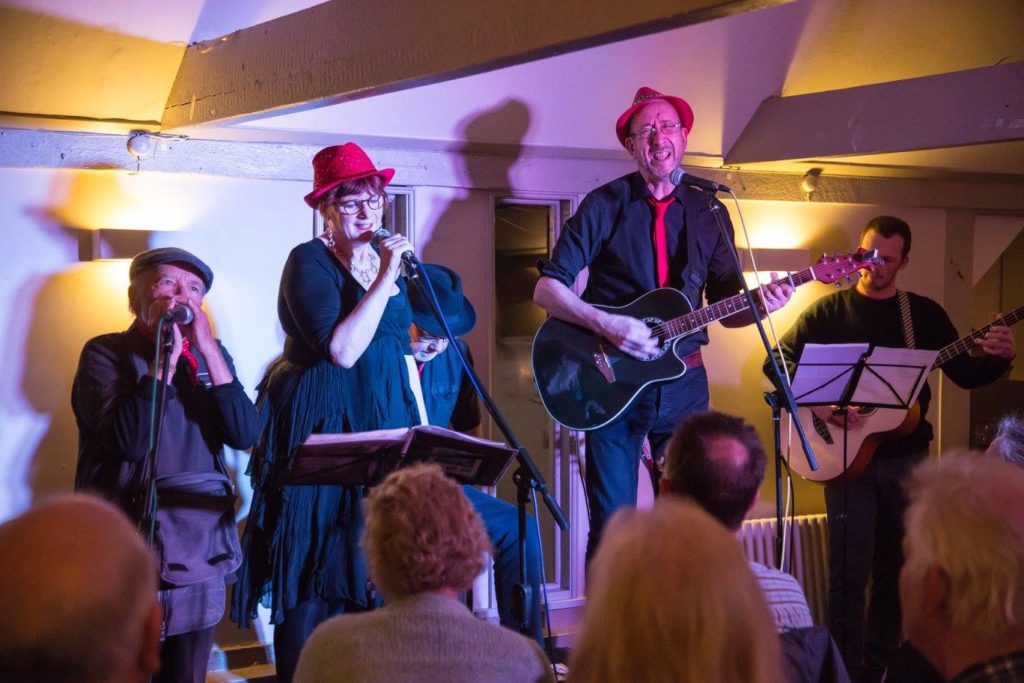 the outlaws and the dispossessed that our times demand – that's the "red" part of their repertoire, and songs with a jazzy, bluesy feel – that's the "velvet" part.  There's more about Red Velvet here: https://www.lemonrock.com/redvelvet
Face Furniture, an acoustic duo from Colchester, comprises Adrian May on vocals, ukulele and guitar and Murray Griffin on double bass.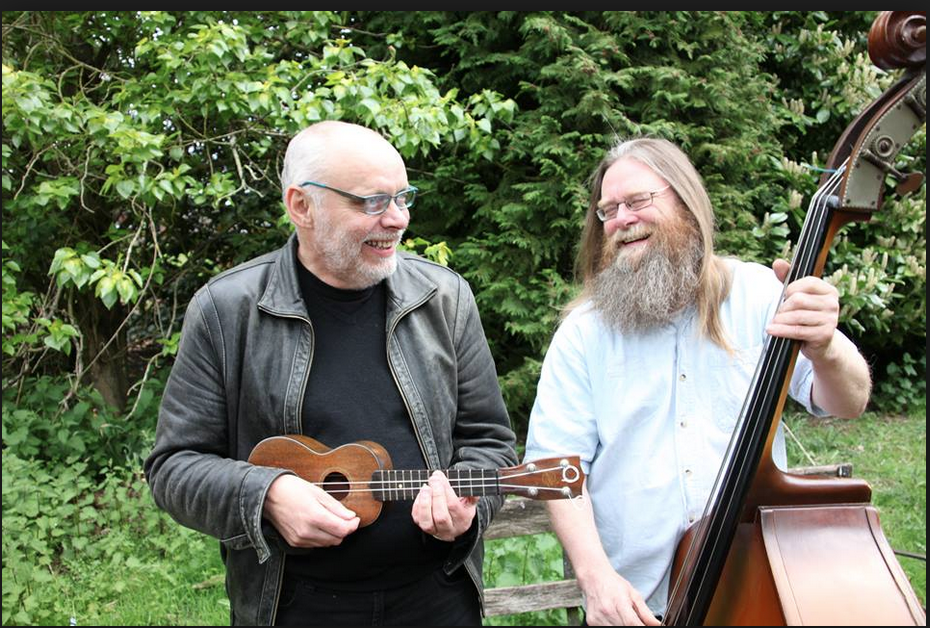 Adrian has been well-known in the area for many years, starting out as a writer and singer of comic songs which had audiences rolling in the aisles. Many of the songs they at Hadleigh were from Adrian's  recent collection of poems, Discovering England. Find out more about the duo at their website: http://www.facefurnituremusic.com/
Our Featured guest was local folk legend Paddy Butcher from Elmswell near Bury St Edmunds. Paddy sang mainly traditional songs, accompanying himself on guitar. Neither his melodeon nor his hurdy gurdy out in an appearance this time. More on Paddy at https://acoustic-east.org.uk/?page_id=110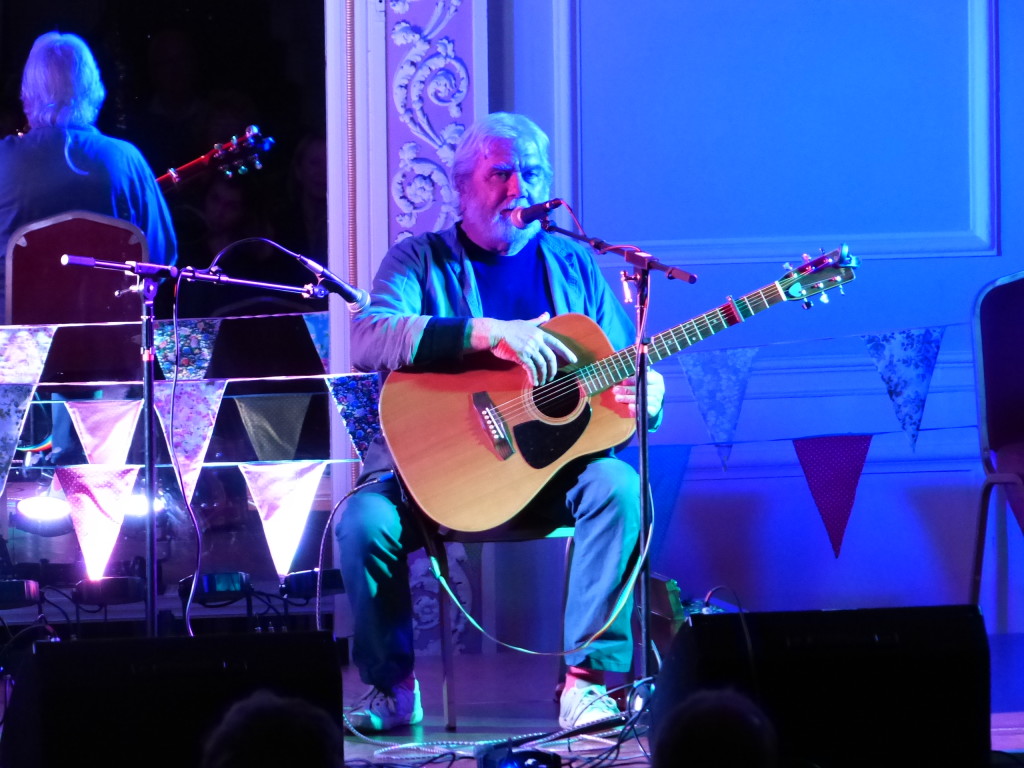 The evening began with three songs from Terry Hiscock.
MAY 2017
Our main guests were the duo, Terry Mann and Fiona Larcombe. Fiona, an accomplished singer of traditional songs and a fine fiddle player was  expertly accompanied on melodeon , guitar and banjo by Terry Mann, who can, so they say, play anything  he turns his hand to. Terry is also a classical composer and a musical instrument maker. The variety of their repertoire and their informative, light-heated introductions made a real impact on our audience and we will certainly be having them back at some point in the future. You can hear some of their music at https://terryandfiona.bandcamp.com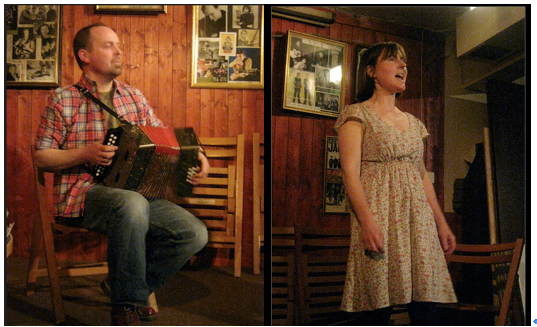 Our Featured guest was local singer-guitarist Tom King, who came and did a floor spot a couple of years ago. Tom grew up on the folk scene frequenting festivals nationwide throughout his childhood and was influenced by everyone from Bob Dylan to Bellowhead.
On the night Tom put in a highly professional performance and impressed our audience.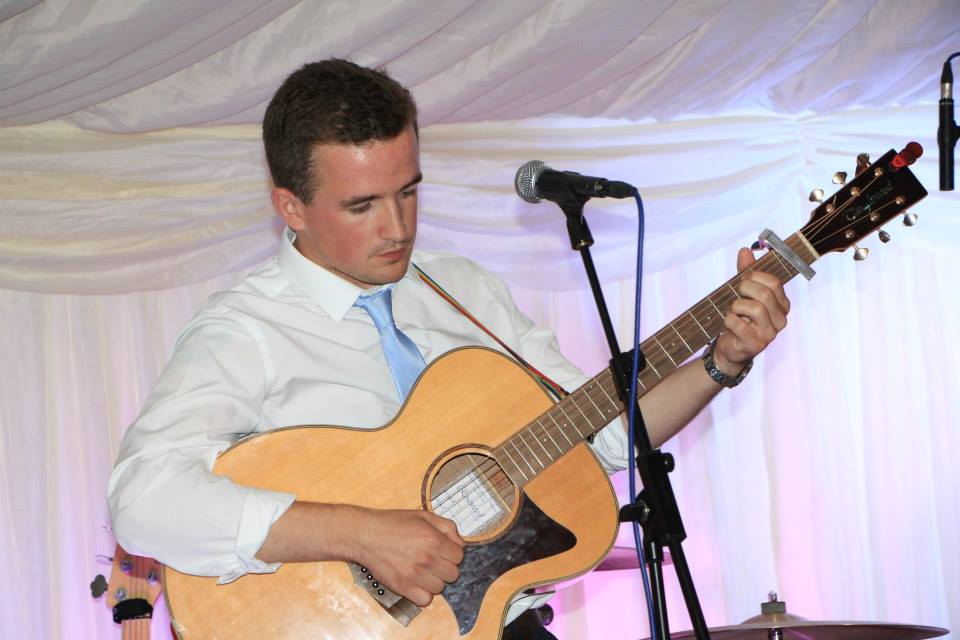 April 2017
On April 7th, our French night, the Ansell Centre seemed fuller than it has been for some time. Trio Saozon, with Breton singer Gwendal Moële, kicked off the evening with a selection of songs sung in French or Breton.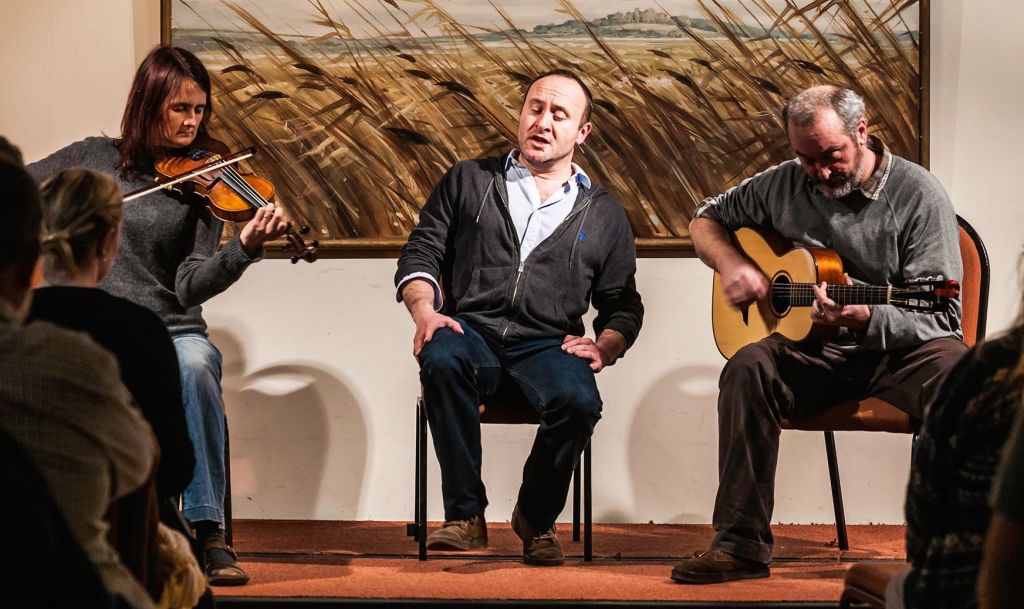 The were followed by the duo Dave Shepherd, from thje band Blowzabella, and Anna Pack on fiddle and melodeon respectively. They played instrumentals in a variety of styles.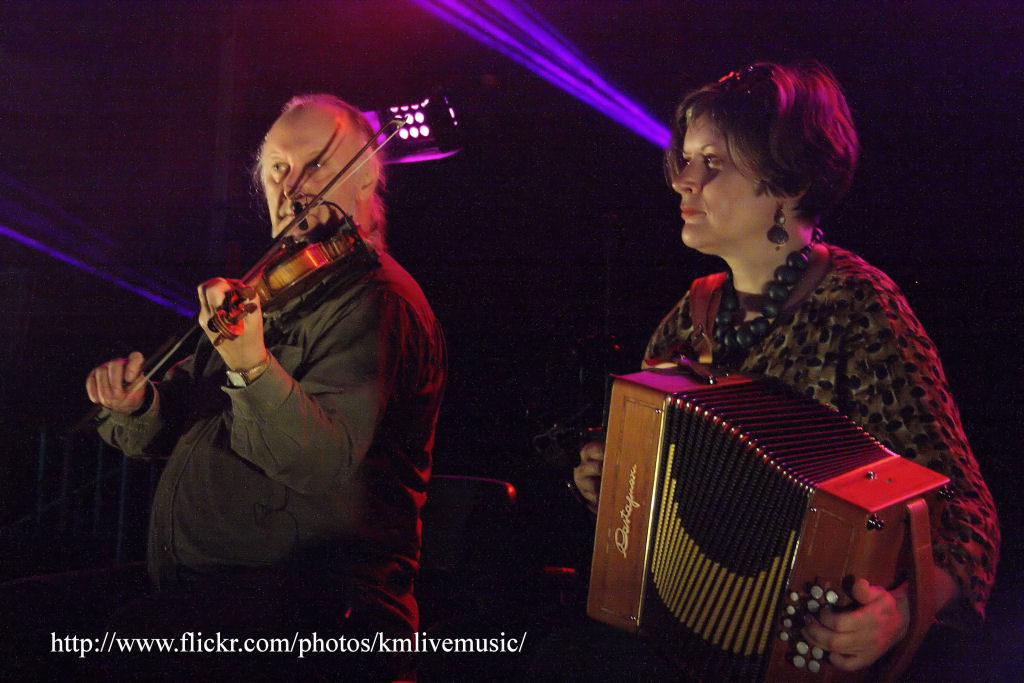 Top of the bill were La Mère Folle, a six-piece band from the Morvan region of France. Among their number were Francois Tillerot on button accordeon and multi-instrumentalist Isabelle Blô on bagpipes and hurdy gurdy.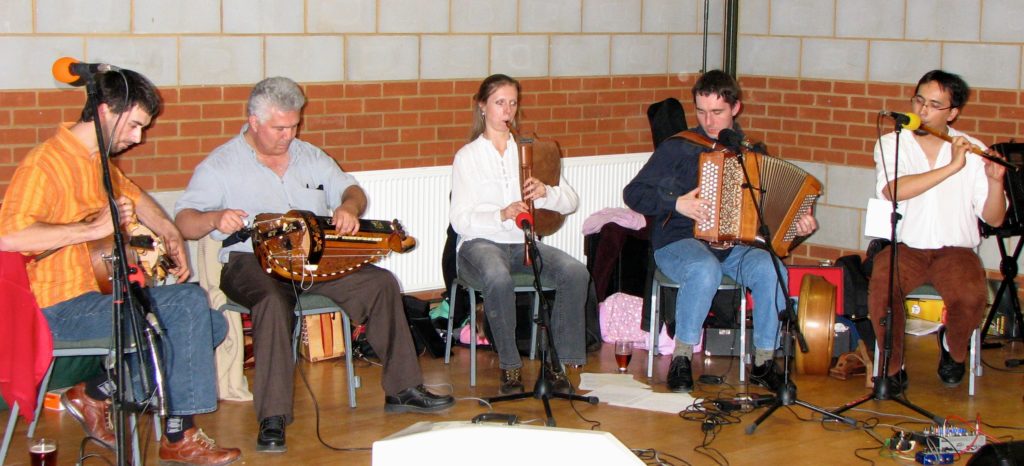 A few keen French dancers in the audience used some of the corners and sides of the hall, to practise their bourrées, mazurkas and schottisches.
We continued the French theme on Saturday 8th April with morning and afternoon music and dance workshops and an evening "bal".
March 2017
During the evening of our Poetry and Music Day on May 20th, Megan Wisdom, our featured guest on March 3rd, accompanied by Park and Ride keyboard player, Cara Bruns, will sing She Lit the Fire, an original song inspired by the story of the Burston School Strike and written by Simon Haines.  If you don't know about this, the longest running strike in British history (1914 – 1939),  you can read about it here.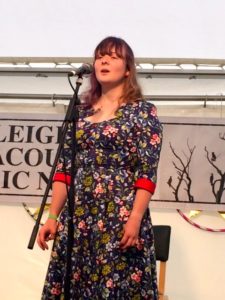 Below are the song lyrics and you can listen here: She Lit the Fire

She Lit the Fire – Simon Haines, 2016

To Burston school one winter's day,
The children trudged from far away,
In threadbare clothes no hats upon their heads
They shivered with cold and fear
In their draughty classroom drear
They longed to be back home tucked in their beds.
Kitty Higdon felt their cold, Kitty Higdon shared their fear
So she bravely lit their schoolroom fire
The fire, the fire, she lit the schoolroom fire
Kitty Higdon bravely lit the schoolroom fire
Kitty cared for children well,
She didn't threaten them with Hell,
She taught them how to think, but not to pray.
She helped them value school,
More than just a moral rule,
She taught them how to think and how to play.
Kitty Higdon thought it right not to teach by means of fright
And she bravely lit the children's fire
The fire, the fire, she lit the children's fire
Kitty Higdon bravely lit the children's fire
Now Tom Higdon helped his wife
At the school throughout his life
And helped the village workers find their voice
He fought the Burston rector
Likewise the school inspector
And as councillor he was the village choice.
Tom Higdon lent a hand and the village took a stand
He bravely lit the workers' fire
The fire, the fire, he lit the workers' fire
Tom Higdon bravely lit the workers' fire
Attempts were made to ban
Kitty Higdon and her man
Using charges based on threatened children's lies
The pair were forced to leave
Which made all the village grieve
And caused the children all to go on strike.
They refused to go to school, disobeyed the rector's rule
The children lit the Burston fire
The fire, the fire, they lit the Burston fire
The children lit the Burston fire
Working folk throughout the land
Heard the news and lent a hand
They sent money a new school for to build
The strike school soon appeared
And just as the rector feared
With village children it was quickly filled
The strike school lasted long till the Higdons both were gone.
Burston village lit the nation's fire
A fire, a fire, Burston lit the nation's fire,
Burston village lit the nation's fire.
March 2017
March 3 was another busy night at the club when our main guests were The Where's Spot Band, a four piece from deepest Essex, who specialise in close harmony singing. Over the last 2 years they have earned well-deserved success playing major folk clubs in the East and South East, and also performed at several festivals further afield in the summer. Their repertoire is eclectic with inventive arrangements of both traditional & contemporary folk songs plus a few surprises thrown in!  A personable band of musicians with lifelong experience, a varied yet distinctive sound, superb vocal harmonies and an entertaining fun presentation.  Website: www.WheresSpotBand.com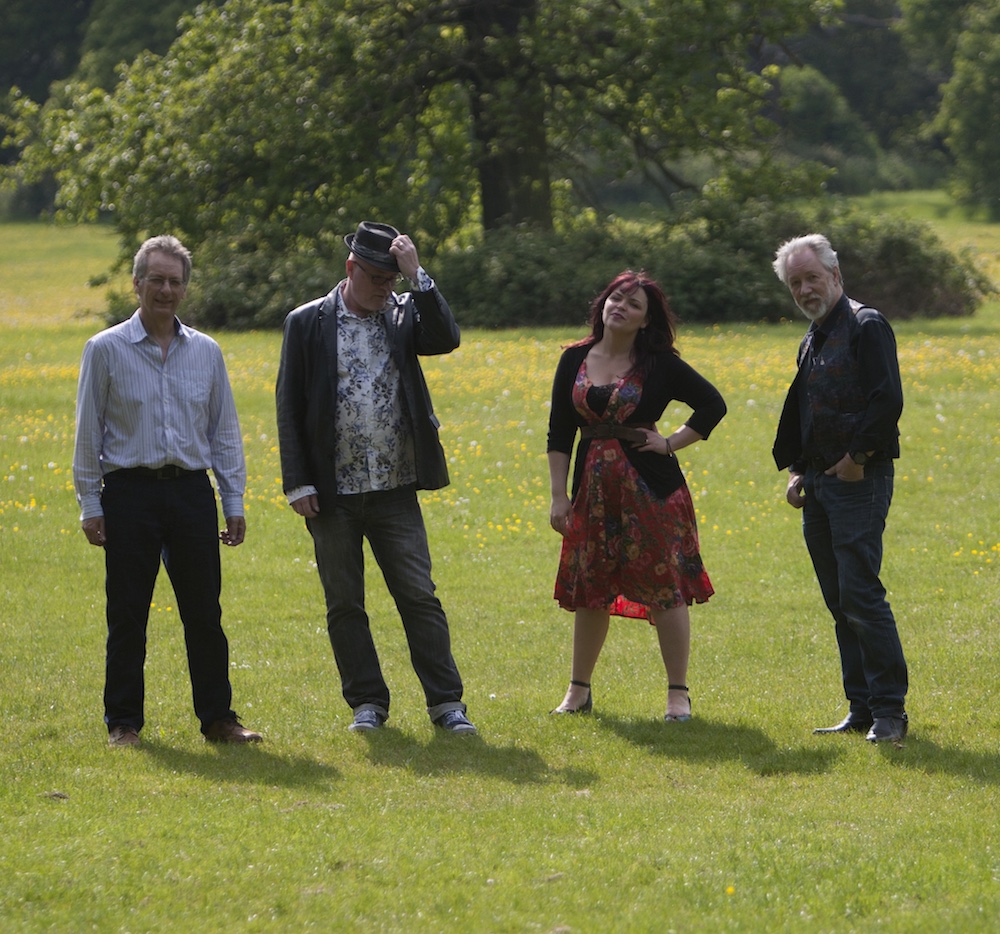 Our Featured Guest was Megan Wisdom who was one of the winners of our original song competition with her song, The Taunting Cuckoo a few years ago.  Since then Megan has sung in clubs and sessions throughout the area.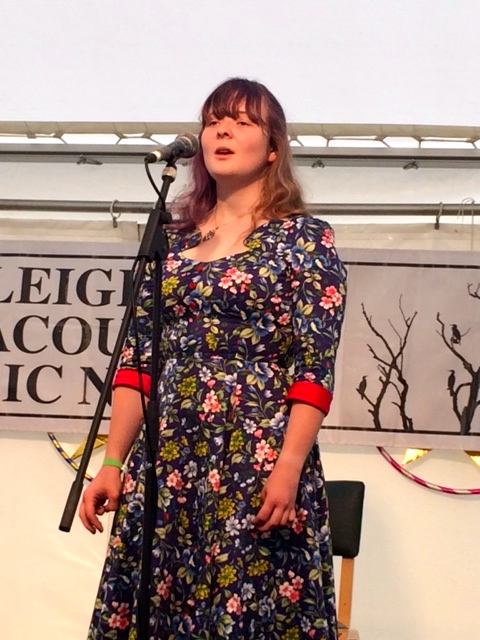 Megan sings mainly traditional English folk songs – usually  solo and unaccompanied  but sometimes in harmony with others. Megan won the Percy Webb Cup in 2015 and performed at Folk East Festival in 2016.
February 2017
Our main guest for our February 3 night was  Andy Clarke, a singer from the West country who accompanies himself on guitar and bouzouki and performs regularly in clubs and at festivals all over the country.His set included songs form the manuscript of the nineteenth century folk song collector Sabine Baring-Gould as well as other traditional songs and modern compositions In addition to his solo work, Andy also performs with hurdy gurdy maestro Steve Tyler who appeared at our club last year.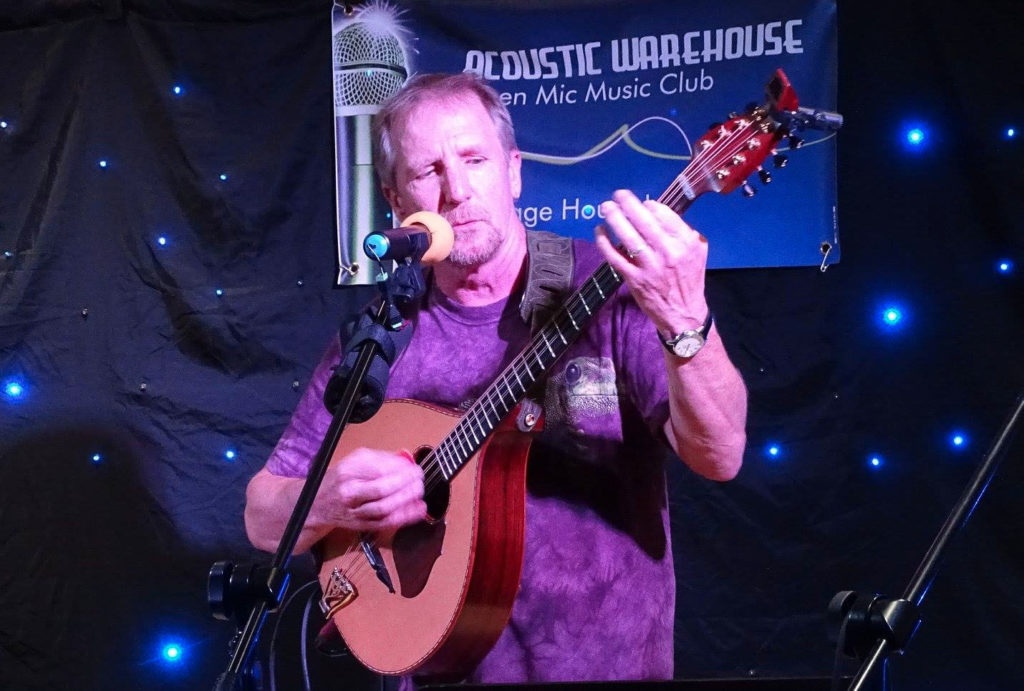 Find out more about Andy on his website here.
Our Featured Guest act was Revival a trio comprising vocalist Rachel Hack, with Peter Slater on guitar and Roy Bartholomew on bass. They put in a professional performance of traditional and modern songs.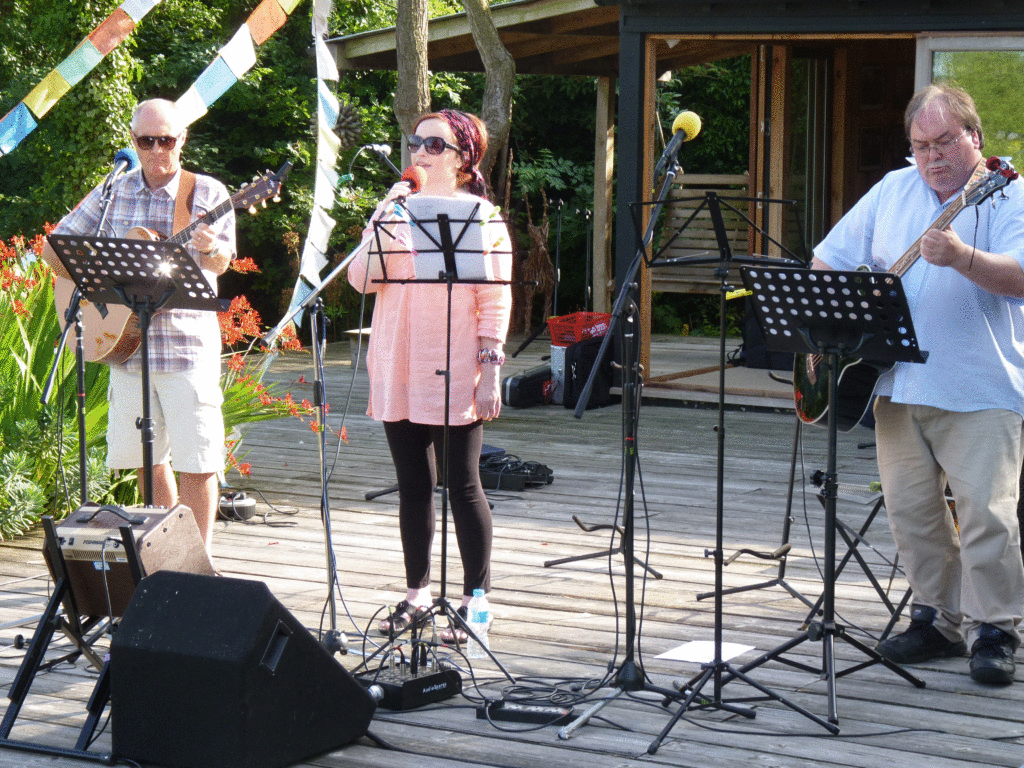 February 2017
The Green Children, as performed by Martin Newell and The Hosepipe Band on our December folk night,  is now available as a physical CD, and as a download here.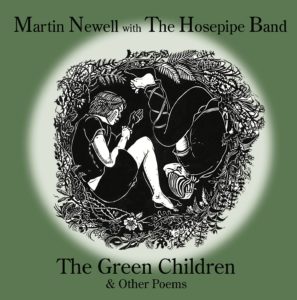 January 2017
We had another great night on January 6th when our main guests were Vicki Swan and Jonny Dyer. This was the third time they'd played at Hadleigh and there was a general consensus that they just get better every time we see them. Their choice of material is always interesting and varied and they tend to alternate songs and instrumental sets. Vicki's nyckelharpa is now her main instrument, but she still plays Scottish smallpipes, flute and Swedish bagpipes. Jonny plays guitar and accordeon but now also plays a Swedish cow horn on one particularly fascinating instrumental piece.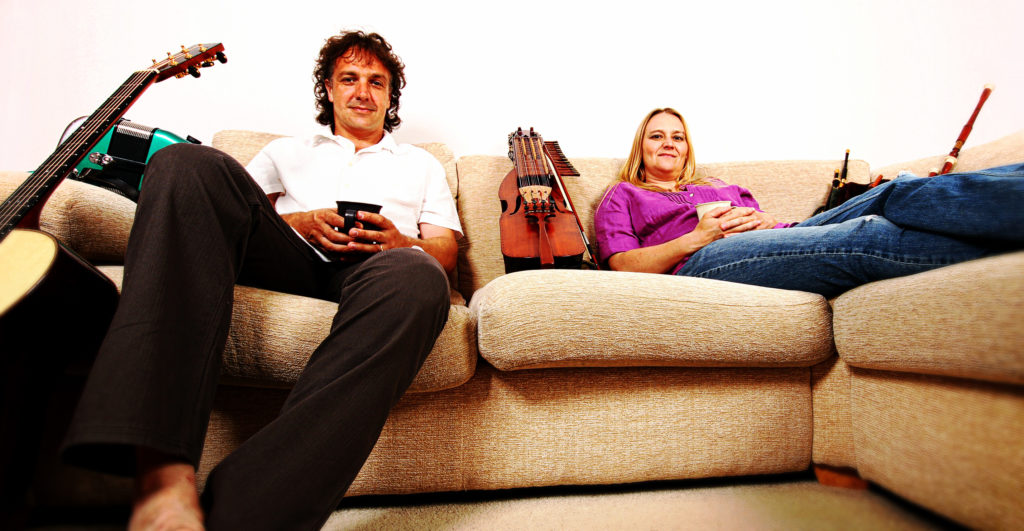 You can find out more about Vicki and Jonny on their website, here.  You may also like to read an article Simon wrote about the couple for Living Tradition magazine. See below.
The Featured artist for our January evening was Angela Dennis who has playedin local folk clubs for many years, performing self-penned songs as well as traditional and other contemporary material. Angela is also a community musician who runs several choirs. Find out more about her on Facebook.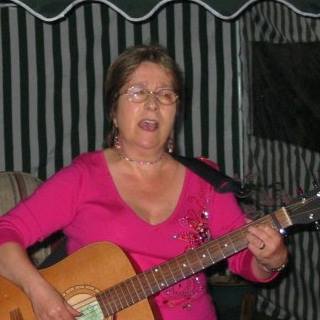 Angela sang and played expertly and presented her songs with a gentle sense of humour.
There were floor spots from Phil Lyons, Alan Day and James Eastwood
January 2017
Article about Vicki Swan and Jonny Dyer from Living Tradition magazine
Vicki Swan & Jonny Dyer – A Classic Combination
You may have come across Vicki Swan and Jonny Dyer somewhere in the UK or beyond. They're one of the hardest working musical acts on the scene today and have been regulars at clubs and festivals all over the country for many years. But Vicki and Jonny's immersion in the folk world may be slightly surprising when you discover how they started out…
They are both from classical backgrounds – Vicki played flute, piano and double bass, while Jonny was a cathedral chorister and played piano and trumpet. They met in the Essex Youth Orchestra in their late teens. Vicki went on to London's Royal College of Music to study post-graduate solo double bass while Jonny 'escaped' to play jazz and funk. When looked at like this, it seems strange that their current 'go to' instruments are the nyckelharpa and bagpipes for Vicki and the guitar, bouzouki and accordion for Jonny.
I was aware that their work as a duo in clubs and festivals was just the tip of the iceberg, so I asked them to describe briefly some more of their current involvements. They must have been tempted to reply, "How much time have you got?" Their answer displays an astonishing range and a degree of workaholism: "Our emotional mainstay is still the traditional folk scene of clubs and festivals where we mostly perform our own brand of personally chosen folk material: a mixture of traditional and modern. Meanwhile, we also run a number of different shows for the Rural Touring Network in village halls, small theatres and the like. Current shows include Smörgåsballad, a Swedish themed show; The Whispering Road, a show with Nick Hennessey (a storyteller we worked with many years ago in the group Serious Kitchen); and Purcell's Polyphonic Party, a baroque harpsichord trio with John Dipper that works as a classical concert show as well as a Playford Dance band. We also have two Christmas shows performed, with much merriment, in the style of Victorian Music Hall. Then, on a completely different tack, we take on period costume work for agencies and for our friends and colleagues Blast From The Past. Oh, and we've just finished a whole sequence of World Folk Music books for Schott Music Publishing." Vicki has been putting together tune books for several years. She and Jonny write so many tunes between them that it seemed natural to put them together into books.
As if all this wasn't enough, Vicki has, in recent years, taken it upon herself to build up the nyckelharpa scene in the UK. Just a few years ago, the nyckelharpa was an obscure instrument, rarely seen in the UK. It was a chicken and egg situation: nyckelharpas were difficult to come by, so hardly anyone played one. Determined to popularise the instrument, Vicki bought a number of them for people to use at her workshops. Once enthused, many students bought their own nyckelharpas and so the instrument's popularity has grown. Vicki believes modestly that the nyckelharpa has raised it own profile. She explains: "It's an instrument that without fail catches everyone's imagination. I think what has allowed me to be successful in promoting it is a combination of several different elements. There are quite a few teachers in my family, and although my dad wasn't a teacher by trade, he ran his own piping school. I went on to become a peripatetic instrumental teacher, so it's in my blood to teach. Combine this with the advantages of being half Swedish, teaching a Swedish instrument and the wonderful instrument itself, it's no wonder that it has really taken off. I was in the right place at the right time with the right tools. It's been a great help to have the support of Halsway Manor behind me. I ran my first weekend there in 2012 with nine participants, and have since built up to a sold-out course in September 2015 of 42 nyckelharpa players and three tutors. This year I've had two fully booked weekends at Halsway, one for beginners and then again in September a full house with participants flying in from as far afield as Canada, Belgium and Germany as well as Sweden. I hope that we can continue this trend into 2017 and beyond!"
Obviously, Vicki enjoys playing Swedish music on the nyckelharpa, but she believes it is capable of much wider use. "This year Jonny and I have played for a lot of dances and I think that the nyckelharpa is an amazing ceilidh instrument. The sympathetic strings give the instrument a really powerful sound. We've also been playing a lot this summer as Purcell's Polyphonic Party as a Playford dance group."
When I first saw Vicki perform, she played mainly the Scottish smallpipes. Now, in addition to the nyckelharpa and all her early instruments, she plays the Swedish bagpipes: the säckpipa. Does she have favourites? "No, I love them all! They are all very different and I use them for different things. I started off with the Scottish smallpipes as my dad was a Highland Piper, so Highland style piping was all I knew from a very young age. I discovered the Scottish smallpipes in 1995; with the Highland Pipe fingering it was perfect for my dad to teach me. He died not long after I took them up though, and it was touch and go as to whether I'd continue playing pipes at all. Around this time I discovered the border pipes and after a long journey through several different types of border pipes I eventually found a soul mate in my Jon Swayne G pipes. These are now a mainstay of our heritage work and I love them to bits. Last to the stable of bagpipes was the Swedish säckpipa (which just means bagpipes) and I really, really love these. I've been spending the last couple of years really focusing on playing as 'Swedishly' as I can on them. It's been a real challenge and a very rewarding one. In terms of 'finding myself', this was the final piece of the jigsaw puzzle – Scottish smallpipes > nyckelharpa > säckpipa. If I was abandoned on a deserted island and could only take one of my sets of pipes, it would be the säckpipa. That's if I couldn't take the nyckelharpa, obviously!" Vicki vows she's not interested in buying any more instruments.
Although Vicki and Jonny spend most of their time working together, they are occasionally involved in separate projects. In addition to Vicki's nyckelharpa workshops, which involve Jonny only in chauffeuring, Vicki has done a stint at the National Theatre, and Jonny is about to do something similar at the Sam Wanamaker Playhouse in October working with Blowzabella's Paul James.
The couple's work inevitably involves a lot of time spent touring, and I wondered whether they'd prefer to spend more of their time at home in Essex. Vicki enjoys touring but bemoans the fact that it makes it difficult for them to practise and work on new material and to keep up with the mountain of admin that piles up when they're away. Jonny's answer has a different slant: "I adore touring, meeting new people, having new conversations, learning new music from new people. It's what we do – and what we signed up for. I also love being at home. In some ways, time at home is all the more special for being rare. Being a bit soppy for a moment, Vicki and I have been together for so long that, in many ways, home is where we are. I miss home far more when I'm away on my own. My biggest regret is that so often when touring we have a car full of our most prized possessions and so we can drive within feet of somewhere or something amazing, but rarely get to see it for fear of leaving the vehicle unattended."
So what do they do to relax? Jonny has recently started playing tennis and he's inherited a nearly-functional clavichord which he plans to restore: a new time-consuming hobby. Vicki enjoys swimming and skiing. She says, "By choice I'd love to do more skiing both cross-country and downhill, but living in England makes that quite tricky. I have also spent quite a lot of time crocheting – mostly hats: 427 of them in all; selling these has enabled me to buy my latest nyckelharpa, which I've called Hattie."
They are also prolific CD recorders and I asked them to describe the process of making a new recording from concept to production. They describe the process as "organic", but what does that mean? Jonny explains: "We try hard not to over-think it. So, we haven't yet felt the need to create a particular framework for the content of one of our recordings. We feel that we are changing over time and when a new CD comes out it reflects that musical progression. Similarly, we find that our own tastes are changing quite rapidly, so all our albums will be very different from each other as we develop. We are constantly creating new live material. Every couple of years (or so) we bring out a new album which celebrates our favourite live pieces. We rarely have a whole album of favourites straightaway. Over the years, some of the pieces we've recorded that we are most proud of have never been played live, and never will."
I have seen Vicki and Jonny perform live many times and in my experience, their sets are unpredictable. We've all seen artists who repeat the same set list year in and year out. But Vicki and Jonny's sets are always a fresh and interesting mix of songs and instrumentals. Do they aim to get an equal balance between songs and tunes? Jonny again: "We tend to have slightly more songs than tunes; for example, a folk club performance will generally have four songs and three tunes in each half. We tend to start with a tune to settle ourselves. That makes it sound like we have a plan – but we are very good at changing our minds too. We learnt a long time ago, having a set list and being prepared to ignore it is the most powerful place to be. Not having a set list can lead to indecision, unbalance and faffing about. Having a set list and religiously following it means that you cannot react to how an audience is responding to your music."
Being an amateur folk musician myself with a 'normal job', I am always intrigued to find out whether being professional and having to take on as much work as possible to make ends meet, takes some of the fun out of playing the music you love. I asked Jonny and Vicki whether they saw any disadvantages to being professional musicians, rather than having normal jobs and being amateur musicians.
Their answer was revealing: "We feel incredibly lucky to be able to do full time what we love. To answer the question we have to deconstruct the differences between amateur and professional. In many ways, at the point of performance, there isn't much difference between a good amateur and a professional. We are all striving to play the best we can, to be as entertaining as we can be and to win the hearts of our audiences. But there are two differences. Firstly, we have to work – so if our 'product' isn't getting booked, we need to change what we do. And secondly, the work has to make money. This imperative makes us constantly redefine what we do, seek new audiences and evaluate how we run our music as a business. If we had 'normal jobs' we might not need to get the work, but also we wouldn't have the time to invest in our own performance and come up with new ideas, new shows and better performances. Ironically, it sometimes feels as though we have a normal job – that's the process of running our music business from our home office. Between those times, we go out and play gigs. The most significant disadvantage has to be the security. An ill day is a no-income day and there aren't many contingencies that we can put in place to protect ourselves from that."
"Having said all that, we only take work that we want to do and our joy is working together to do the absolute best that we can. However, with all the various projects that we are doing, we do have to distinguish between short-term finite projects and those that are more long term and which therefore demand more investment."
I was interested to know how they saw their long-term musical future. Jonny explains: "Five years ago we wrote a five-year plan on the back of a pretty scrappy brown envelope. We amazed ourselves just recently by reading it again and realising that most of what we planned had come to fruition. It's time that we made a new one. We have a number of ideas coming along for the medium term, most of which still centre around performance. In the immediate future our main plans are to develop Purcell's Polyphonic Party, the trio playing Baroque music blended with English music collected by Playford, and a particular form of Swedish dance music that resonates with the Baroque style. We are also looking at a new storytelling show with Nick Hennessey, probably based around Baba Yaga. We are working on a new Christmas show for this winter. Finally, we are about to embark on a new collaboration with our friends Chris Green and Sophie Matthews. A sort of musical adaptation of Wind In The Willows. Watch this space."
As will be abundantly clear by now, Vicki and Jonny are thoroughly professional folk musicians committed to a future of live performances in a bewildering variety of settings. They have enough strings to their bow and enough creative ideas to keep going for several more decades.
Simon Haines (Published in Issue 116 of The Living Tradition)
2 December 2016
Our main guests were club favourites Mary Humpreys and Anahata, musicians who specialise in English traditional music and song. Mary sings and plays concertina and banjo while Anahata plays melodeons, Anglo concertina and cello. Based in Cambridgeshire, much of the duo's material is based on Mary's research into locally collected traditional songs.
This year our December programme did not feature carols, but Mary and Anahata included the wonderful Christmassy song Sweet Chiming Christmas Bells  in their set and had the audience joining in lustily with the chorus. There's plenty more information about this excellent duo on their website here.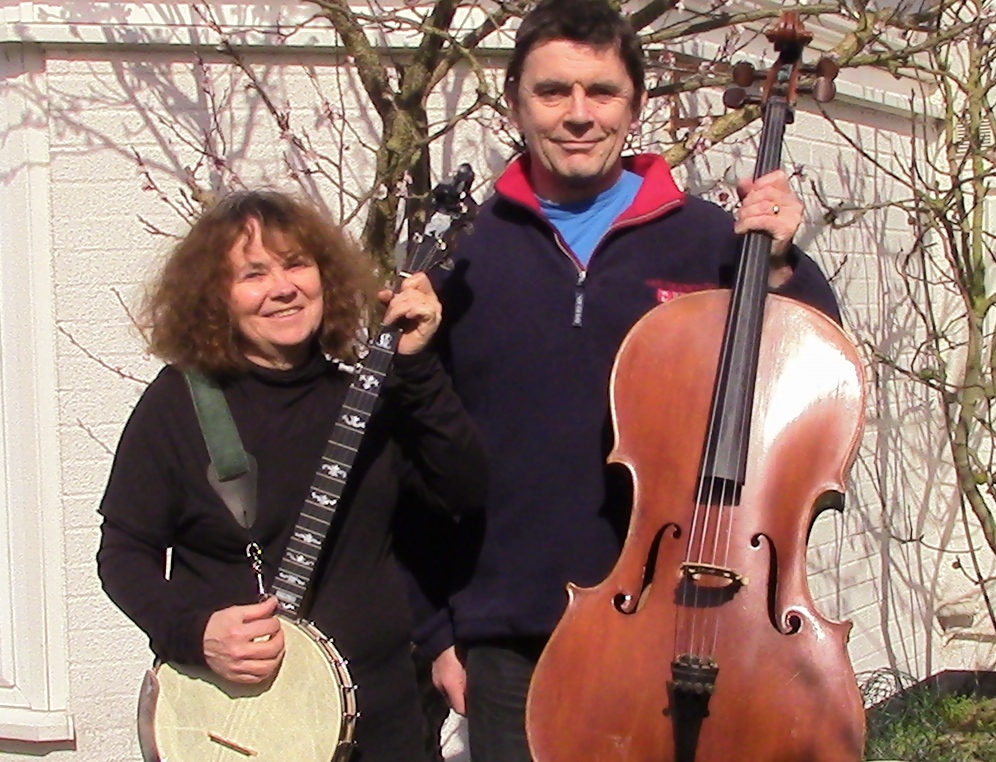 Our featured artist for the evening was Bernard Hoskin, a singer-songwriter  from Cambridge. Bernard played a range of self-penned songs, covers and traditional material, accompanying himself on guitar.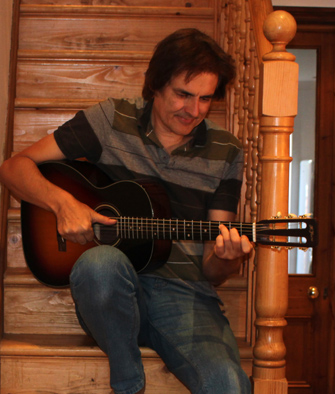 You can find out more about Bernard and hear samples of his music on his website at http://www.bernardhoskin.com/
Instead of floor spots on December 2nd, Martin Newell and The Hosepipe Band presented their most recent offering: Martin's poem, The Green Children, accompanied by music composed and performed by the Hosepipe Band.

Martin Newell and the band playing The Green Children at Folk East in Autumn. Lots more here.
7 November 2016
Another great night with an pleasingly large audience. Someone said they thought our main guest, Claude Bournbon might have brought in some blue guitar fans. Anyway it was a varied evening, unusually without floor spots.
Two cancellations gave Bof! the chance to play for 40 minutes, and include in their set of French and Breton songs and tunes, their "Marlowe Theatre" set of four pieces they played when they supported the great Frankie Gavin and De Dannan in Canterbury on October 20th. (If you don't know them, click on the link above and watch some of their videos.)
Our featured guests were Tom (guitar) and Emma Hardy (violin), a duo from Colchester also known as The Medlars.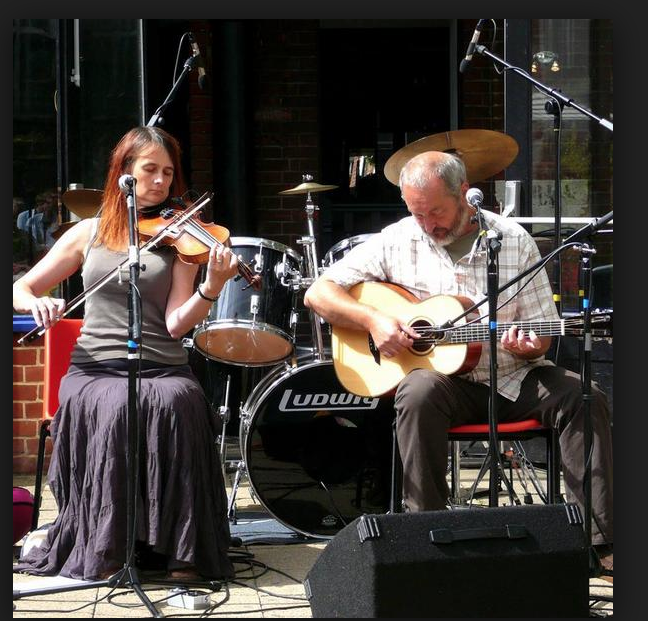 Audiences will have seen them before as two thirds of the Breton band Trio Saozon with singer Gwendal Moële. They played mainly English music, but also included French and Swedish sets.
Our main guest, Claude Bourbon is a Swiss-French singer guitarist who sings with a soft purring voice accompanied by virtuoso guitar. He is known throughout Europe and America for amazing performances that take blues, Spanish, Middle Eastern, and Russian styles into unchartered territory. Each year, he plays more than 100 shows around the world. During his 60 minutes in Hadleigh he created a magical atmosphere which captivated our audience . He plays intricate picking style with the occasional addition of a bottleneck. You could have heard a pin drop throughout his performance. One audience member on leaving said That was wonderful. So cool. I fee so relaxed now.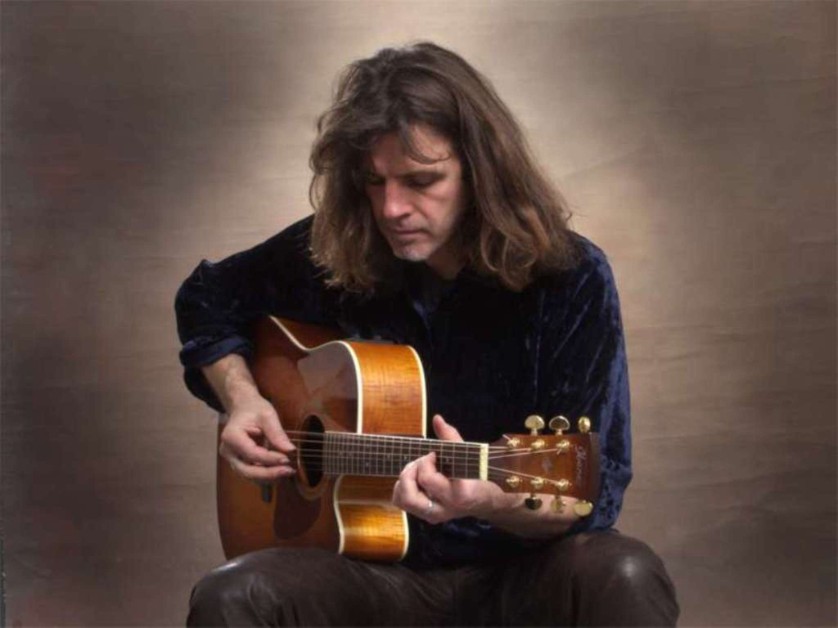 Claude is known throughout Europe and America for amazing guitar performances that take blues, Spanish, Middle Eastern, and Russian styles into unchartered territory. Each year, he plays more than 100 shows around the world. Find out  more about the man and his music at: http://www.claudebourbon.org/
5 October 2016
Unusually this year, we had two club nights in  September.  On September 30 our Main guests were Kerraleigh and Martin, The August List, a duo from Oxfordshire, who describe themselves thus: We play backwards country / porch folk music with a startling roack and roll attitude. Acoustic guitars, kick drums, harmonicas and our voices are deployed with passion on songs that take in life, love, death and merry making.
Their poppy songs were fresh and unusual in a folk environment. Our audience really appreciated the range of Kerraleigh's fantastic voice which of sounded wonderful with minimal amplification in the Ansell Centre as well as the tight musical arrangements of each of the duo's songs.
By the way their photo, below, is not a fake. They bought a cheap guitar and did it for real.You can find out more about the duo on their Facebook page at https://www.facebook.com/theaugustlistmusic
and listen to some of their songs on Bandcamp at http://theaugustlist.bandcamp.com/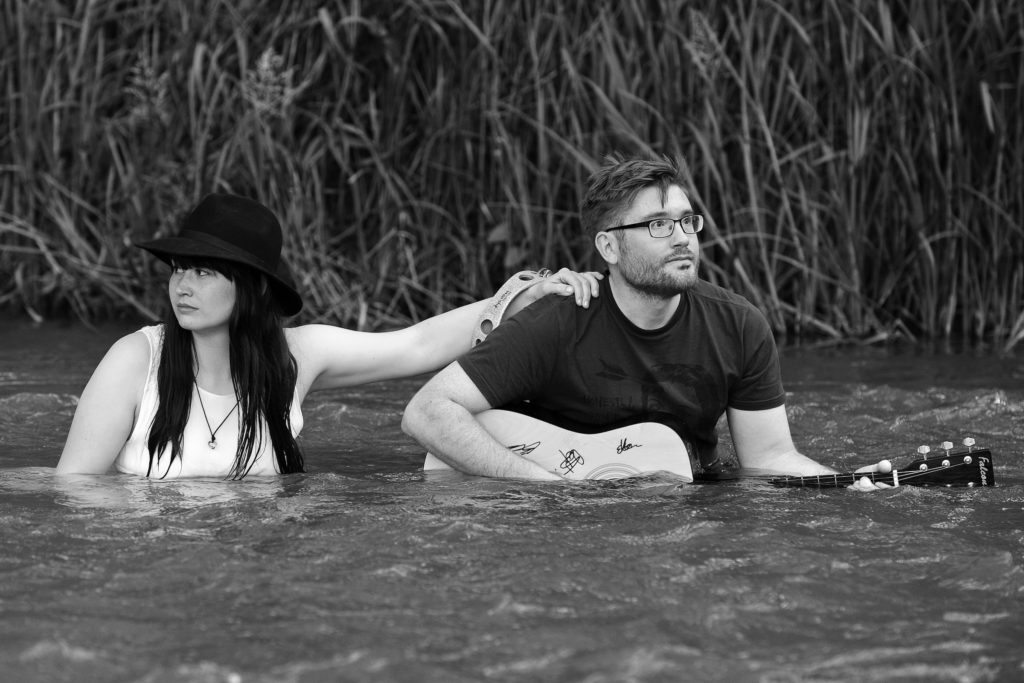 Our featured guests  were Green, Tricker and Ward, a local trio who specialise in American folk and country material.
6 September 2016
Our club night on 2nd September got our sixth season off to a great start. There were excellent floor spots from John Hughes, The Columbines, and Alan Day who was joined on a couple of sets of tunes by Simon and Val Haines.
Matt Haines was our featured artist. Most of his songs were ones he had written himself and included what he called his greatest hit: Home for Tea. You can hear and buy this song along with others of Matt's  on itunes.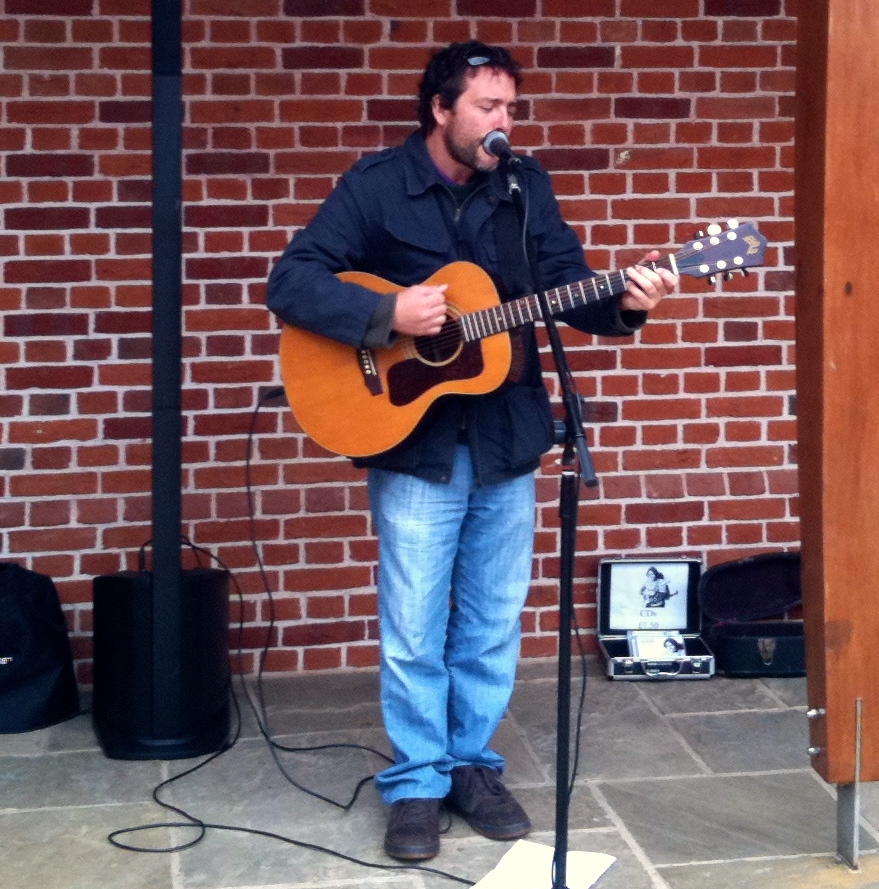 Sound Tradition were our main guests and put in a rousing performance which got our audience joining in on many occasions. Their acapella singing is always impressive and sounded particularly effective in the Ansell Centre with its good acoustics.  In addition to traditional songs, they included one of  their own compositions which has won a number of song-writing competitions: The Morecambe Bay Cocklers – a powerful documentary song which ius likely to stand the test of time. One or two songs were accompanied by a harmonium or spoons.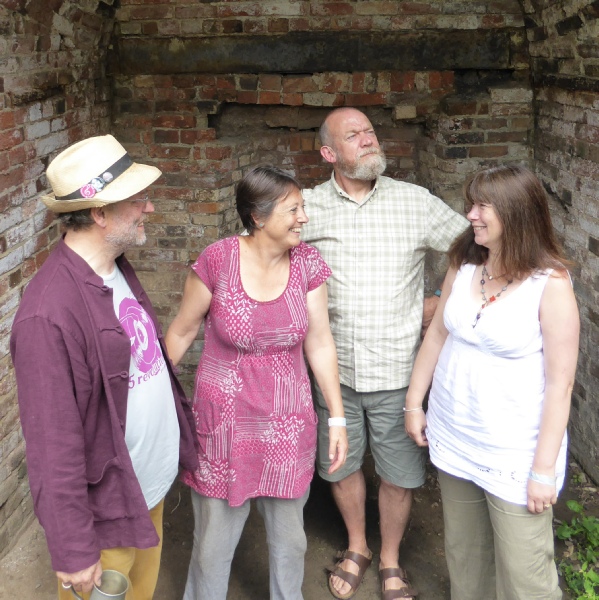 22 August 2016
This year, Hadleigh Folk Club session at Folk East Festival at Glemham, north of Woodbridge, was on the Sunday morning 10.30 – 12.00 in the Broad Roots Club tent.  Not, one would have thought, a particularly popular time to sit in a tent listening to folk music.  BUT it worked. We managed to fill all the seats and have some people standing for an excellent three-guest programme.
Megan Wisdom kicked off proceedings with her authentic folk songs sung in a beautifully clear voice. She varied her set by inviting two "special guests": Will Pod, with whom she sang The White Cockade, and then Ella Beal, who did a slow step dance while Megan sang the wonderful Betsy Bell. Megan performed with great poise and made a real impression on the audience.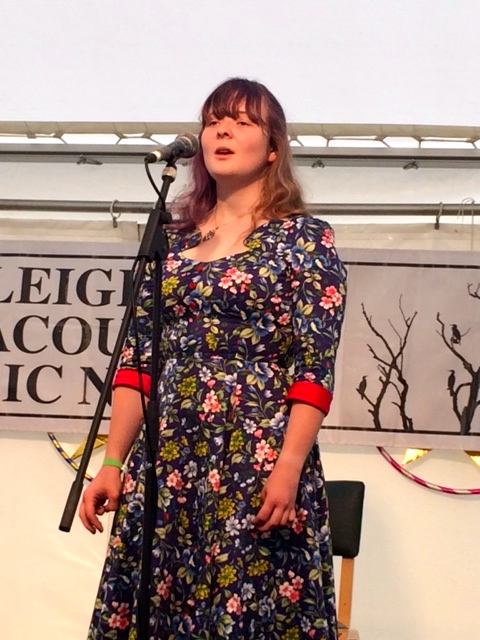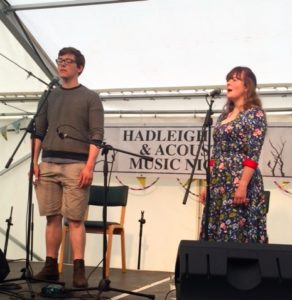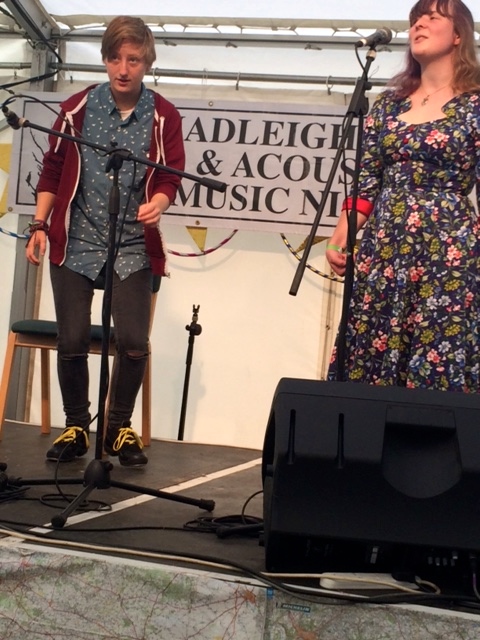 Megan and Will                                                                          Megan and Ella
Next were Gwendal Moële and Paul Riley performing their French chansons. They sang songs by Jacques Brel, including the powerful Port of Amsterdam, Charles Trenet's greatest hit La Mer, La Vie en Rose from the repertoire of the legendary Edith Piaf and a franglais version of Boum, with Gwendal singing in French and Paul Riley singing the Petula Clarke version in English. Great stuff.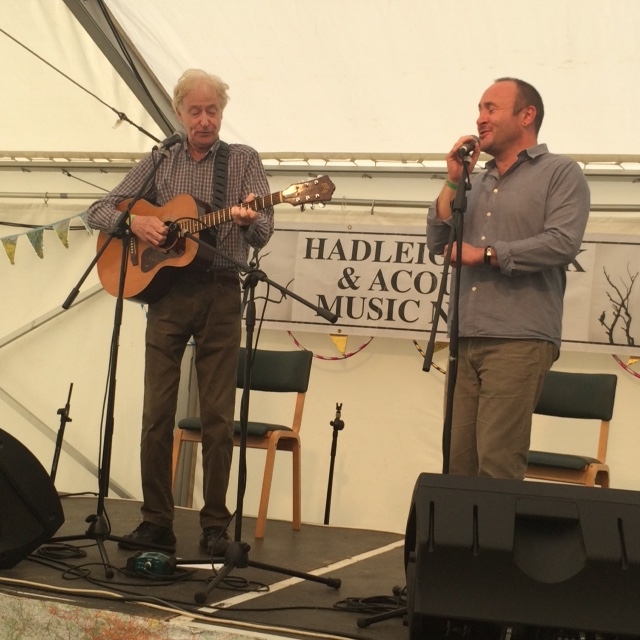 Our final guest was Kath Tait, a singer-songwriter, originally from New Zealand but now a long-term resident of London. Her set started with her song Lentils, which you can watch on YouTube here. Kath has an amazing capacity to write songs which make you laugh and cry at the same time. Many of her songs are based on her own life experiences and as a listener one can't help identifying with some of the situations she describes. Her demure stage appearance belies a great sense of humour which she reveals gradually as her set progresses. My favourite introductory line is: "My first husband was a fascist and died of spontaneous combustion." It introduces a song about intolerance and bigotry.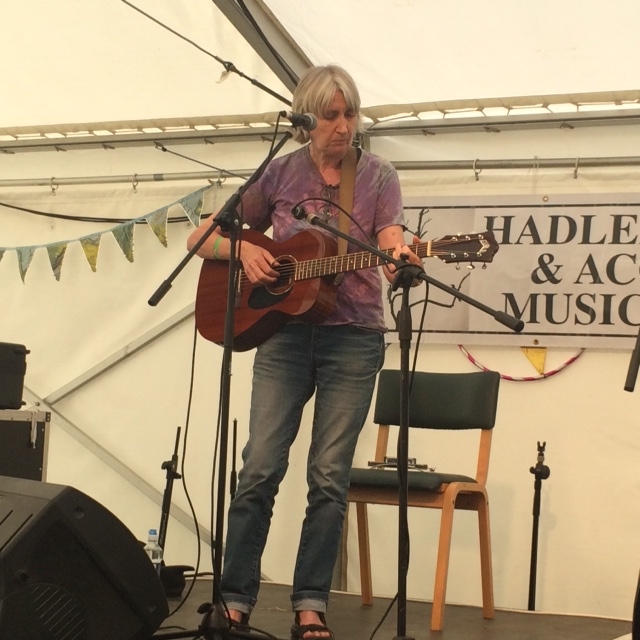 Kath's set went down a storm at Folk East.  You can find out more about her, listen to recordings etc on her website here.