MAR 2020
Another great evening with two main guests: Flaming June and Emma O'Reilly, both East Anglian performers.
Flaming June is a three-piece indie folk band from the Cambridge area.  Formed by singer/songwriter Louise Eatock, they have released nine EPs and received radio play from BBC 6 Music, BBC Radio Cambridgeshire, and Women of Substance Radio. They have played gigs and festivals throughout the UK including Standon Calling, Ely Folk Festival, Folkstock and The Strawberry Fair and have supported Big Country, The Men They Couldn't Hang, and Eliza Carthy . There is more information on their website.
Emma O'Reilly, a singer-singer writer originally from Ballinasloe in County Galway, Ireland, but now Norwich-based is often compared to Tori Amos, Kate Bush and Regina Spektor for her imaginative, refined sound. Dramatic and always evocative, Emma's music is a fusion of alternative rock, pop and folk, all informed by her classical training at the piano. Growing up, music was just a normal part of daily life for Emma, as both her home and her school always encouraged music making. She went on to study music at Third level and holds a BA in music from Trinity College Dublin. There's more about Emma on her website.

There were floor spots from Jackie Ord, Elli Tri and Stephen Foster-Pilkington.
FEB 2020
Our main guest was Rob Barratt, originally from Dudley in the West Midlands and now living in North Cornwall. He managed to arrange a short tour in the area around our booking.  Rob retired from teaching – mostly in special needs education – in order to spend more time on what had been his hobby: poetry.  Since retiring he has written three collections of poetry and toured throughout Britain and Australia. Unlike many performance poets, Rob also sings. He is also on the committee of Bodmin Folk Club.

Much of Rob's poetry, whose subjects include squid, distressed furniture, supermarkets whose names have lost their first letter (-orrison's, -ainsbury's, -esco, -o-op etc) is of the rhyming variety and involves plays on words. There are lots of his poems on YouTube. Here are some:

There is much more about Rob his website:
Our featured guests were Crayon Angels,  but  they had to cancel because their vocalist had lost her voice. Bof! stood in at the last minute with a selection of French and Breton songs and tunes.
There were floorspots from Bill & Sheila and Rachel Hack's Revival.

JAN 2020
We had two main guests for the first evening of 2020. The first, Megan Wisdom has played at our club several times now and is a firm Hadleigh favourite. She has recently started a folk music degree at Newcastle University and fitted this booking into her college holidays.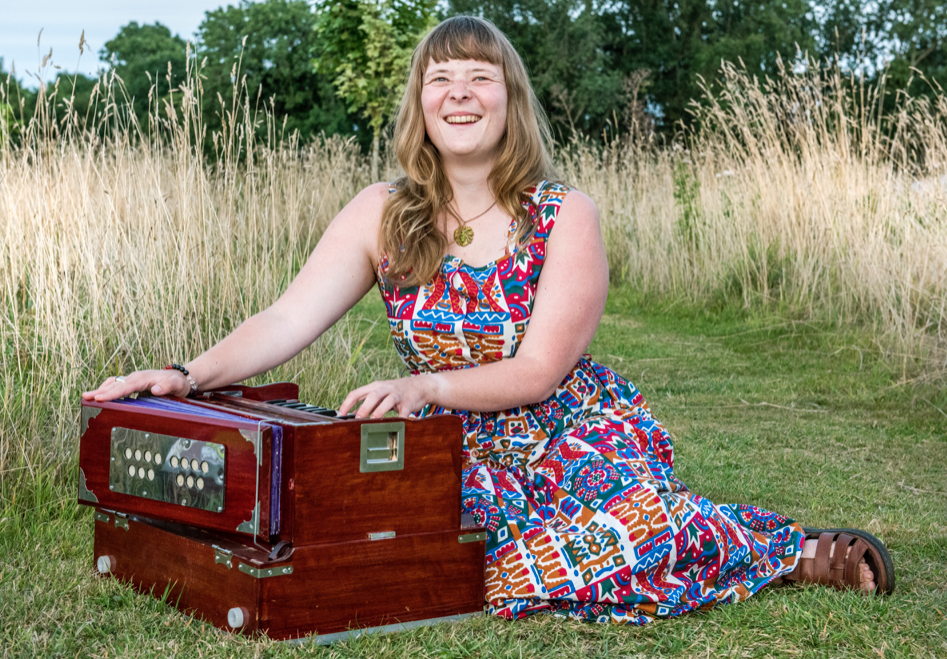 Megan sang mainly traditional songs occasionally accompanying herself on the sweet-sounding table harmonium. She also sang The Taunting Cuckoo, the song she won the song -writing competition we organised in 2015. The words to this song are in the Past archives page of our website. Scroll down to June 2015. There is more information about Megan on her website.

Our second main guest was Zoë Wren, a singer-songwriter from London. Since her beginnings as a busker in Camden, Zoё has gone on to perform on stages from Cambridge Folk Festival to Glasgow Celtic Connections to The Shard. She won the PRS Lynsey de Paul Prize and the Alan Surtees Trust grant, and has been played on BBC Radio 2's Bob Harris show.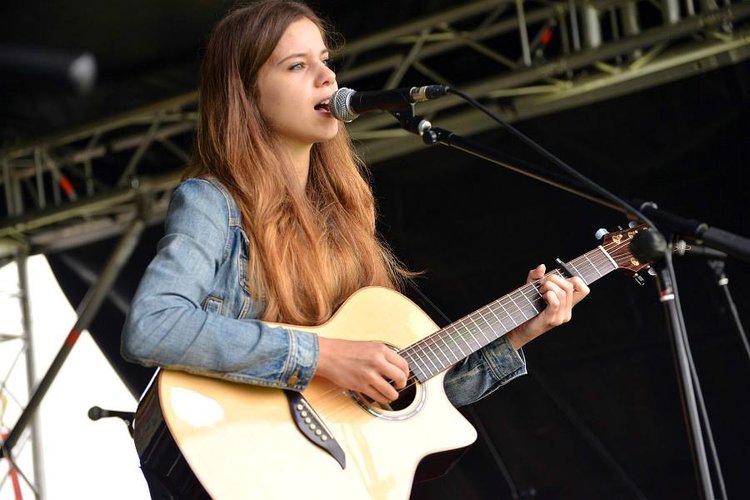 Her influences include the unorthodox harmonies of Joni Mitchell to the honest storytelling of Tracy Chapman.  Zoe's "feminist" song about a female highwayman went down very well, as did Don't touch my guitar a song about an occasion when Zoe was busking at an underground station and was harassed by a man who insisted on drumming on her guitar as she was singing.  Her music is available on Bandcamp. There is further information on her website where you can also listen to and buy her songs.
There were floorspots from the seven-piece  Glass Thistles from Woodbridge and and Alice Martin.

DEC 2019
Our main guests were Helen & the Neighbourhood Dogs, a 7-piece band from round these parts. A recent review of one of their gigs went like this.
When you see a band like Helen & the Neighbourhood Dogs and listen to their "East  Angliacana", your first thought is "Why aren't this lot huge? "  With four singers, all of whom can take lead or deliver great harmonies, casually excellent playing, particularly from Shane Kirk on guitar and "Fiddly" on, of course, fiddle, and a truck load of great songs they really are a class act.  "Not The Kind Of Girl", resurrected from their previous incarnation as Songs From The Blue House, Tony Winn's "What's A Rainbow" and the loping "Harrogate" were perhaps highlights but throughout the set the band laid down a serious groove, rocked out when they needed to, sang their hearts out – Helen Mulley has a fabulously aching voice – and generally had a ball. (Jeremy Searle, Americana UK)
Our audience loved the band's music and their humorous patter.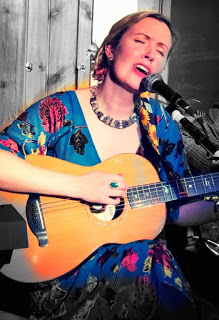 Our featured guest was Holly D Johnston, a Suffolk singer-songwriter and storyteller
Holly's heartfelt lyrics woven together in memorable tunes were sung with a warm. ethereal and passionate. More information HERE.
There were floorspots from Three Men in a Shed, Sarah Thompson and Friends and Davos Williams
NOV 2019
Our main guests for November were the classic four-piece folk-rock band Hunter Muskett.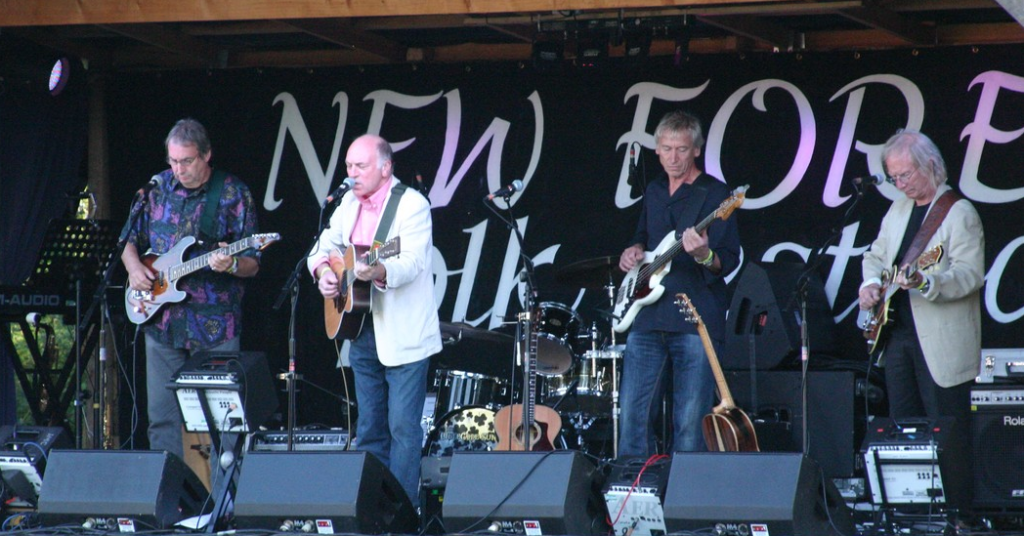 The band began life at the end of the 1960s and were soon signed up by Decca Records. After the release of their first album, they toured at home and abroad for almost three years. Following a second album in 1974, they  split up . However in 2010, with the re-release of one of their first album, they got together again for a one-off gig.  They enjoyed this experience so much that they made another recording and did a few gigs. Fast forward to 2019, they have recorded two more albums and are gigging again. One of their members, Terry Hiscock, is a regular and popular performer at Hadleigh. More information on the band website. Their varied set and tight playing went down very well with our audience and we will be booking them again.
Our featured guest was Gemma Khawaja, a singer-guitarist from Norfolk. Gemma sang some traditional folk songs and some more modern compositions, and accompanied herself on guitar and shruti box. More information HERE.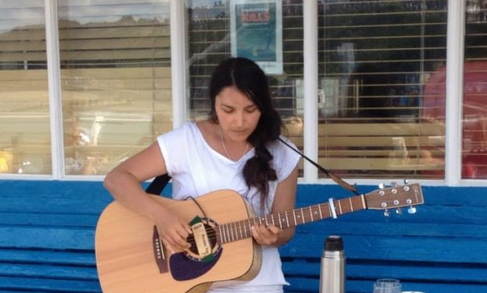 There were floorspots from Elli Tree (Helen Woodbridge) and Tanglethread.
OCT 2019
Main guests were Rosewood, a trio comprising Simon and Val Haines and Phil Lyons. Their set  alternated songs and instrumentals from a wide variety of sources from 16th century Italy, the traditional English songbook, a Marks and Spencer's TV advert and the soundtrack of  a Dutch film.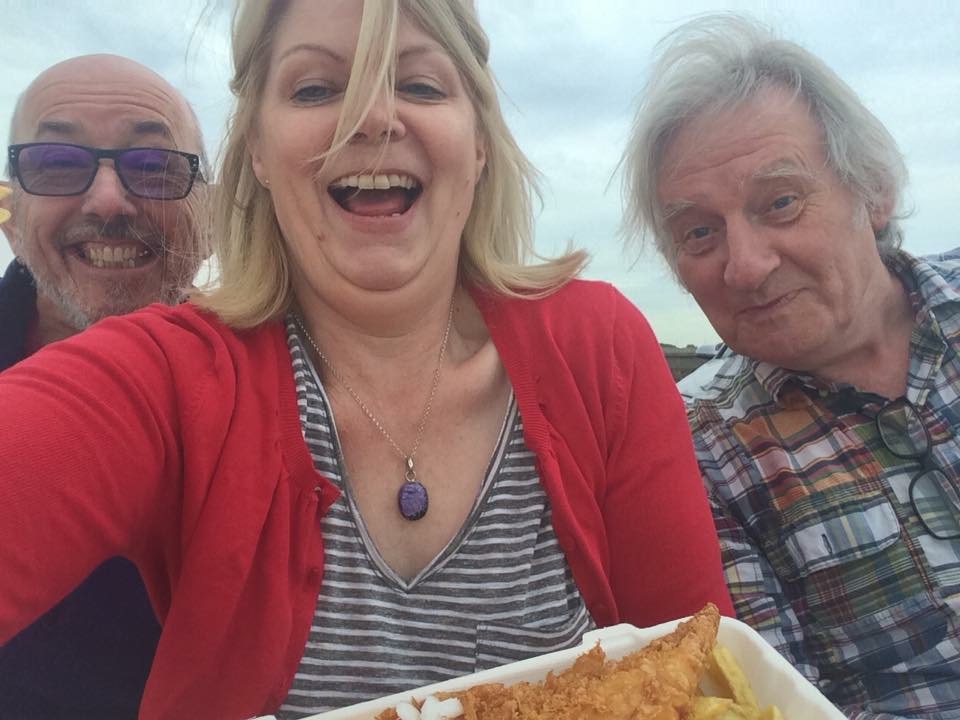 They played an unusual selection of traditional instruments including bagpipes, ukulele, concertina, and the not so traditional desk bells. More information on their website: https://rosewoodband.co.uk
Our featured guest was Sascha Osborn,  a London-based, singer-songwriter who blends folk and jazz influences in her songs of hope, loss and love.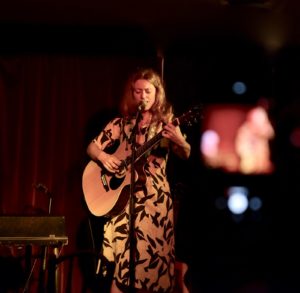 More information on Sascha's website: https://saschaosborn.co.uk
There were floor spots from Hazel Bradshaw and Terry Hiscock, whose band, Hunter Muskett are our November guests.
SEPT 2019
The main guests for the first evening of our 2019-2020 season were Mary Humphreys and Anahata, a couple who used to be based in East Anglia but have since moved to Yorkshire. Mary plays concertina and banjo and is the singer, while Anahata plays great accompaniment on melodeon, concertina and cello.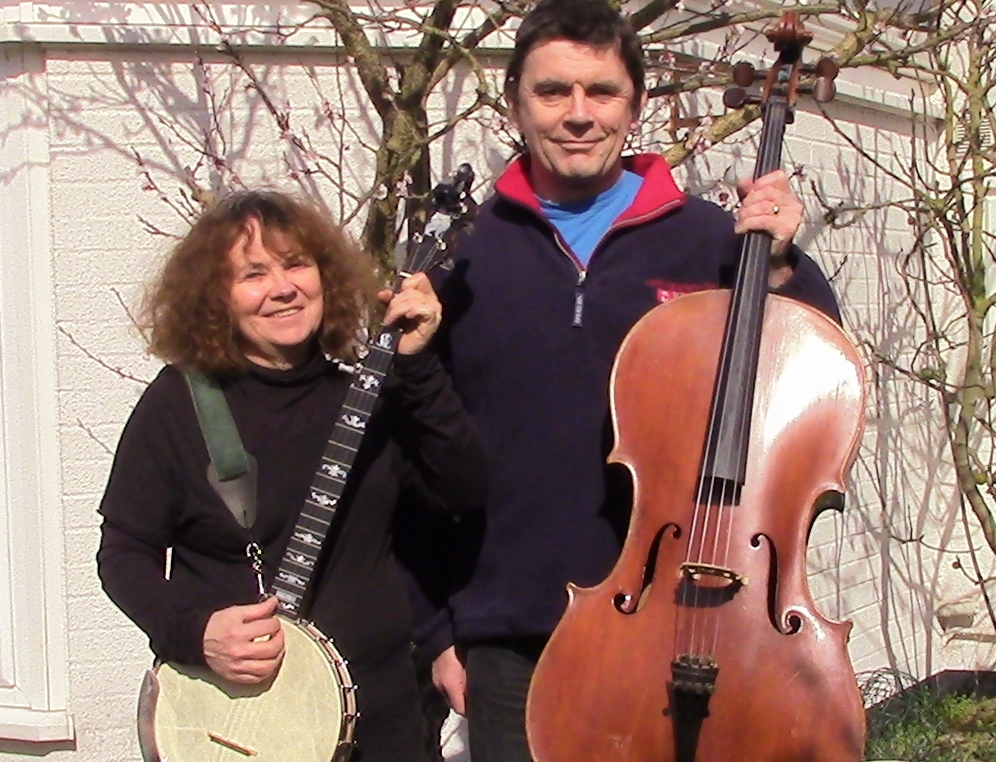 They played mainly traditional songs – many with choruses – and tunes and, as usual performed with great gusto. One of the songs in their set was collected in Hadleigh in 1907 by the composer and folk song collector Vaughan Williams.  Lots more to read about and listen to on their website.
Our featured guests  were Park and Ride, a couple from Colchester who performed another ultra eclectic range of folksy but not too folky songs and tunes, including the inimitable Je t'aime (moi non plus) made famous in 1968 by Jane Birkin and Serge Gainsbourg. Nel's attempt to sing both male and female parts had our audience in stitches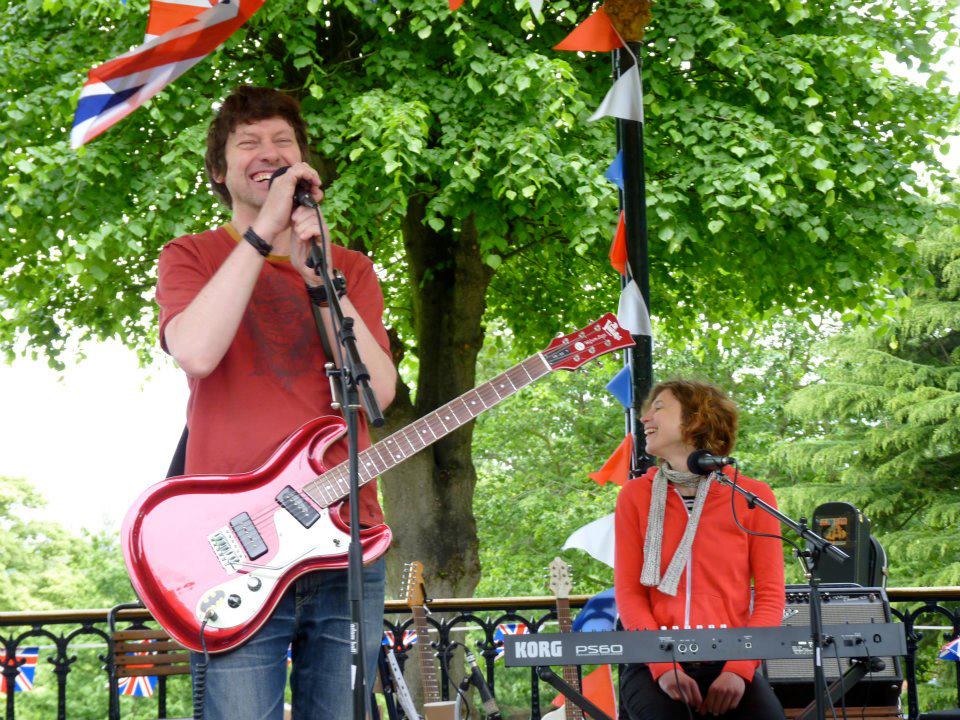 They also played the great Carter family song Keep on the Sunny Side. There is more information on their Facebook page
Our evening opened with songs from Alice Martin and an unusual ukulele and double bass set from Kate and Rob
JUL 2019
The main guest for the final evening of our 2018-2019 season was the incomparable Tony Hall, melodeon play extraordinaire. He has played the British folk scene since the 1970s and can do things with his instrument that lesser mortals can't even imagine. He also sings and has a wickedly wry, Norfolk sense of humour.   Tony doesn't have a website, but he is appearing at a number of festivals in the coming months so look out for the name.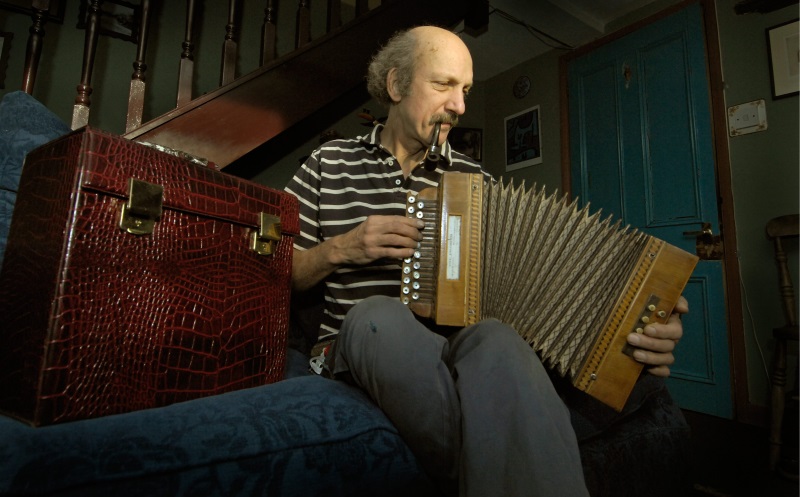 Our featured guests for the evening were Threescore, also from Norfolk, a trio who played a variety of instruments and sang some traditional and some of their own songs. There is more information on their website.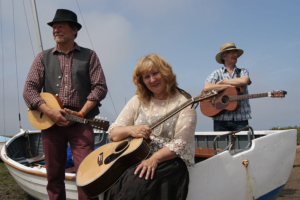 Opening the evening with an extended spot  were reformed duo, Alan Day on concertina and Mike Ainscough on guitar. Their mixture of styles could be described as folky/jazzy/old-timey – very entertaining. They were followed The Medlars, a trio from Colchester: the guitar and fiddle of Tom and Emma Hardy are joined by singer Alie Barnes.

JUN 2019
Our main guests were the  duo Sedbuskers from Hertfordshire. Sometimes known as the Bullenbush Band Duo, they are songwriters Ian and Sue Bembridge. They have performed all over the UK, from the 'Old Profanity Showboat' in Bristol Harbour to the main stage for the launch of the 'Tour de France 2014' in Hawes, North Yorkshire. They are equally at home in small folk clubs or performing on open-air festival stages.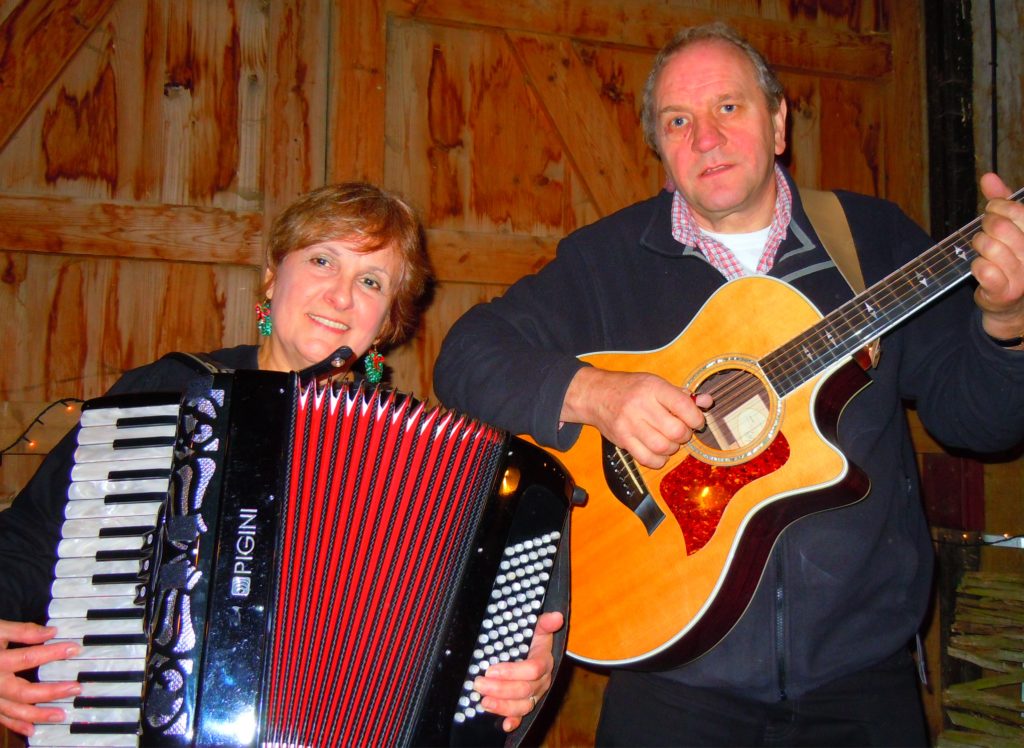 There is more information about Sedbuskers on their website.
Support was supposed to be from The Delta Ladies, but sadly they couldn't make it for personal reasons, but Annie Meehan and Tom Crossthwaite stood in at the last minute and were very well received. They will be playing for us again next year.
The evening kicked off with floorspots from Simon and Val Haines, Bill and Sheila and Grasshopper.
MAY 2019
Our main guest was Dick Miles, a singer and musician who used to live in Suffolk but now lives in Ballydehob a village in South West Ireland,  where he runs the annual Fastnet and Martime Festival.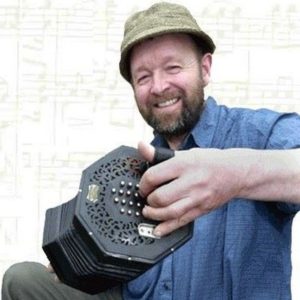 Dick started off with a couple of chorus songs as he could tell from previous performers that our audience enjoys joining in. He accompanied his singing expertly on concertina, and guitar. There is more about Dick and his music on his website
Our featured guest was Jeremy Harmer, a singer-songwriter from Cambridge.  His songs have a fascinating socio-political edge to them.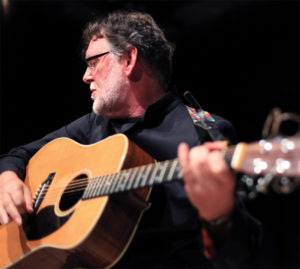 Find out more about Jeremy's music and other aspects of his life here http://www.otherloves.co.uk
The floor spots who kicked off the evening: were Val & Simon who played a couple of tune sets on melodeon and bagpipes, Steve ?, Tricker, Green and Ward with their catchy Americana repertoire and The Friendly Visit, a new band led by Paul Riley.
APRIL 2019
We had another wonderful French evening with main guests, Centralbal, a top band from central France led by the celebrated hurdy gurdy player Patrick Bouffard (see below) who was part of our French weekend last year as a member of La Chavannée. Centralbal comprises Patrick on hurdy gurdy, Colin Delzant on cello, Jonas Thin on bagpipes, and Fabien Guiloineau on guitar.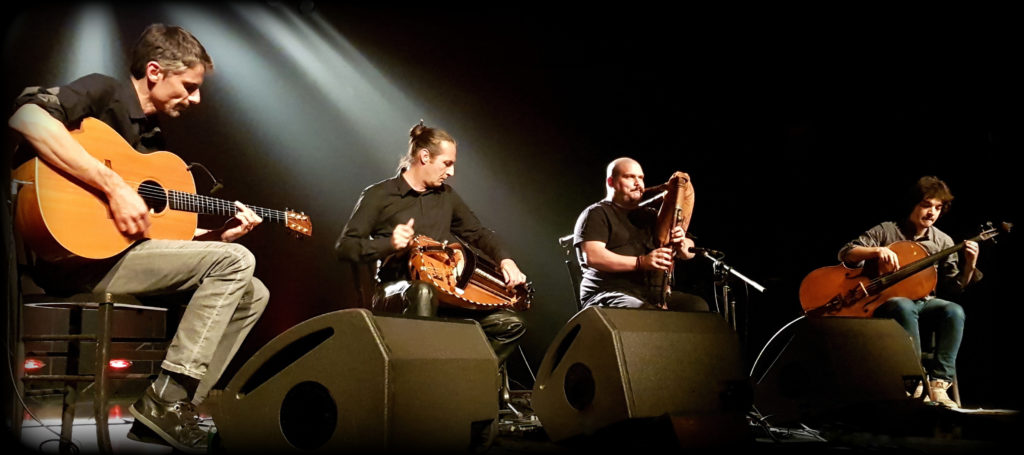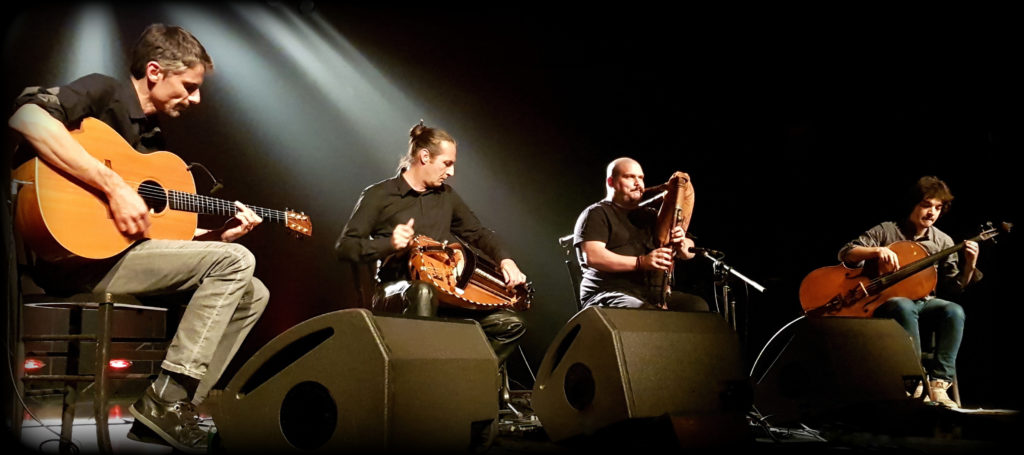 Find out more about the band on their website, HERE. Below is a YouTube clip of Patrick playing Le Dénicheur, a piece he played on our night.

Dave Shepherd kicked off the evening with a very varied, informative solo fiddle set. Dave is best known as the fiddle player in  Blowzabella's. Local group Bof! continued the evening with a set of tunes and songs featuring Breton singer Gwendal Moële.
MARCH 2019
Our main guests on our March night were Harbottle and Jonas, a young duo from Devon whose eclectic music accompanies great stories. They put on a great show and went down superbly well with a larger than usual club audience. The duo combine the rich traditions of folk music with original and contemporary interpretations. Their music, performed on concertina, harmonium, and acoustic guitar is unique.
There's plenty more to see and listen to on their website: https://www.harbottleandjonas.com
Our featured guest for the evening was Peter Hood, a singer-guitarist from Lowestoft, who  runs the Waveney Folk Club in the town.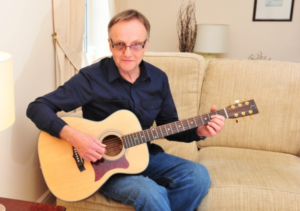 The evening kicked off with floorspots from, Holly D. Johnston, who sang songs from her forthcoming album. This was followed by Alan Day, who performed Stanley Holloway's monlogue My you do look queer, tunes on the concertina and a musical song. And finally, for the first time at the club Less Than Perfect, a local duo who performed acoustic versions of well-known pop songs. It was an all-round good night.

FEBRUARY 2019
The main guests on our February night were The Jigantics, a four-piece band from Gloucestershire. They played a blinder and went down very well with our audience who appreciated their varied repertoire and their excellent playing.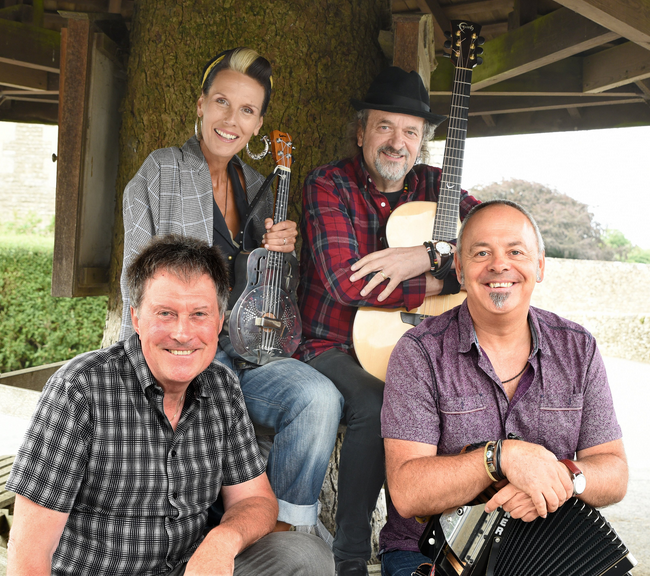 They began with Louden Wainwright III's Swimming Song, a bizarrely surreal song which has always been a favourite of Simon's. Their Americana tinged with Cajun is not something we hear too much of in these parts – sadly.  If you missed them at Hadleigh, there's lots more about the Jigantics, including video samples, on their website.
Our featured guests were Simple Folk a Suffolk duo comprising Rachel Dodd and Steve Christopher who are building a reputation across East Anglia, and rightly so, with their stripped back versions of contemporary and traditional folk songs. Listen to samples of their music on their Facebook site.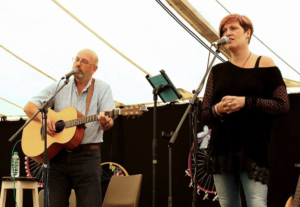 The evening opened with floorspots from Tom Crossthwaite, Tanglethread and Terry Hiscock & Roger Trevitt, whose Buddy Holly cover of That'll be the Day, complete with glockenspiel,  got some of the audience taking themselves back 60 years and joining in.
JANUARY 2019
Another excellent night with a good turnout despite the freezing weather. Once again, we had two main guests on January 4th: Revival and Stan Harvey, both of whom have  appeared at our club as Featured Guests
Revival is an Essex trio featuring singer Rachel Hack, guitarist Peter Slater and bass player Roy Bartholomew. The group sang a mixture of popular traditional songs, some of Irish origin and more contemporary compositions, including Nancy Kerr's Queen of Waters. Revival formed in 2015 and have gradually built up a local fan base through their appearances at clubs and festivals in East Anglia. In August 2018, they appeared at Folk East Festival.

Stan Harvey is a Colchester-based singer of what we now term Americana. Having spent most of his musical life since the age of 15 playing in duos, trios and bands, Stan recently decided to take the logical step of going solo – and it's proving a popular decision.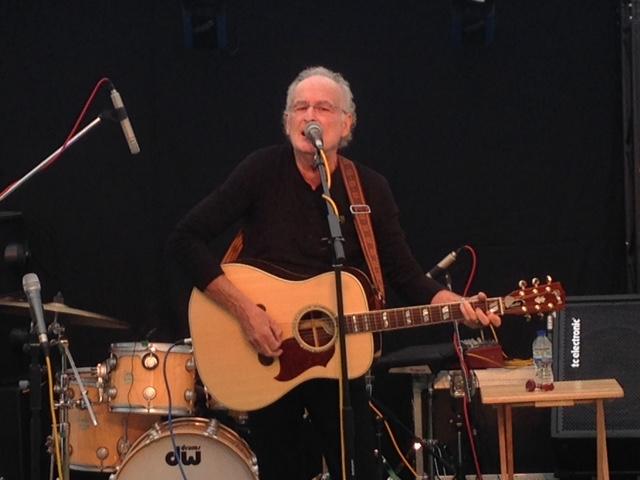 Stan's early inspiration came from the American solo performers of the 1960s: Bob Dylan, Ramblin Jack Elliott, Pete Seeger, Lee Hays, Phil Ochs, and Leadbelly, singers who, in turn, got their inspiration from an earlier generation: Woody Guthrie, The Carter Family and The Stanley Brothers amongst others.  Find out more about Stan on his website
The evening started with floor spots from Simon and Val Haines, Tom Crossthwaite and Angela Dennis

DECEMBER 28 2018
We had two main guests on December 14th:  Cambridge and Walker and Tony Winn. Tony very kindly stepped in almost at the last moment to replace Rosewood as Phil Lyons their singer guitarist was being operated on on that very date. Crayon Angels who were to have been our featured guests also  had to cancel for health reasons. Despite these setbacks, it was, as ever, be a great evening of music.
The duo  Cambridge and Walker came about as the result of a mutual interest in traditional songs, especially harmony singing, arising from individual performances at Blackfen Folk Club. David (Cambridge) sings and plays guitar/guzouki and has been building a reputation as a singer/guitarist in Cambridge and the surrounding area- his love of the guitar is such that he spends a good deal of his time building them.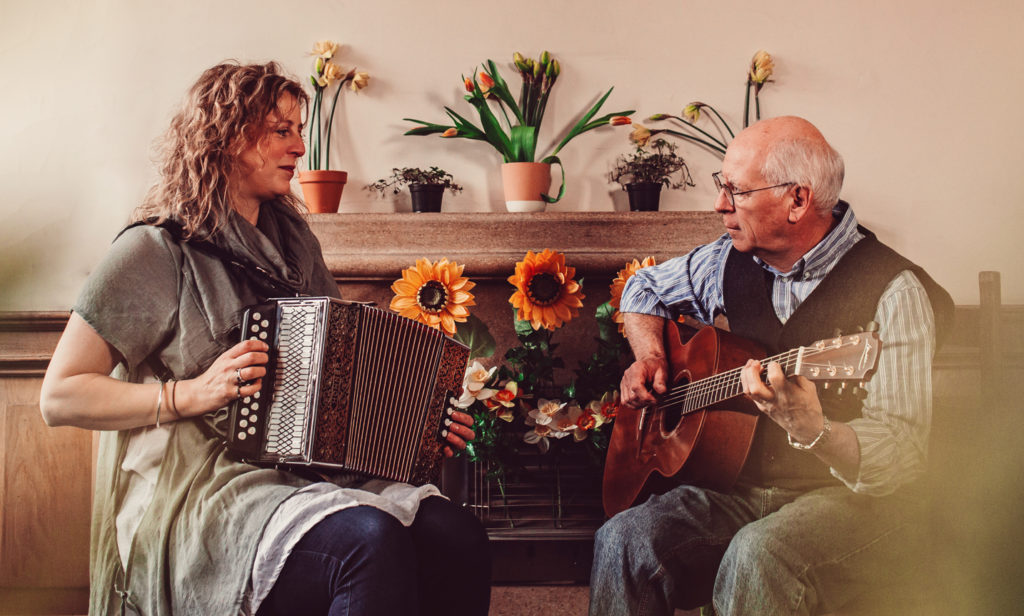 Jenna (Walker) sings and plays melodeon/piano accordion and has been singing in Cambridge for many years. She recently completed a Masters in Traditional Folk Music. In their time together, they have appeared on local radio (Cambridge 105; West Norfolk Radio) and played at various folk clubs in East Anglia, with headline appearances at Cambridge, Blackfen, Great Bardfield, Milkmaid (Bury St Edmunds), Royston, and Thetford Folk Clubs.  There is more information on their website here.
Singer-songwriter Tony Winn has played at Hadleigh on several occasions in the past and has always proved a success. Accompanying himself on acoustic guitar, Tony mixes the touching with the hard-hitting, the poignant with a laugh. He sings about humankind and its world, reflecting his own oblique views on life as a member of the human race (which he is determined to win!). Among Tony's influences are Tom Waits, Bob Dylan,  Loudon Wainwright, Randy Newman and The Beatles.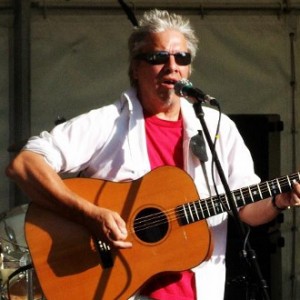 Come and Go with Me is one of the songs from Tony's most recent recording.
 The evening started with floor spots from The Hadleigh Community Choir, who sang Christmas songs including the great Steeleye Span single Gaudete, and singer guitarist Terry Hiscock.
NOVEMBER 2 2008
Our main guest on this freezing cold night was Kelly Oliver making a first visit to Hadleigh and coming all the way from Stevenage. Kelly treated our audience so a combination of traditional and self-penned songs, accompanying herself on guitar and introducing her material in an informative and charming way. Many of the songs were from her new (third) album Botany Bay. Our audience were fully absorbed in Kelly's performance – so much so between songs you could hear a pin drop. Her final song Molly Malone (aka Cockles and Mussels) had the audience singing merrily along. One member of the audience knew all the words. The video below is a song Kelly wrote in memory of her grandmother who came originally from Tralee in Ireland.

There is more information about Kelly on her website:http://kellyoliver.co.uk

Our Featured guests were the six-piece Bards of the Heath a band put together by John Goodluck, known maybe to some of you as a folk singer, the leader of the folk rock ceilidh band Trunkles and presenter of the local radio folk music show Folk-al-pint. They played a variety of traditional songs and modern compositions on traditional themes – and got us singing along to John Barleycorn.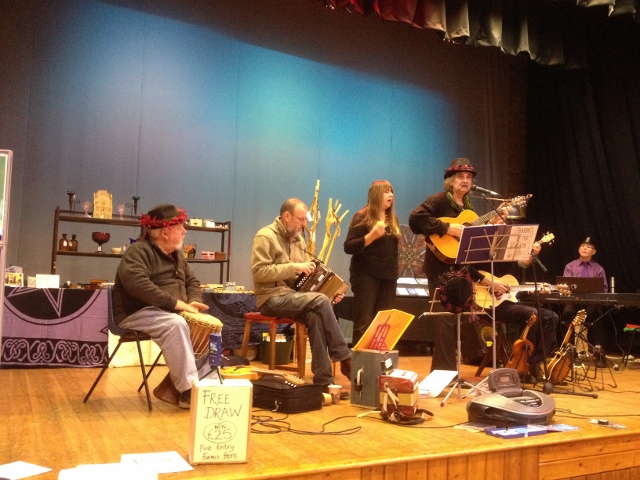 Bards of the Heath  were formed in 2004 as a musical unit in  order to take on  gigs at unusual venues, such as events in the  Ipswich Museum and found that many of John's earlier Ballads from the 70's fitted in with the Bardic theme of poetry & stories. There is plenty more about John Goodluck and Bards of the Heath here.
The evening began with a song composed and sung by Sarah Thompson, Lest we forget, to the tune of She Moved Through the Fair. The song tells the story of a young man going off to France during the First World War and was composed to be sung during the Festival of Remembrance to be held in the United Reformed Church in Hadleigh on 10th November. Sarah was accompanied by Val Haines on recorder and Simon Haines on melodeon.
There followed three songs from Hazel Bradshaw and a 20-minute set from Sudbury-based electro-acoustic duo False Colours, who finished their set with this catchy song: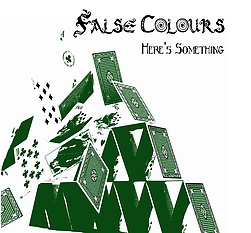 Here's Something
OCTOBER  5 2018
Our main guests were Fiona Larcombe and Terry Mann, a great duo who performed for us two years ago. They replaced the Foxglove Trio who, unfortunately,  had to cancel.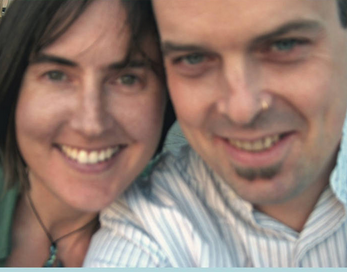 Fiona is an accomplished singer of traditional songs and a fine fiddle player. Terry Mann is an expert accompanist on guitar, banjo and melodeon. In his other life, Terry is a classical composer and a musical instrument maker. The variety of the couple's repertoire and their informative, light-hearted introductions made a real impact on our audience. https://terryandfiona.bandcamp.com
Our Featured guest was Peter Kerr and Friends who won our audience over with their chorus songs – many of which were popular in the 1950s and 1960s and which were remembered by everyone, who sang along with gusto.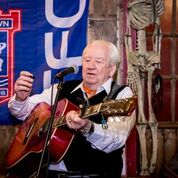 The evening started with floor spots from Bill Johnston, Rosewood and Jackie Ord. When Jackie finished her set the audience persuaded to sing the song she is best known for. Two River View Wrabness.

SEPTEMBER 7 2018
Our main guests on September 7 were The Shackleton Trio. It was a great night.Georgia Shackleton (fiddle, vocals), Aaren Bennett (guitar) and Nic Zuppardi (mandolin). played an original  blend of folk and self-penned material that showcase Georgia's unique songwriting skills, alongside a vibrant display of instrumental brilliance influenced by British, American and Scandinavian folk traditions, with a regional twist from the group's native East Anglia.

Together they have toured the UK, Belgium and the Netherlands, appeared at Rotterdam Bluegrass Festival, Cambridge Folk Festival, Towersey Festival, Broadstairs Folk Week, Folk East, and concert halls and folk clubs across the UK. There is more information about trio on their website.
Our Featured guests were  The Somali Road Attic Band – that's Linda Baddeley (vocals), David Bartlett (vocals, guitars, harmonicas and percussion) and Richard Byers (vocals, guitar) – a trio who grew together out of the regular nights run by the Bury Folk Collective. This West Suffolk-based trio are passionate about what they do and are dedicated to having fun playing the songs they love – in this case, an eclectic mix of covers that includes Dylan, Ewan McColl, Richard Thompson, America and the Decemberists. This is folk music from people who have sung and played a lot of folk music – expect an unmissable, unforgettable Somali Road Attic Band take on some great songs.
You may know Linda Baddeley and David Bartlett as members of Sound Tradition.
The evening opened with floor spots from regular Alice Martin, Simon and Val, and The Merry Harriers who brought an unusual but very welcome set of Irish tunes and songs to the club.
JUNE 2018
Our main guests on June 1 were to have been the duo Oka Vanga, but unfortunately, due to personal circumstances, they  had to cancel. (We will be booking them in the future.) Instead, at short notice, we managed to book Red Velvet, a five-piece Cambridge-based band on their second visit to Hadleigh.  As before before they went down very well with our audience. Here is how they describe themselves:
Red Velvet perform the songs of the outsiders, the outlaws and the dispossessed from the folk tradition that these times demand (the "red" part), along with a selection of songs of the heart with a jazzy, edgy, bluesy feel (the "velvet" part). The result is a passionate and sensual set.
Here they are playing at Ely Folk Festival a couple of years ago.
There is more information about Red Velvet on their website.
Our Featured guest is Stephen Foster Pilkington from Brightlingsea. He did a floor spot some time ago and we decided then that we'd like to hear more of him. He's a difficult performer to classify – possibly a deliberate policy on his part.  He performs solo and with rock bands.
You can hear more on Stephen's Facebook.
MAY 2018
Unusually for Hadleigh our Folk and Acoustic Music Night this month was on the second Friday of the month. We had two local acts: Harbour Lights Trio and Terry Hiscock.
Harbour Lights Trio consists of Rob Neal, Derek Simpson and the "singing gamekeeper" Alvar Smith, often seen in pub sessions around Blaxhall and Snape as well as regular performers at folk clubs and national festivals. Their set featured  traditional songs, music hall numbers and the occasional tune. Their emphasis is on entertainment and audience participation.  They certainly got our audiences going, joining in with their chorus songs and laughing at their Suffolk humour.  Find out more about the trio on their Acoustic East page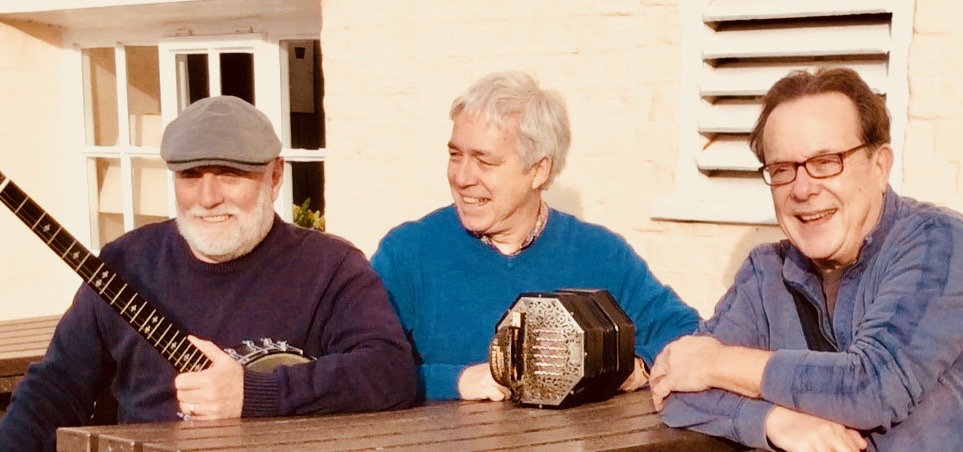 Our Featured guest has appeared several times at Hadleigh: the popular singer-songwriter and excellent guitarist, Terry Hiscock. Back in the day he was a founder member of the folk-rock group Hunter Muskett, who played alongside Steeleye Span and Fairport Convention.
On this occasion, Terry brought a fellow member of Hunter Muskett to play with him: Roger T played guitar, sang and did a great glockenspiel accompaniment to the Buddy Holly song, Everyday.  We hope to book the full band some time at the club.
Watch a video of Terry playing at a Hedingham music night.

The evening began with two excellent Floor spots: the Americana band Hargreaves  performing at the club for the first time, and Hadleigh favourites The Columbines
APRIL 2018
This was our annual French evening leading into our weekend of workshops music and dance. There were no floor spots this evening, but performances from two local bands and one from France.
We kicked off the evening with Breton and French songs from Gwendal Moële and Bof!  Check out their website.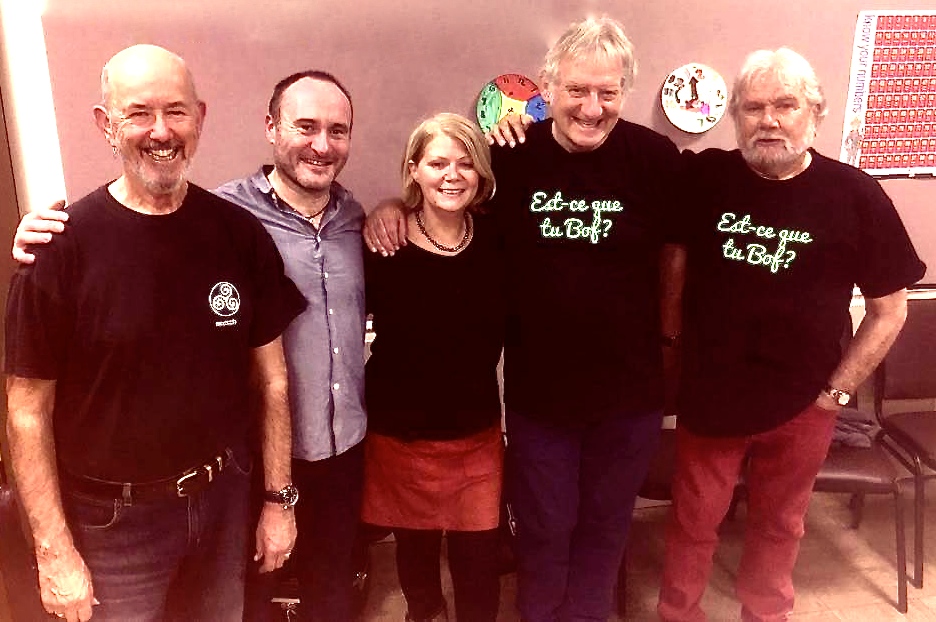 Next came a new trio: Shepherd, Pack and Veal – from various parts of the UK – playing a variety of instrumentals on violin, accordion and clarinet. Dave Shepherd and Anna Pack have played for us before, but this year they were joined by Jo Veal from Sheffield.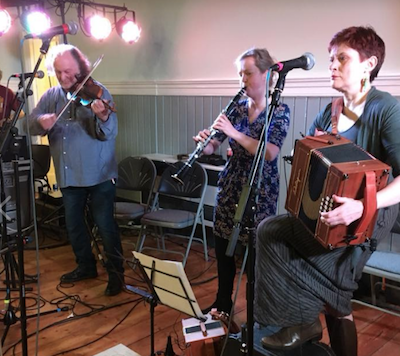 Top the bill this year will be the wonderful La Chavannée from Château-sur-Allier in central France. The 8-piece version of the band included some of the most respected traditional  musicians in France, including two generations of the Paris family:  Frédéric, Manu and Eveline, Catherine, Gabrielle and Mathilde with Maxou Heintzen and Patrick Bouffard. La Chavannée have not visited the UK for several years, so this was a very special night.  Here they soon after their arrival.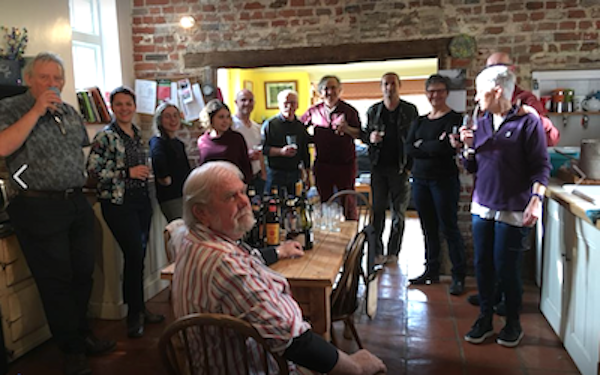 On Saturday April 7th La Chavannée led two workshops – music and dance – during the day a played for a dance in the evening.  Here's what they sound like:

There are plenty more YouTube clips of the band. You can find out more about La Chavannée on their website.
MARCH 2018
Sadly, for the time in our seven years we had to cancel one of our evenings due to bad weather. Below is the programme you would have seen and will now see next season.

This is another of the occasional evenings when we have two main guests. This time it's Rosewood and Walker & Cambridge.
Rosewood comprises Phil Lyons, Simon Haines and Val Woollard.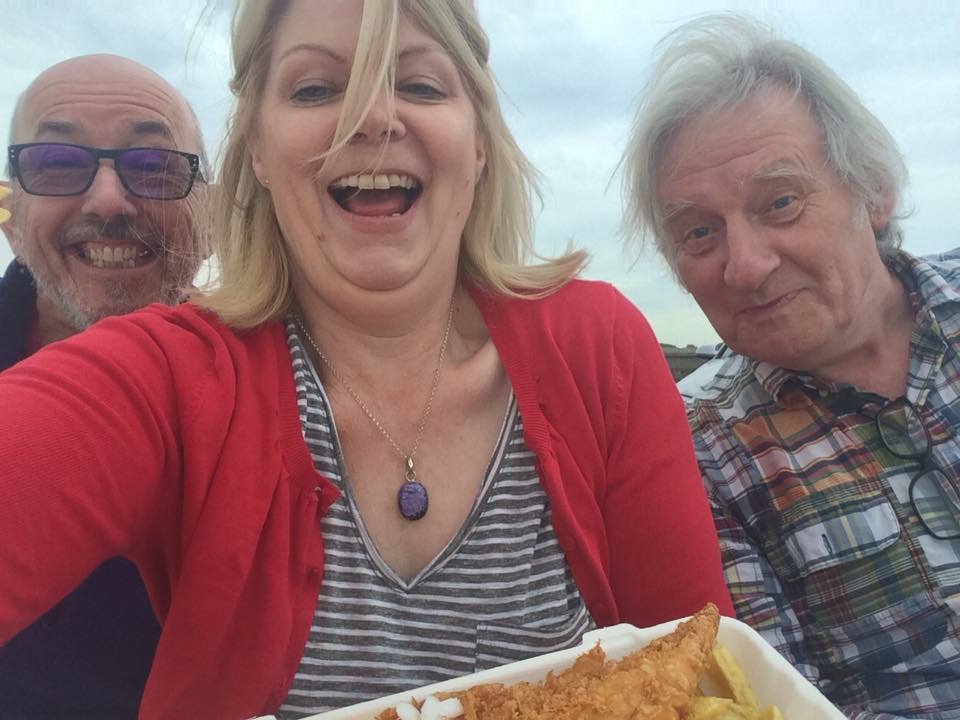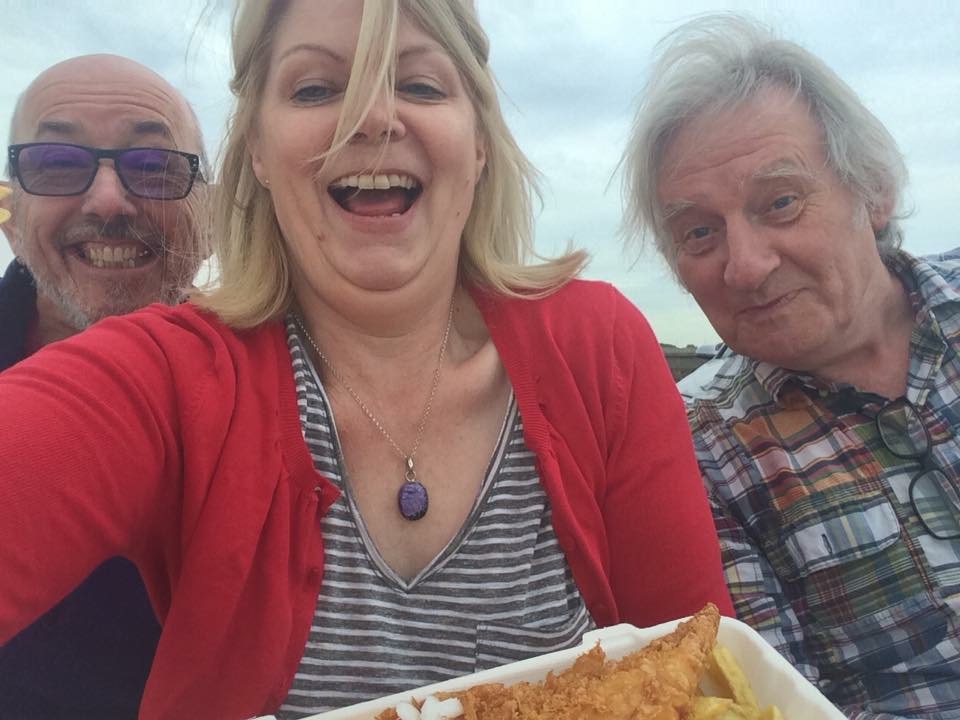 Determined not to be pigeon-holed, they include in their set  a wide range of songs and tunes that can  be described as "folk" in the broadest sense. These are played on a collection of acoustic instruments.  There's loads more about Rosewood on their website here.
Cambridge & Walker are a duo from Cambridge who are making a reputation for themselves throughout East Anglia.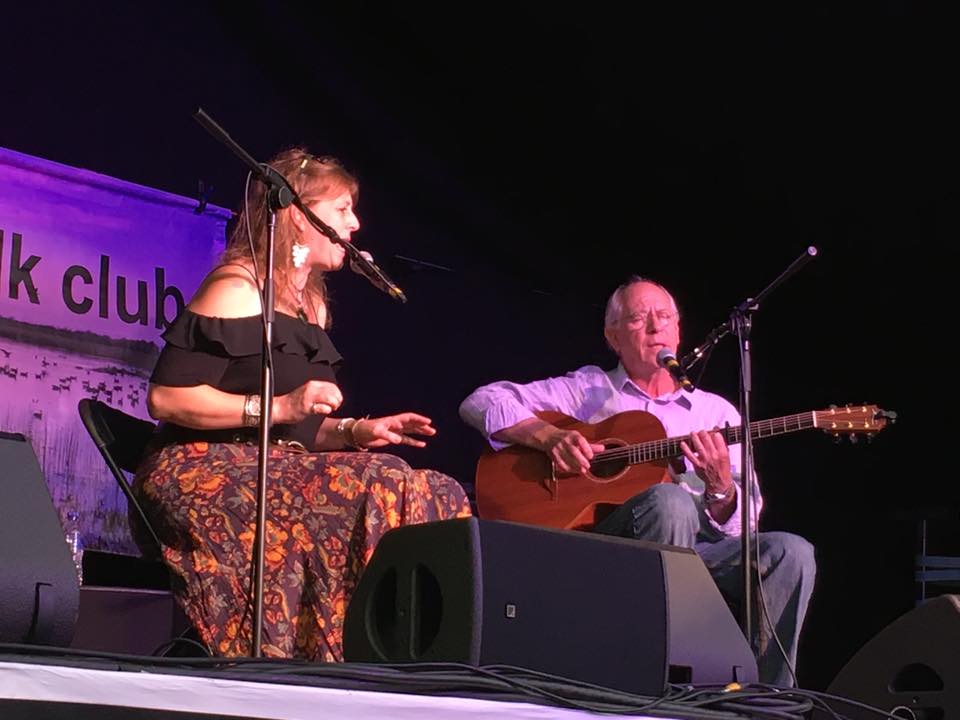 David Cambridge sings and plays guitar in Cambridge and the surrounding area. Jenna Walker sings and plays squeezeboxes and has been singing solo for many years. During the 2016 festival season , David and Jenna decided to try try working together as a duo. They went public in the autumn at Black Fen, Cambridge and Bury Folk clubs and friends and audiences convinced them to carry on.
Our featured guests are a trio called Crayon Angels from deepest Essex. Here they are performing one of their songs:
This is how they describe themselves:
Crayon Angels are an acoustic guitar-driven trio combining songs influenced by some of the British greats (Richard Thompson, Ray Davies, Andy Partridge etc.), delivered by a soulful female vocal and coloured by atmospheric electric and slide guitars.
FEBRUARY 2018
Sadly, for the fiOur main guests for February were to have been Andy Matthewson and Lisa Winship, a duo from  Reading , but unfortunately Lisa couldn't make it so Andy played once more for us as a solo singer/guitarist. Despite this and the fact that he had to borrow Jeremy Harmer's guitar, his 60 minutes was much appreciated by our audience. Here's a reminder of Andy's playing and singing.
There's more about Andy on his website.
Our Featured guests are Capstan Full Strength, an East Anglia group originally formed to sing sea shanties. Since those early days, they have branched out and now sing a wide range of folk-related songs, many of which  have choruses for  audiences to join in with. Here's a sample recorded last year at a day organised by Suffolk Folk.

There were floor spots from duo The Half-Hardy Perennials, Annie Meehan and Jeremy Harmer and Josh.
JANUARY 2018
Happy New Year – to all our  loyal audience
Main guests on our first night of 2018 were  Bijoux Toots a group based on the Suffolk/North Essex border. They're a talented bunch of musicians who focus on strong vocal harmonies, combined with accordion, mandolin, fiddle, bouzouki, guitar, ukulele and double-bass.  They play the widest range of material you can imagine – and got the audience joining in on songs by David Bowie and The Rolling Stones. Watch them below.

Our Featured Guest was Stan Harvey who did a floor spot for us last year and impressed us with his rendition of songs by American songwriters from the 1940s to the present day. In this longer set he sang some great songs. His Woody Guthrie song, Talking Dust Bowl Blues was a revelation.  Interestingly, Stan avoided the well-known American songs – wisely in my opinion.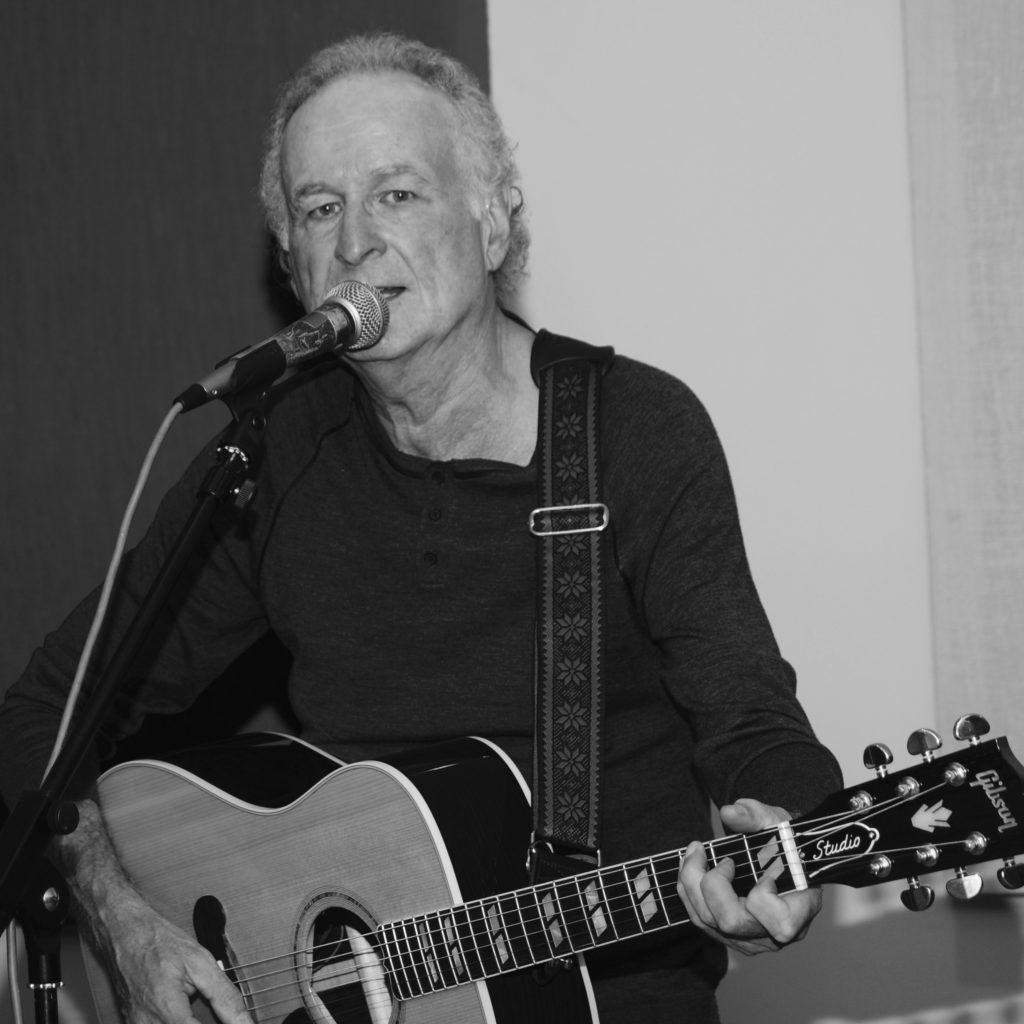 You can find out more about Stan on his website here.
Our evening opened with excellent floor spots from three local singers: Hazel Bradshaw, Alice Martin and Jackie Ord, whose song "Two River View Wrabness" is always a hit with our audience.
DECEMBER 2017
In December our main guests were  ALDEN, PATTERSON AND DASHOWOOD, a trio from Norwich who proved very popular indeed. Their music is clearly influenced by folk traditions from both sides of the Atlantic.
There is much more to read on their website here.
Our Featured Guest was Alan Day. Alan played tunes on his anglo concertina and dipped into his impressive collection of monologues, three of which he managed to cram into his set. Here's one of the monologues he didn't perform for us.

The evening began with floor spots from Mike Green & Dave Tricker, JP on his Scottish small pipes, and Simon and Val Haines.
NOVEMBER 2017
Our main guests on November 3 were the four-piece TWO COATS COLDER. Since playing for us a few years ago, they have performed at clubs and festivals all over the country.
Watch and listen to them playing at Moira Folk Festival in 2016. They did another great set for us and were much appreciated by our audience.


As expected the band got our audience you singing along to their melodic and laid-back mix of original and traditional songs featuring guitars, bass, mandolin and harmonium.
Our Featured Guests were father/daughter duo The O'Driscolls. Stephen plays guitar and Hannah percussion. Their unique vocals are characteristed by unusual harmonies.Watch and listen here.

If you would like to hear more, go to Resonance fm radio and listen to half an hour of Stephen and Hannah talking singing. Click here.
There were floor spots from Will, PJ, Tony Winn and Rachel Hack's trio Revival.
OCTOBER 2017
In October  we had two main guests Paul Scourfield and Phil Lyons.
Paul is a stylish melodeon player and singer from Hertfordshire who performs material mainly from the English tradition.  He has appeared at major festivals including Sidmouth, and Towersey, as well as folk clubs around the country.  Paul is also a member of the English dance band Chalktown.
In his 45-minute set, Paul alternated between songs and tunes.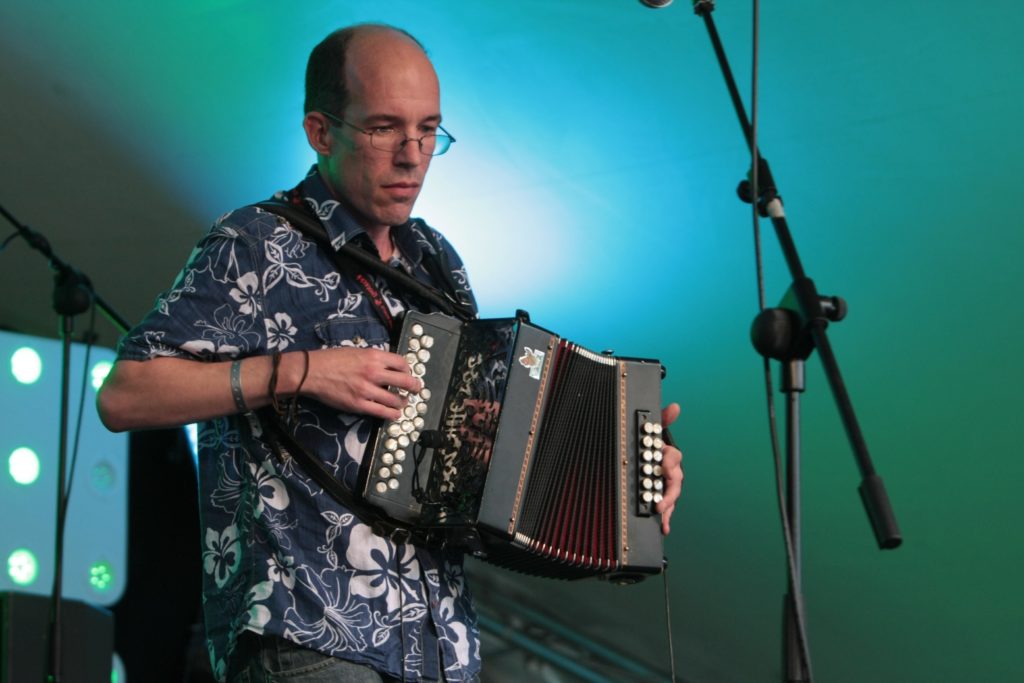 Find out more about Paul on his website at: http://www.paulscourfield.co.uk
Phil Lyons is an accomplished guitarist and singer of traditional and contemporary songs. He has appeared solo at the club in the past as well as with Bof! and Rosewood.
At the club on October 6th he'll be treating us to "A Sailor's Life" his compilation of songs and talk about life in the British navy. Phil is interested in naval life at the time of Nelson.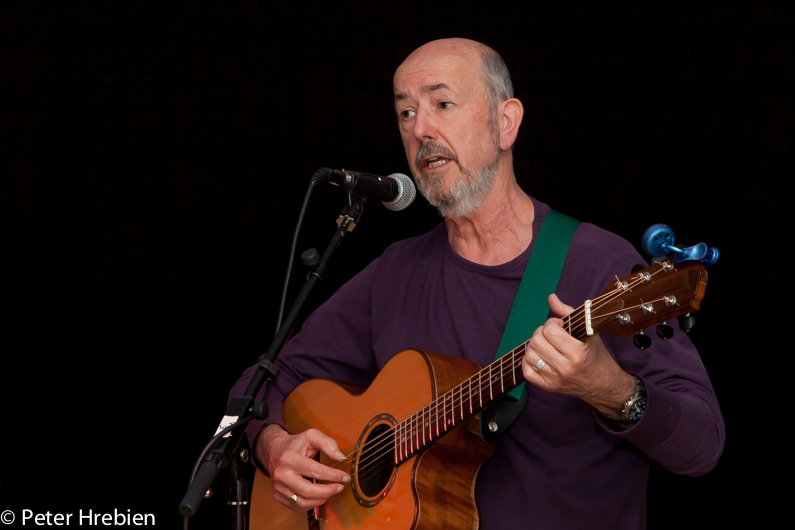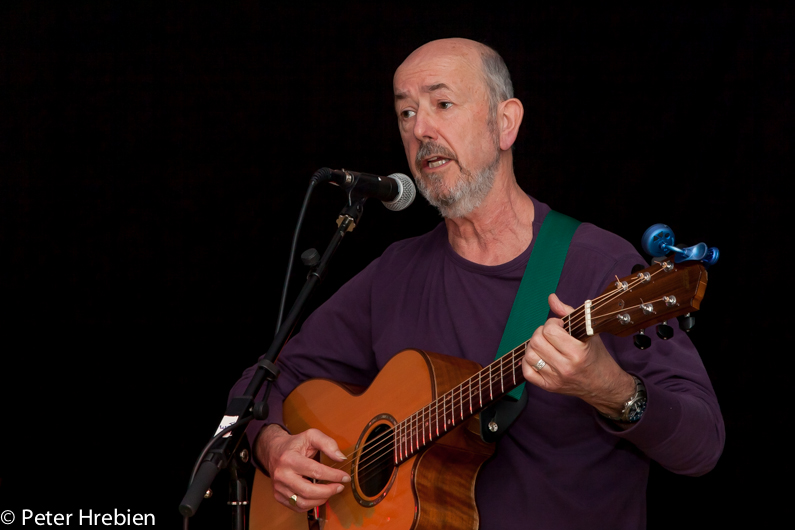 Find out more about Phil and listen to samples of his songs here.
SEPTEMBER 2017
Our main guest on the first evening of our seventh season was Terence Blacker, now a firm favourite at our club. In addition to singing what are probably his three best–known song: Sad Old Bastards with Guitars, I'd Rather be French, and The Young Girl with the Ukulele, Terence sang Still Searching for that Heart of Gold, another of his bitter-sweet songs referring back, with multiple musical references to hippy days of the early 1970s.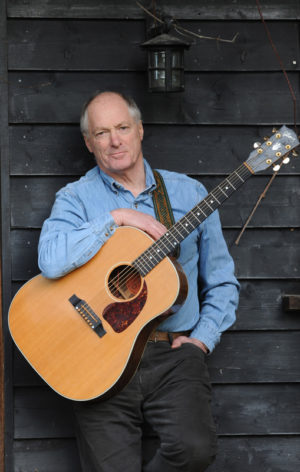 As usual, Terence had our audience in stitches. Find out more about this English Georges Brassens on his website at: http://terenceblacker.com/music
Our Featured guests were The Columbines, a local Folk / Americana group playing original songs and their own unique arrangements of folk songs. They sang a couple of songs with Terence Blacker during his set.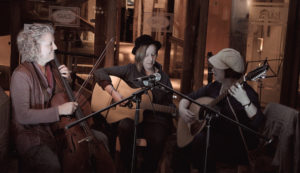 We started the evening with three excellent floor spots from John Hughes and friends, newcomer Anni Meehan and Megs Martin.